"Millennials" is oft used by folks who probably need to retire to allow the younger generation to move up in life. Used to describe individuals born from early 1980s to mid-1990s and early 2000s, they are also otherwise known as Generation Y, where technology began to evolve and grow at a rapid pace. HP Inc. prefers to label these folks as the "Passion Generation" because labels help market products better but we digress.
While not only strictly applicable to millennials, unparalleled efficiency, on-the-go connectivity, and mobility make up a huge part of their lifestyles. Thus, HP is hoping that their new suite of laptops and printers are designed to meet such needs, in the form of the existing ENVY and Pavilion laptop series, to the brand-new Sprocket Plus.
---
HP ENVY Portfolio
With two models catered to casual users and content creators, the HP ENVY arsenal comes armed with the all-new HP Command Centre that allows for user optimisation in the areas of system performance, fan noise, and temperature, Gigabit WiFi speeds for faster connectivity, and Audio by Bang & Olufsen for powerful sound.
Decked out in Natural Silver or Pale Gold for the HP ENVY 13, and Dark Ash Silver for the ENVY x360, both boast a beautiful motif on the body that's reminiscent of the swirl patterns on Japanese knives and swords. The duo is sufficiently lightweight, weighing in at under 1.5kg both, and come attached with a 128GB SSD, alongside four ports and a microSD card reader.
Where the former runs on 8th-Gen Intel Core processors and an optional NVIDIA GeForce MX150 graphics card, the latter operates on the AMD Ryzen Process with Radeon Vega Graphics – the world's first 13-inch convertible to do so. It's also the first 360 in the series, and marks the return of AMD in Singapore after a long while. With 11 hours of battery life, it isn't as long-lasting as its non-convertible counterpart, which has three more hours of juice, but is equipped with the better resolution of 4K UHD.
Between the two, Intel is certainly the more popular choice in Singapore, with a trust level already established between users and the company. AMD, on the other hand, is not quite as well-known, although its capabilities have been said to be rather reliable, so this would be a good chance for interested parties to take it out for a spin.
The HP Envy 13 is expected to be released on June 29, 2018 for a starting price of S$1,499, while the Envy x360 sports a mid-July launch date with a retail price of S$1,399.
---
HP Pavilion Portfolio
The HP Pavilion series expands to include gaming enthusiasts to the list. Apart from revamping their HP Pavilion 14 and 15 notebooks, there's now the newly-added HP Pavilion Gaming Laptop 15, designed more for the casual gamers, and complementing their existing, higher-end OMEN line of gaming laptops.
With the slogan of "thin is in" in mind, the Pavilion 14 and 15 have similar sleek, thin cuts, with a 2mm decrease in thickness, and an additional lift hinge for a more comfortable typing experience a la Asus' ErgoLift technology. Both battery life measure up to a maximum of 11.75 hours, and the operating processors and graphics card are dependent on the models selected; for some, it'd be the 8th-Gen Intel Core and NVIDIA MX150 graphics, and others the AMD Ryzen Mobile Processor with Radeon Vega Graphics.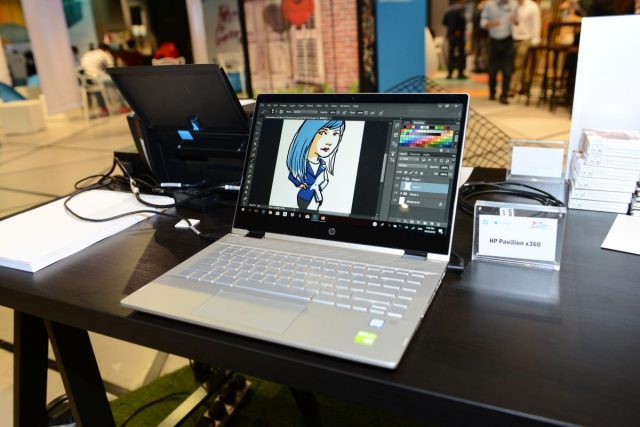 Another convertible in the lineup, the Pavilion x360 is powered by 8th-Gen Intel Core processors as well, and can be paired with discrete graphics. Its Micro Edge bezel design comes with a 1920 x 1080 resolution; its external design is further supplemented by four different, chrome-plated-hinge modes for adaptation to the right positions when work, write, watch, and play are in play, with a fingerprint scanner to boot.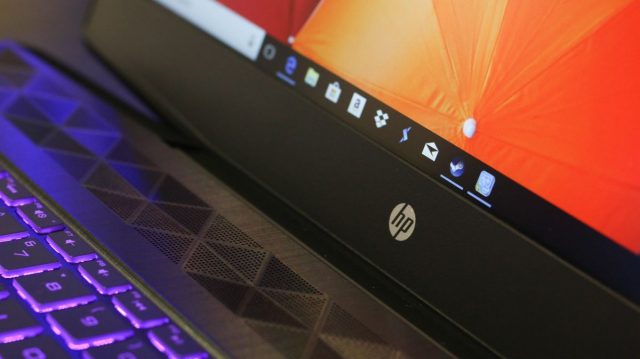 Bulky gaming laptops still remain the norm in the community. The HP Pavilion Gaming Laptop 15 doesn't belong in the category, and is designed to fit both power and portability into a compact space. Well-armed with six-core, 8th-Gen Intel Core processors and H-series processors within a 256GB SSD, it's sufficiently geared up for a casual gaming experience, but may be lacking for those seeking a more hardcore experience.
The HP Pavilion 14, 15, x360, and Gaming Laptop 15 are expected for launch on June 29, 2018 at a starting price of S$1,399, S$1,249, S$1,349, and S$1,599 respectively. 
---
HP Printing Technologies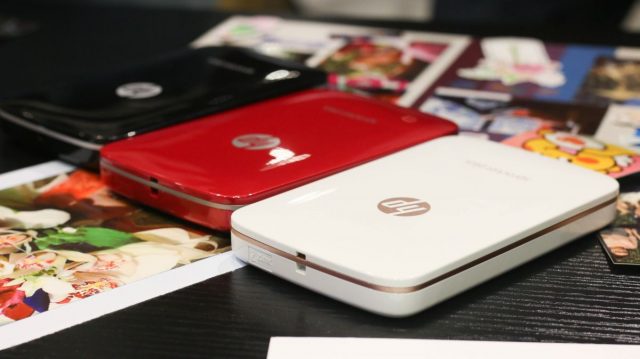 Going back to their printing roots, HP has the HP Amp and LaserJet Pro M15w lined up, alongside an improved version of the portable, Polaroid-like-photo-printer Sprocket. Building upon existing technology of its predecessor, the Sprocket Plus now sports 30% bigger photo space, which means more individuals can be captured within a frame, making it especially handy for group photos. Additionally, users can add a pop of personality with borders, emojis, stickers, filters, and font through the Sprocket app for iOS and Android, in a way that's similar to SnapChat and InstaStory.
One interesting feature of its revamped cousin is the AR ability to play out a saved video through a still snapshot of said reel. Here's how it works: by uploading a video onto the cloud on the Sprocket app, it'll be able to automatically embed a code that allows the motion to unfold when scanned. It's a cool concept, but comes with its fair share of issues, such as the lack of intuitiveness when detecting the frame, and the cropping out of the video during the playback on the phone. Still, the product has potential – check it out in action above (pay close attention to the moving image!).
With IoT being a trend in the scene, it's a common sight to see technologies being combined into one product. The HP Amp printer acts like one, and also doubles up as a Bluetooth speaker, with the free accompanying HP Smart App to allow quick access and printing from social media, the cloud, or their camera roll. Despite being marketed as a "multitasking device", however, it's to be noted that taking phone calls or streaming music through Bluetooth cannot happen simultaneously with the printing process, simply because of how it's designed to work.
Touted as the world's smallest laser printer, the last of HP's printer lineup promises to be as professional as their other models, with no compromises made to quality in exchange for its convenient size. It can print at speeds of up to 19ppm, and likewise supports network-free printing by means of smartphone connection. There's a slight flaw that comes with this, though, which is the lack of automatic double-page printing – but the duplex printing feature does help to make the manual flipping of pages easier.
Both the Sprocket Plus and HP Amp are available now for a starting price of S$229 and S$169 respectively, while the HP Laserjet Pro M15w is slated for launch on August 1, 2018 at S$119. 
---
Among the millennials, HP might not be the first brand to come to mind where laptops are concerned, although their presence in the printer community certainly is felt. With a more complete package of mobility, convenience, and practicality, perhaps the mindset can be slowly outgrown. At the very least, variety across the different categories is assured.
---

Drop a Facebook comment below!