There will always be those who can't find Singapore on a world map. But even among those who can't, there will be those who are familiar with popular local icons, including Marina Bay Sands (MBS), Prime Minister Lee Hsien Loong, our laws against vandalism and littering (and chewing gum), chicken rice, durian, and even our national symbol, the mythical Merlion.
You know… that big cat with a fish tail?
For the uninitiated, the Merlion is a creature borne out of Singapore's early mythology. Sporting the lower half of a fish and a head of a lion, this beast, while obviously a fabrication of tales and legends, has endured the test of time to become a staple in Singapore culture, with an iconic water-spouting statue of it situated just across MBS, and even has been imprinted on coins and your everyday plastic bags.
But for all the Merlion's mythical glory, it's really just a big cat. And that's what fascinates husband-and-wife duo Shane Davis (Superman: Earth One, Batman, Metal Men) and Singaporean Lin Yanzi, so much to the point that the Merlion has become a central focus in their upcoming comic book series, Starlight Cats.
This limited series, currently undergoing an Indiegogo crowdfunding campaign, features the adventures of Rebecca Chow, a young Singaporean girl who befriends a litter of cats from all over the world. Together with the aid of the Merlion, an alien feline god, they acquire superpowers and form the Starlight Cats, and are tasked with protecting the universe from the dreaded alien rat-like creatures known as the Verkin.
If you haven't gotten the gist yet, this comic series is full of cats, led by Singapore's most famous cat, despite the mystical aspect of the beast. For the creative couple, it was their love for cats that fuelled their inspiration to create this series.
"Both of us grew up with cats," explained Yanzi, in an interview with Geek Culture. "Shane had already drawn Dexter in to a comic book, and it was only natural to want to draw [my] pet cat into a comic book as well. He was especially interested in doing such a book after seeing street cats of Singapore. We've been planning Starlight Cats for about 3 years, and finally decided to take the plunge and tell the story."
Now, you might be wondering who this "Dexter" could be. As Yanzi describes, he is Davis' very own pet cat, who was famously immortalised as the ferocious Red Lantern Dex-Starr, a spacefaring cat that literally spews angry blood on the pages of Geoff Johns' Green Lantern comic run back in 2010. Dex-Starr's design and concept only proved to be a natural blueprint for Starlight Cats.
But for Davis, it was his experience of witnessing stray cats lulling about on the streets and back alleys of Singapore that truly ignited his desire to create the series. And also the couple's very own pet cat Barnaby, who is the de facto feline leader of the Starlight Cats.
"I was really fascinated by how the street cats of Singapore lived. The ones I've seen always seem to be lounging around, sun-bathing on the sidewalks while some nice ladies bring them food twice a day (or at least, the ones I see near Yanzi's house). They seem very relaxed with humans and look like they have a good life despite being street cats, which is very different from the feral cats in the USA. [The] Singaporeans I noticed [around the area] seem to also treat these cats well, so I thought it would be interesting to show how a little girl befriends one of these cats and eventually gets roped into an intergalactic space adventure with a whole bunch of cats," explains Davis.
Of course, the Merlion was really a bonus, and one that didn't need pitching from Yanzi, as Davis was "adamant" in including it into the series after seeing it for the first time in Sentosa, simply due to how unique it looked compared to other city mascots, which are typically regular animals you see in real life. As such, the Merlion will be a focal point in the first book/story arc of Starlight Cats, aptly titled Merlion Rising, and will become a recurring character in future installments.
While they aren't giving away too much story details, you could say the role the Merlion plays in this comic book is the equivalent of the iconic mystical dragon Shenron from Dragonball Z.
From there, the concept evolved from being just a litter of cats in one neighbourhood, to becoming an international team of cats from different parts of the globe. Barnaby is, aptly, a local domestic shorthair Singapore cat a.k.a the Singapura cat; Princess L'Amour, despite actually being part of the Catz, a feline alien species, is actually based on the Turkish Angora cat; Jellybean and Salty are actually inspired by the American domestic shorthair and Ragdoll cats, both from the US.
While the inclusion of other non-Singaporean cats may seem a little random, it is actually reflective of the multiracial, multicultural and cosmopolitan aspect of Singapore itself.
While the more recognisable landmarks of Singapore such as the Merlion and the Marina Bay Sands will be featured in Starlight Cats, Davis and Yanzi also haven't forgotten about the more homely side to Singapore: the heartlands. As such, Singaporean readers can also expect to see a lot of buildings and locations that hearken back to their Singaporean roots, including HDB flats and the streets surrounding them, as well as the hawker centres that are home to tons of Singapore food.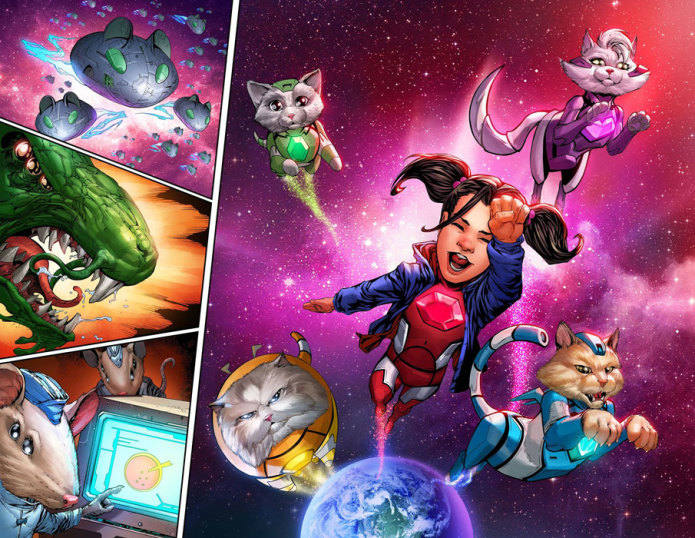 "We felt that setting the story in Singapore is a great fit as Singapore is a cosmopolitan, multicultural modern city," explains Davis. "A lot of people in the US have heard of Singapore, but there are very few representations of Singapore in American pop culture. In terms of pop culture, the USA has had a lot of representation. We felt it will be more interesting to see things from another culture's perspective, thus the decision to tell the story through a little Singaporean girl."
"The opportunity to showcase Singapore as an international community was something we didn't want to pass up on. Shane was very impressed by the multicultural aspect of Singapore living, something that I barely even register because of all my years of living in Singapore," adds Yanzi.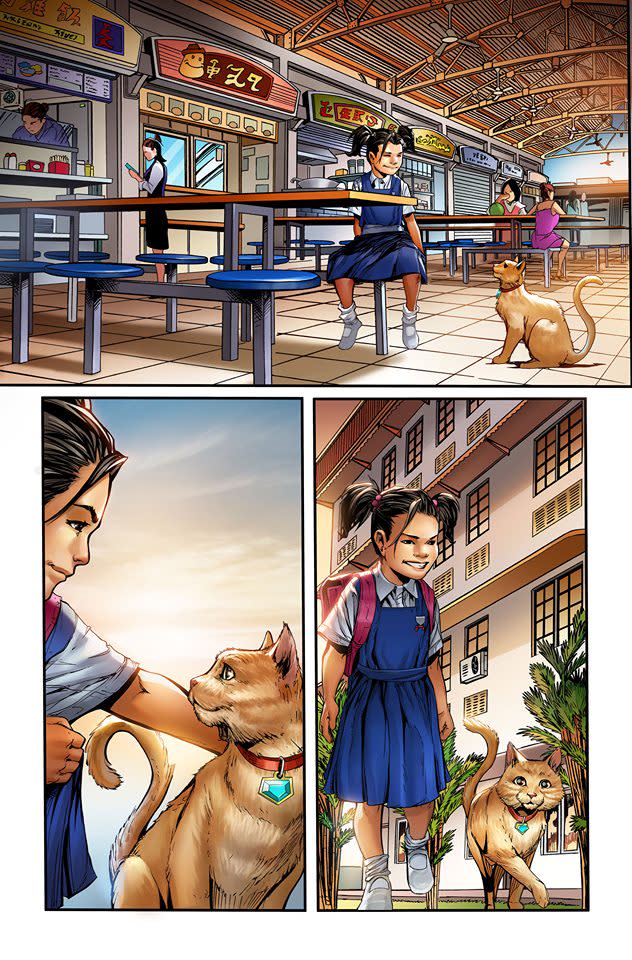 A Psychology graduate from the National University of Singapore, Yanzi met Davis on Livejournal back in 2006 while commenting on one of his earlier works in Batman #646, as a fan of Jason Todd. Fast-forward to 2020, they are now happily married and are co-creators and co-writers of their very first independent project together.
"We've been friends for over 10 years and we've built up great rapport [with each other]," explains a proud Davis. "We mostly enjoy bouncing ideas off each other and the process for creating [Starlight Cats] is more freeform than structured."
While Davis taps on his extensive experience working with the best on comics from both the likes of DC and Marvel, Yanzi brings with her an intimate knowledge of the island nation the duo hopes to make Starlight Cats stand out among other American comic books. With this series, and with others like it, she is hopeful that Singapore will become more prominent in international and mainstream media, because there is a treasure trove of folklore and culture to pick from and tell stories with.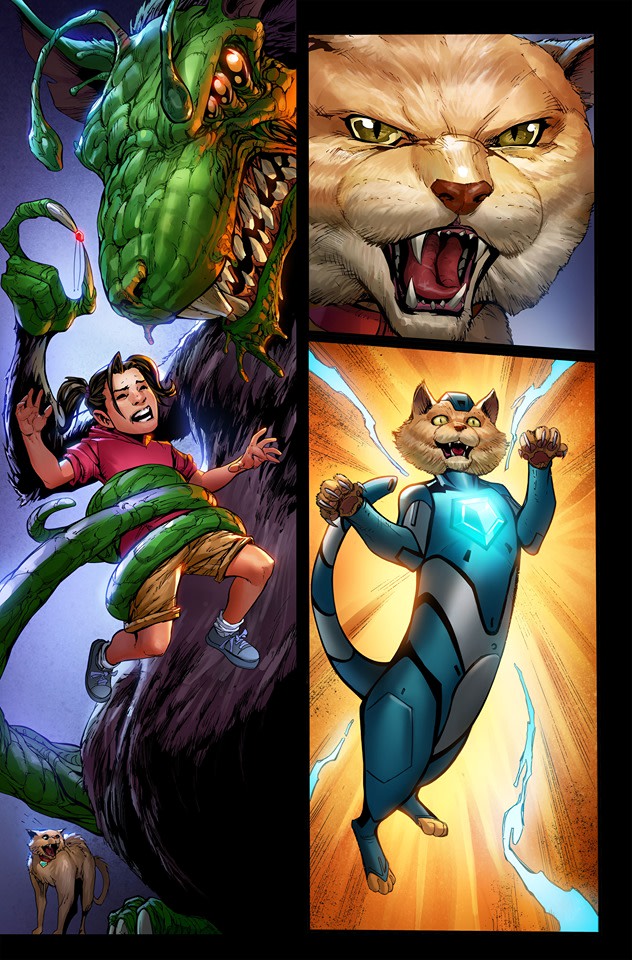 "I'd love to see more comic books by Singaporeans that draw on our own culture/mythology reach an international audience. There are many popular characters in Chinese mythology such as Chang Er that I'd like to see getting more international recognition and getting into mass media," says Yanzi.
"Singaporeans are in a unique position to tell these stories as we are very much connected to the world and communicate fluently in English, and we should showcase how rich our culture is."
The Indiegogo campaign for Starlight Cats #1: Merlion Rising is now live. It has a flexible campaign goal of S$6,820 and will run through 3 November.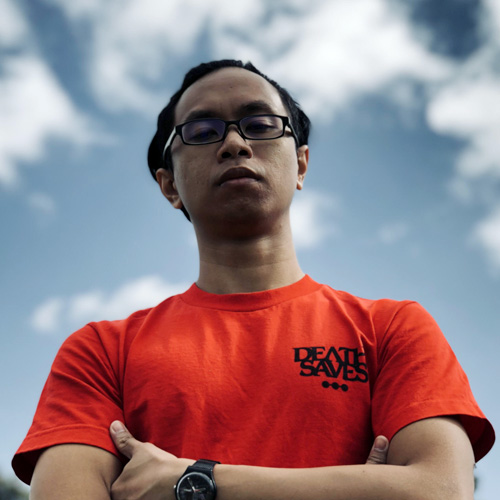 Marion has a serious RPG addiction. Sometimes it bleeds into real life; he forgets to sleep because he thinks he has a Witcher's body clock. Forgive him in advance if he suddenly blurts out terms such as "Mind Flayer" and "Magic Missile", because never once does he stop thinking about his next Dungeons & Dragons game.