After months of anticipation and teasing, Amazon Prime Day 2020 is almost upon us here in Singapore, and for the first time, we get to enjoy a special selection of deals and offerings just for the local market on Prime Now AND Amazon.sg (which was launched last year).
Given the fame that Amazon has created for their iconic shopping event, we're anticipating a ton of Singaporeans to flock over to the e-commerce platform to snag a few pieces of tech or toys to beef up their geek sanctum. Singaporeans love it when prices for their most-coveted items are slashed, and Prime Day from 13 – 14 October will be the best time to get the upgrade they need without having to rip a new one in their wallets (at least, not that big of a new one).
But of course, Prime Day will only be available to Amazon Prime members, so get subscribed for just S$2.99/month if you haven't already. With a Prime membership, not only will you get to enjoy the wonders of Prime Day and some of the exclusive deals we'll be highlighting below, members will also get free domestic one-day delivery at no minimum cost, free international shipping on orders above S$60, as well as instant access to Amazon Prime Video and Amazon Prime Gaming for your entertainment fix.
And if you're just looking to dip your toes in the water, a 30-day free trial is all you need to get started!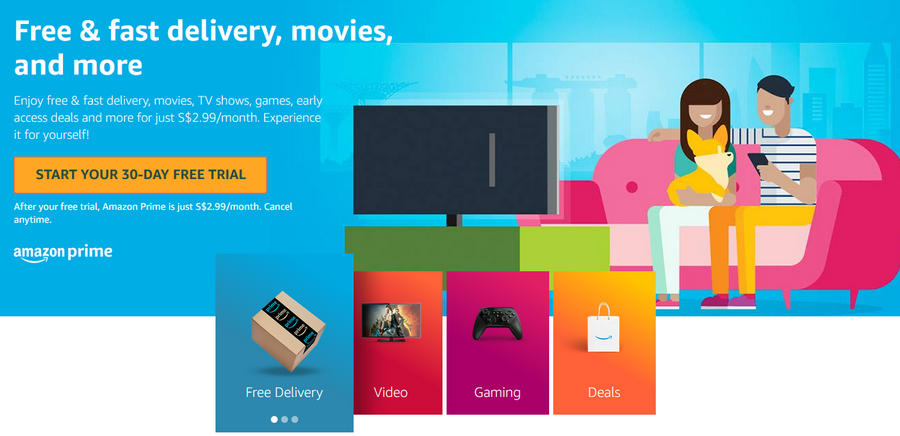 During this massive 48-hour sale, shoppers can expect to see thousands of deals across all categories on Amazon.sg, including 10 new categories recently added earlier this year, such as DVD/Blu-ray, Musical Instruments, Software and Furniture. New deals will also be launching every 4 – 6 hours, with a curated selection of deals from various brands such as Acer, Bose, Braun, Dyson, JBL, Philips, Sonos, as well as products from local small and medium-sized businesses in case you want to #supportlocal!
Other exciting features about this year's Prime Day include a shopping personality quiz that lets you discover your shopper persona and get relevant shopping tips to make the most of Prime Day, as well as the launch of Amazon e-Gift cards for you to purchase to surprise your friends, family and loved ones as you head into the holiday season. Additionally, during the Prime Day event, Prime members who purchase at least a S$50 Amazon.sg e-Gift Card in a single transaction can receive a bonus S$10 e-Gift Card (while stocks last).
All Prime members are also entitled to a S$25 Amazon.sg e-Gift Card on a minimum spend of S$150 on Amazon.sg when using:
The S$25 Amazon.sg e-Gift Card will be added to your Amazon account for use on a future purchase, while stocks last.
One last thing, before you start shopping, you'll just need to get yourself familiar with these different types of deals during Prime Day. Prime Day deals are badged in blue:
Lightning Deals: Jaw-dropping prices on top-tier brands. The items here are available in limited quantities, and only for a few hours at specific points of time during the day. Once stocks for these deals have run out, you won't get to purchase again, so Prime members should come back frequently to view new deals launching throughout the 48-hour event!
Deals of the Day: These deals last for only 24 hours, so make sure you don't leave the item in your cart past a day!
Spotlight Deals: These deals feature deep discounts and typically some of the largest inventory deals on some of the most popular products. They tend to be available for a longer period of time as well – while supplies last, of course.
Feeling ready to take on Prime Day now? Here are some of the best deals for geeks to look out for. Start saving your products and adding them to your wish list or even your cart for easy check out on 13 and 14 October!
---
Discount: 10% + S$30 OFF using "PDVG30" code for Prime Members!
Although the base discount is small, don't forget to apply the Prime Member Exclusive code "PDVG30" to get an additional S$30 OFF. And since it is over S$150, you will also earn S$25 Amazon.sg e-Gift Card credit from your purchase, for a total of S$55 OFF! These stocks are in Singapore, so you'll even receive your order the next day. It doesn't get any better than this.
---
Discount: 26%
The Apple AirPods Pro feature Active Noise Cancellation for immersive sound and has a transparency mode for hearing and connecting with the world around you.
---
Discount: 40%
If you're on the hunt for a new controller for your Nintendo Switch or PC even, 8bitdo's SN30 Pro Wireless Controller is one of the best candidates to be your main controller, especially if you own both a Switch and PC, as it can directly connect to either. As a plus, the SN30 Pro Wireless is an amazing nod to retro gamers of yore, thanks to its SNES-style design.
---
Discount: 25%
Anker has been killing it with its desktop and portable peripherals, and their 5-port desktop charger will ensure your charging woes are sorted. With four USB-A PowerIQ ports that deliver charging speeds of up to 2.4A per port, plus a USB-C 30W Power Delivery port, you're more than assured of plenty of juice to go around up to not one, not two, but five of your handheld devices all at the same time.
---
Discount: 40%
However, if you are in the mood to get up and do the cleaning yourself, this cordless vacuum cleaner by eufy by Anker might help you get the job done with relative ease. Its slim form factor is not just easy to store, but it helps you get those typically hard-to-reach nooks and crannies in your home. Time to say goodbye to those dust bunnies with this.
---
Discount: 30%
While staying home is great and all, you'll probably want to get out for some sun, fresh air, and maybe sweat it out a little while you're at it. Perhaps donning the Fitbit Inspire HR might do you wonders during those occasions, as it tracks your heart rate 24/7, gives you constant updates on your calorie burn, helps you cool down and regulate your heart rate with guided breathing sessions, and helps you get better sleep with a sleep tracker.
---
Discount: 40%
If you want to try something new with your furever friend at home, maybe try out this dog camera by Furbo. It's easy to use and set up, and you'll be able to easier monitor your dog's movements around it via a companion app. Plus, it comes with the ability to toss treats to them, which is always nice.
---
Discount: 40%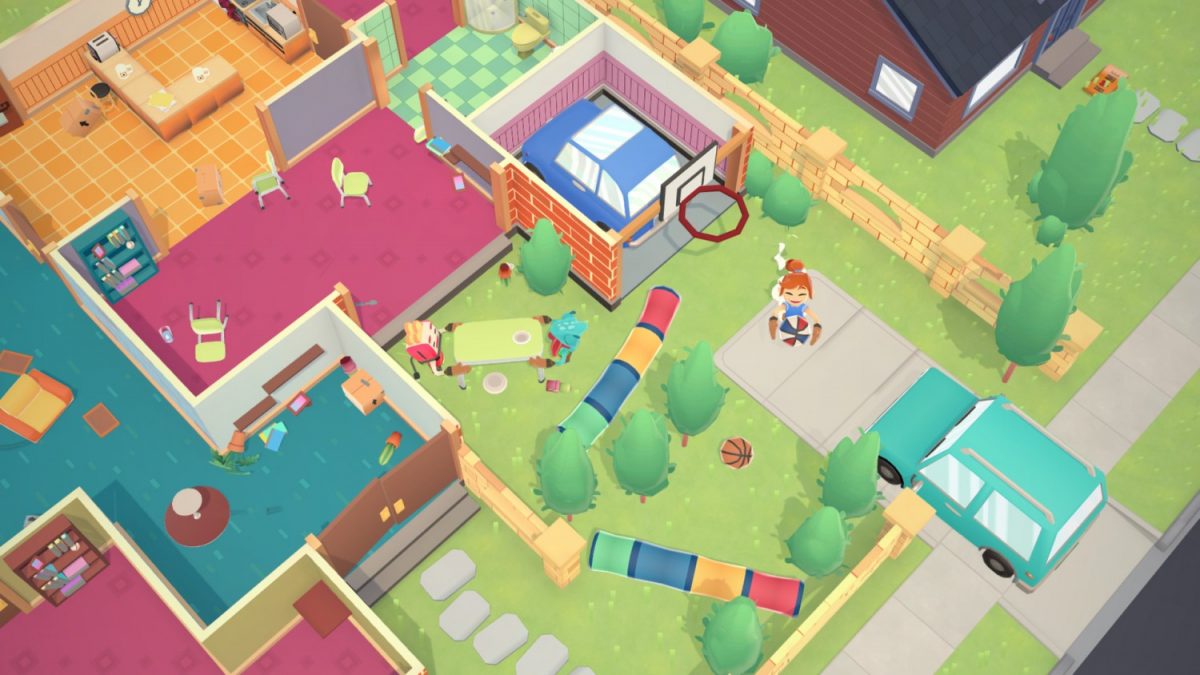 If you're a fan of Overcooked! (or at least have beaten the game for the umpteenth time and want to try something new), then Team 17's Moving Out is sure to keep you and your friends engaged. This cooperative party game puts you in the shoes of home movers looking to, well, move out all the furniture in houses within a set amount of time. Tons of mayhem is sure to be part of the process when you're running out of time, frantically trying to haul everything to the delivery truck!
---
Discount: 30%
Getting into the Nerf hobby might be a daunting prospect for many, given how there are just too many products available out there to pick from, which could be overwhelming for first-timers. We always recommend to go small first, which is why the N-Strike Elite Disruptor is a great way to get started. With a 6-dart rotating drum, a quick-draw blaster that launches the darts up to 90 feet, it's a solid starting point to get into the action with your friends and family.
---
Discount: 30%
Everyone fawns over the prospect of beefing up their home theater system with a new soundbar, but it's often the exorbitant price that puts most people off from actually buying one. The Sonos Playbar is one of the more sound (pun intended) options out there, and is going at an absolute steal this Prime Day, going for just under S$800. Don't say we didn't tell you!
---
Discount: 40%
Any self-respecting Star Wars geek would have dreamed of making friends with R2-D2 in real life. With this droid inventor kit, you now can literally build and control the iconic white-and-blue droid with easy-to-follow instructions via a companion app, as well as teach it tricks such as spin its head around and navigate around your home. Also, there are special challenges for you and your kids to try and build your own custom droids too!
---
Discount: 40%
If you're looking to beef up the port options for your laptop, then the UGREEN 6-in-1 USB-C Hub could be the perfect solution to your port woes. Featuring two USB 3.0 ports, USB-C 100W power delivery port, 4K HDMI port, SD and TF card readers, this jack-of-all trades is sure to ensure you get your work done without any fuss.
---
Although not exactly discounted, but it's price of S$31 already makes it a steal, coupled with free shipping for Prime members, you'll just need to find another S$29 worth of products to hit S$60 for free shipping from US.
---
For more pro geek tips on how to make the most out of Prime Day 2020, check out our handy guide. Happy shopping!
---

Drop a Facebook comment below!