Wow, just wow. Microsoft came out really strong this year, with a full complement of both software, and more importantly, hardware and more updates to Xbox ecosystem. So let's get straight to it.
---
XBOX ONE S ANNOUNCED
Microsoft wasted little time confirming the leak earlier this week. The Xbox One S is real. A slimmed down version of the current model, the S boasts a smaller box (40% smaller), supports 4K content, an integrated power supply and a new, improved Xbox One controller.
---
XBOX PLAY ANYWHERE INITIATIVE/GEARS OF WAR 4
Microsoft introduced the Xbox Play Anywhere initiative as well, this means any game under the program will be able to play it on both Xbox One and Windows 10, with full achievements and progress across the two platforms. Introduced by co-creator and studio head of The Coalition, Rod Ferguson, Gears of War 4 will be one such game and will support cross-play between Xbox One and PC for the campaign, mulitplayer and the returning Horde Mode. A new controller was also revealed for the game.
https://youtu.be/KDtOEvxjnG0
---
FORZA 3 HORIZON
The ever-present Forza Motorsport and Forza Horizon cycle continues, with Forza Horizon 3  coming to racing fans on September 27th. Set in Australia, Playground Games' "largest and most diverse open world yet." The campaign can be played in co-op for the first time and the most number of cars ever in a Horizon game.
---
RECORE
Keiji Inafune's ReCore's release date was officially confirmed for September 13th, showing all the various creatures that you, the player will be interacting with. The world looked interesting and the premise promising, this is worth a look.
https://youtu.be/WnKT9ZCGgBE
---
KILLER INSTINCT
A new character will be coming to the lineup for Killer Instinct Season 3, with Gears of War's General RAAM joining the roster. The reptilian Locust soldier will be free this week.
---
THE DIVISION – DLC
With Xbox One exclusivity for about a month, The Division's next DLC, Underground, will come to Xbox One owners first on June 28th. This is the first of three paid DLC expansions coming for the Division.
---
INSIDE/WE HAPPY FEW
From the developers of Limbo, PlayDead's next title, Inside, will be out June 29th for the Xbox One and July 7th on Steam. To celebrate the impending release of the hotly anticipated title, the widely acclaimed Limbo, will be free on the Xbox One until June 20th and on Steam on June 21st-22nd.
We also got a look at We Happy Few, a game that feels like BioShock Infinite, where people are on pills to stay happy, and those who do not are shunned and hunted. This looked really good, with a creepy vibe to match those scary masks.
---
XBOX LIVE
New features will be coming to the Xbox Live platform, allowing users to listen to background music, the integration of Cortana, language region independence, the ability to create Clubs (much like PSN's Communities), Looking for Group which allows players to search for specific users to play with, and Arena, a network fully supported for competitive gaming.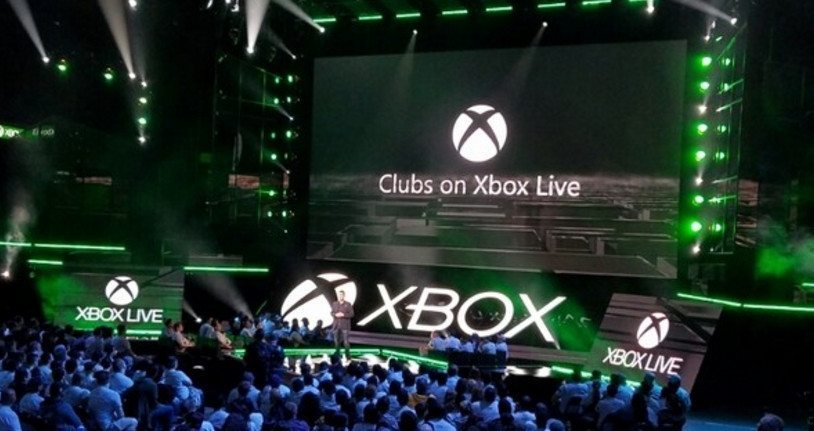 ---
CUSTOMISABLE XBOX ONE CONTROLLERS
Via the new Xbox Design Lab, players can now design and create their own Xbox One controllers, and they will be the newly improved versions ala the Xbox One S controllers. They even added bespoke laser engraved text for you fancy folks!
https://youtu.be/yGxxXkDqRS8
---
GWENT: THE WITCHER CARD GAME
The Witcher: Wild Hunt was a huge game, and one of it more interesting aspects was the TCG Gwent. It's so big that it will get its own game featuring a full single-player campaign and cross-platform multiplayer with improved visuals. Cool stuff.
---
MINECRAFT REALMS
The now Microsoft-owned Mojang Studios introduced Realms to the console audience for the first time, meaning Xbox One players, alongside those on Windows 10, iOS and Android can now play together. New add-ons were also announced for Minecraft: Pocket Edition later this year, with new texture packs and adjustable AI for the NPC villagers.
---
TEKKEN 7
The appearance of Akuma threw me for a loop, until I realised I was watching Tekken 7 in action. Coming early 2017, Tekken 7 will be dropping on Xbox One, PS4 and PC. Game Director Katsuhiro Harada also announced that Xbox Live Gold members will be able to download Tekken Tag Tournament 2 for free this E3 week.
---
DEAD RISING 4
Frank West is back, with even more crazy costumes and even more zombies. Dead Rising 4 is set around Christmas time and is slated to come out Holiday 2016. However, it might actually not be exclusive to the Xbox One, more information to come for sure.
---
SCALEBOUND
Platinum Games' dragon action-adventure game Scalebound will be coming to PC as part of the Xbox Play Anywhere initiative, with Hideki Kamiya, the game's director, showing off what he claimed to be Platinum's "biggest ever boss fight," along with co-op play.
https://youtu.be/gdGEos2ZMg0
---
STATE OF DECAY 2
More undead coming your way, this time it's State of Decay 2, the open-world sequel will be coming sometime in 2017. It will most definitely feature cooperative play, a theme strongly echoed in the reveal trailer.
---
HALO WARS 2
Finally, RTS games will be returning with Halo Wars 2. 343 Industries Studio Head Dan Ayoub was on stage, revealing the release date of February 21st 2017 for both Xbox One and Windows 10 PC. There will also be a beta for the Xbox One this week and is live now!
---
SEA OF THIEVES
Rare's latest was showcased via what looked like a really fun "Let's Play" video, with players revelling and drinking grog, before taking to the high seas and bombarding each other to oblivion. This is an ambitious title for sure and intriguing to say the least.
---
XBOX ONE – PROJECT SCORPIO
The big bombshell dropped moments after Phil Spencer's speech about playing without boundaries, the existence of a more powerful Xbox One was all but confirmed as the trailer marked it for release Holiday 2017.
It will be supporting VR, yet no hardware was specified, and all current Xbox One peripherals and games will be supported on the new system. This completes the new Xbox ecosystem of the Xbox One, the Xbox One S and Project Scorpio. Expect a high price point as this will be what Microsoft believes will be "the most powerful console ever built."
What else excited you during Microsoft's conference? How about those new hardware announcements? Enough to make your wallet weep that's for sure. Stay tuned for more on Ubisoft and Sony.
---

Drop a Facebook comment below!