Final Fantasy fans in Singapore, time to take notice.
The Dissidia Final Fantasy NT themed cafe, now at Watanabe Coffee at Shaw Centre, will be open to the public from January 24 to February 10.
Open from 8am to 10pm daily and 11pm for Friday and Saturday, it's the first of its kind outside of Japan.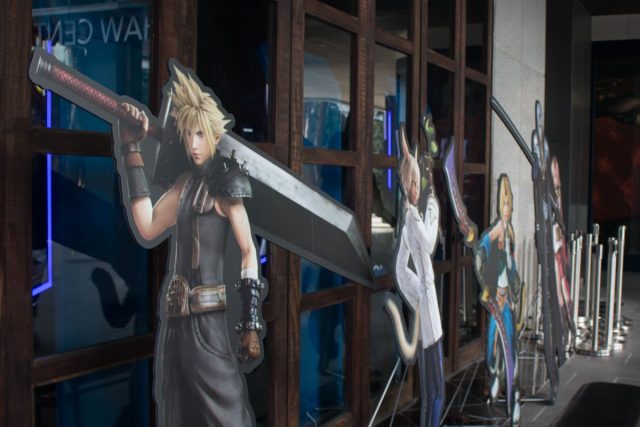 But there can be no cafe without Dissidia Final Fantasy NT! 
Game director Takeo Kujiraoka and producer Ichiro Hazama were here in person, sharing more about the game. And if you were wondering about the NT, it stands for "New Tale", or so they say.
A PlayStation 4 exclusive title, Dissidia Final Fantasy NT will bring together 28 characters from the franchise in a 3-on-3 team brawler.
Whether you wanna fight offline against the forces of Chaos or online against other players, the game has you covered. Even the three fights on your team can be controlled by a different player!
The Story Mode, with over an hour of cut scenes, takes a different route to story telling. Points earned after battle can be used to unlock story nodes that will reveal more about the world and the conflict.
It leaves more to the players to explore whichever plot developments intrigue them more.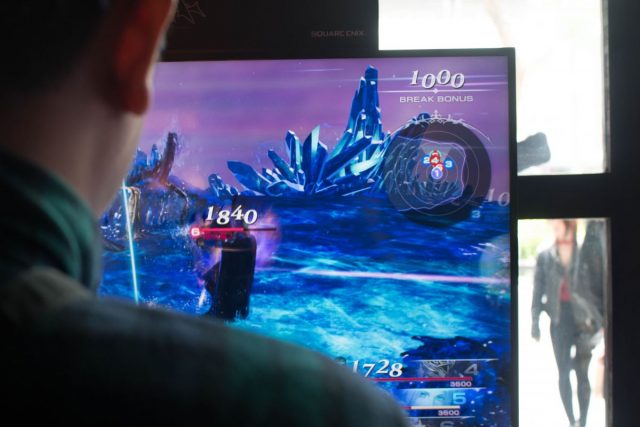 The normal 3-on-3 battles are punctuated with boss battles against Summons, which will definitely be a roaring good time.
Series favourites like Cloud, Tidus,  the Warrior of Light, and the more recent Noctis are available for selection.
The iconic villains are not left out as well, with Sephiroth, Jecht, and Kefka back to their menacing ways.
Characters are customizable as well, with different outfits and colours to make them your own. Of course, this has no competitive edge, and it's always good to have the option.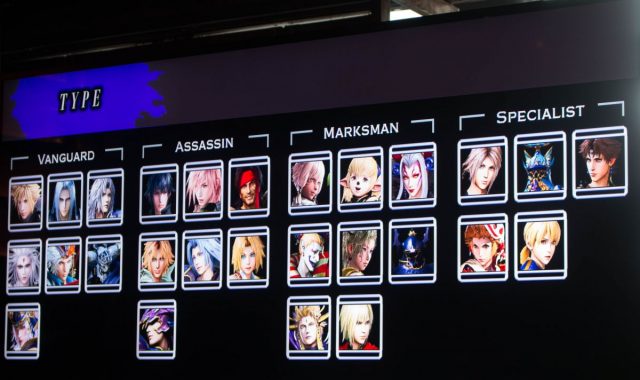 Future DLC content will bring more characters, so look forward to even more fighters for the four different classes – the Vanguards, Assassins, Marksmen, and Specialists.
Square Enix is aiming to drive the esports angle of Dissidia Final Fantasy NT, and they intend to support the game for the long run to achieve that.
Each class has their pros and cons, with Vanguards jumping into the fray while Marksmen do better with ranged attacks.
The team mechanic is important, as victory is not achieved until all 3 members of the opposing team are decimated.
Buffs, debuffs, and revivals are integral to the experience, and the series staple, Summons, will bring game-changing effects into play.
The arenas players will fight in will bring back plenty of iconic locales, together with a bulk of original background music and new arrangements.
The game releases on January 30, with both a Standard Edition (S$84.90) and the Ultimate Box (S$319.00), which includes:
Dissidia Final Fantasy NT game
Dissidia Final Fantasy NT Official Calendar 2018
Dissidia Final Fantasy NT's Original Soundtrack Ultimate Box Edition
Static Arts Bust Dissidia Final Fantasy NT Warrior of Light
Steelbook case for the game disc
Digital Mini-Soundtrack via DLC
Dissidia Final Fantasy NT Season Pass (DLC code)
The event also introduced the MMORPG Final Fantasy XIV, now with a Complete Edition.
Pre-orders starts today, and it will be released on February 27 on PlayStation Network. Cafe patrons will also get special posters only at the themed cafe, one more reason to visit the Dissidia Final Fantasy NT themed cafe!
It wouldn't be a themed cafe without unique menu items, and Watanabe Coffee has prepared a menu set specially for fans.
Get your mittens on the Moogle Curry & White Stew, with either the Moogle drink or the much cooler Materia drink, at the price of S$28.90.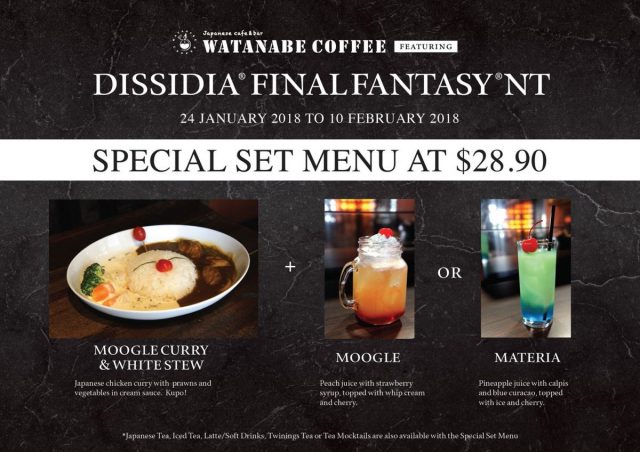 Customers will also be given exclusive coasters featuring the characters of the game, and even 5 different PSN avatars are up for grabs each week.
Plushies, acrylic figures, key chains, and other adorable items are also on sale, with over 35 different Final Fantasy merchandise ready for you to bring home.
They are limited in number, so don't miss out.
Fans who want to get their hands on the game may also do so at the cafe, where booths for playing are available for the public. 
This is an experience that fans of both Dissidia and the Final Fantasy franchise shouldn't miss, so do make your way down to celebrate one of gaming's royalty.