Have you ever had something come back to haunt you? Unless it was a criminal act, we highly doubt that you would get fired for it, unless your name is James Gunn.
Yes, that James "Guardians of the Galaxy" Gunn, who, ironically, did two movies about a bunch of criminals who redeemed themselves by saving the universe.
Recently, Disney fired Gunn over years-old tweets dug up by conservative bloggers losers. Fans and media have reacted against the firing, seeing it as an attack towards the liberal-leaning Gunn. Following the news, many have spoken against Disney's decision, including the cast of Guardians of the Galaxy.
In an Instagram image post, Chris Pratt wrote that he would "personally love to see him reinstated as director of Volume 3." Other cast members who signed their names on the open letter include Zoey Saldana, Dave Bautista, Karen Gillan, Bradley Cooper, Sean Gunn, Vin Diesel, Pom Klementieff and Michael Rooker.
This is not the first time his Marvel family have stepped forward to show their support. Drax himself, Dave Bautista, tweeted about the cybernazis attacking Gunn, and how fans should all defend Gunn instead.
What will you do when the #cybernazis attack you? Who will stand by you? Who will cowardly distance themselves from you? Who will punish you for horrible JOKES in the past instead of defending you for INSPIRING millions? MILLIONS!!! #Redemption #injustice @JamesGunn

— Dave Bautista (@DaveBautista) July 22, 2018
In a series of tweets, Gunn's brother and Guardians of the Galaxy cast member, Sean Gunn wrote an insightful thread on how his brother grew to be a better person who inspires others.
1. I hope it goes without saying that I love and support my brother James. And I'm quite proud of how kind, generous, and compassionate he is with the people in his life, whether they are friends, family, colleagues, fans, or strangers.

— Sean Gunn (@seangunn) July 21, 2018
4. I saw firsthand as he went from worrying about "softening his edge" for a larger audience to realizing that his "edge" wasn't as useful of a tool as he thought it was. That his gift for storytelling was something better.

— Sean Gunn (@seangunn) July 21, 2018
6. In many respects this change in my brother was reflected in the change that the Guardians go through. I've heard my brother say many times that when Quill rallies the team with "this is our chance to give a shit"–to care–that it's the pep talk he himself needed to hear.

— Sean Gunn (@seangunn) July 21, 2018
Of late, fans have been questioning Disney's actions as well. Many have noted how Disney must have known about Gunn's "edgier" past before hiring him years ago. Gunn was behind projects like Tromeo and Juliet, a film filled with excessive sexual and violent imagery, and James Gunn's PG Porn, a web series of pornography spoofs. These are certainly not Disney-approved materials. So why is Disney is only firing Gunn now? That plus the fact that Gunn has publicly apologised for those comments, years ago.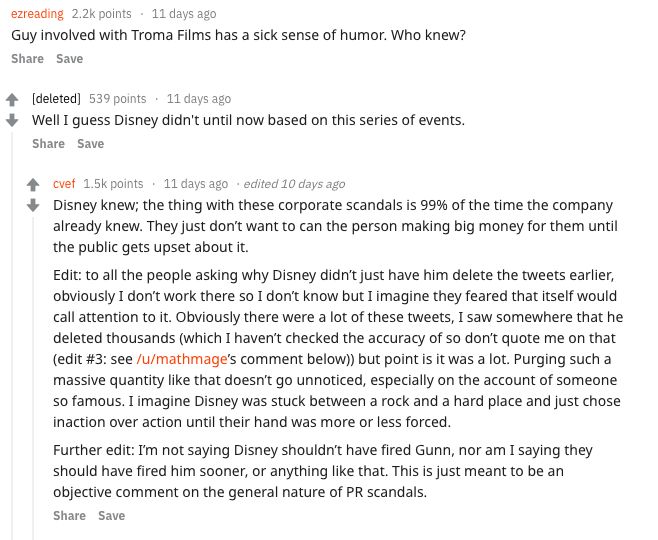 The firing of James Gunn seems to follow a recent trend of getting rid of bad seeds in projects. We're not saying that all the public lynching has been done in error –  crass and deplorable behaviour from the likes of Chris Hardwick (Nerdist), Roseanne Barr (Roseanne) and Kevin Spacey (House of Cards) are truly terrible – but in this case, Disney took old words and judged a man for it. How would you like being judged for things you used to say as a teenager?
Knowing that the old tweets were dug up by conservative bloggers, comparing Gunn's tweets to Barr's, it's hard to see this as anything other than an attack towards Gunn, a big criticizer of Donald Trump, by the conservative bloggers. Yes, both Gunn and Barr have written terrible, inappropriate tweets, but there's one big difference. James Gunn wrote those tweets years ago whereas Rosanne Barr did so in 2018.
It is unfair to judge the character of a person based on something they did years ago, especially when many have come out in support of James Gunn. Disney's decision to fire Gunn feels like a knee-jerk reaction in order to save face and wash their hands of any misdeeds.
Maybe it's time for Disney, and other companies, to take a look at their policies, and who they should or shouldn't fire. After all, Guardians is about redemption.
Dea wishes she could play the latest Tomb Raider or Uncharted, but she can't, so instead she reads and watches other people play. On her down time, you can probably find her re-reading Captain Marvel. The Carol Danvers one.