Sad that Daredevil is over, but still want more? Not to worry, there's more where that came from… in a way.
Daredevil and The Punisher star Deborah Ann Woll has swapped the mantle of Karen Page for that of Dungeon Master, in her very own Dungeons & Dragons web series, Relics And Rarities, which premiered recently on Project Alpha.
The former True Blood actress has been a longtime fan of the popular tabletop role-playing game, professing her love for the hobby multiple times over in interviews. She even went on to go on stream to play some games with the folks at Wizards of the Coast at their annual stream event last year, called Stream of Many Eyes, as well as in a recent episode of ever-popular D&D stream Critical Role.
Yeah, this lady already had her geek creds before starring in a critically acclaimed comic book TV series.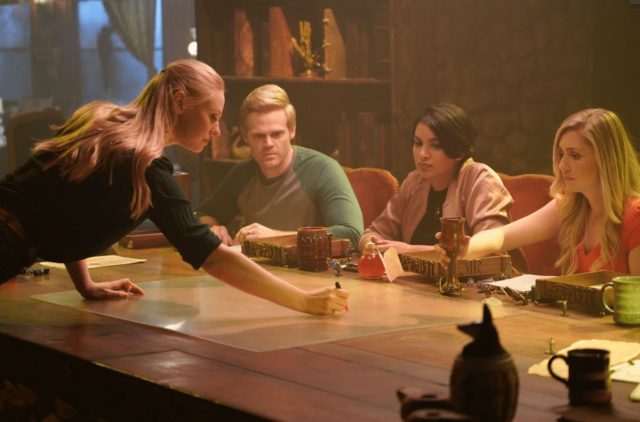 Joining her as players will be – you guessed it – her fellow former colleagues from the recently-cancelled Defenders line shows, such as Daredevil himself, Charlie Cox, and Simone Missick, who played Misty Knight in Luke Cage. Also appearing in Relics and Rarities will be Matthew Lillard a.k.a. Shaggy from the Scooby Doo movies, as well as CW's Supergirl and The Flash director Kevin Smith, who also happens to be starring in another D&D-themed episode on The Big Bang Theory.
Woll assured would-be watchers who are new to Dungeons & Dragons that it will be very accessible to anyone who hasn't played before, so that noobs new players can catch on to things, especially with the likes of Cox and Smith being complete greenhorns to the hobby. Lillard, on the other hand, is a seasoned veteran\ of the game, and will likely serve as the rules crutches for the rest of the group – sans Woll, of course, who is also pretty adept at the rules herself.
Relics And Rarities is available now on Project Alpha, a subscription-based (monthly subscription of US$4.99) content service that will allow you to catch other shows exclusive to the web channel.
---

Drop a Facebook comment below!