With masks becoming a critical pillar of protection against COVID-19, Bosslogic has issued a challenge to all artists around the world to help encourage the donation of masks to frontline workers around the world.
Working off a simple gesture of iconic pop culture heroes / villains handing over their gear to an individual offscreen with a surgical glove, the rallying call has brought in artists from all around their world around the #TakeMyMask hashtag.
From Power Rangers,
To the Dark Knight,
To Star Wars,
This challenge has been by far one of the most wholesome, and non-opportunistic efforts to help get valuable personal protective equipment into the hands of those who need it most. Many more renditions can be found on Twitter and Instagram.
If you do have some masks laying around which won't see much use as you stay indoors, do consider donating them to a nearby healthcare facility.
---
Need more entertainment for your stay home pleasure?
Here are more suggestions:
In the meantime, you don't have to be a superhero to make a big difference. All you need to do is stay home and keep yourself occupied with plenty of awesome distractions: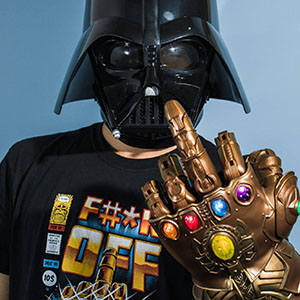 Yonk is a geek who is fortunate enough to have an equally geeky Star Wars fan for a wife, who owns a LEGO Millennium Falcon encased in a glass coffee table as their home's centre-piece.
---

Drop a Facebook comment below!
---