It's one of the many Avengers: Endgame theories put forth by fans, but what makes "Thanus" stand out is that it has already been embraced by many, from Ant-Man director Peyton Reed, to Avengers leader himself, Tony Stark aka Robert Downey Jr.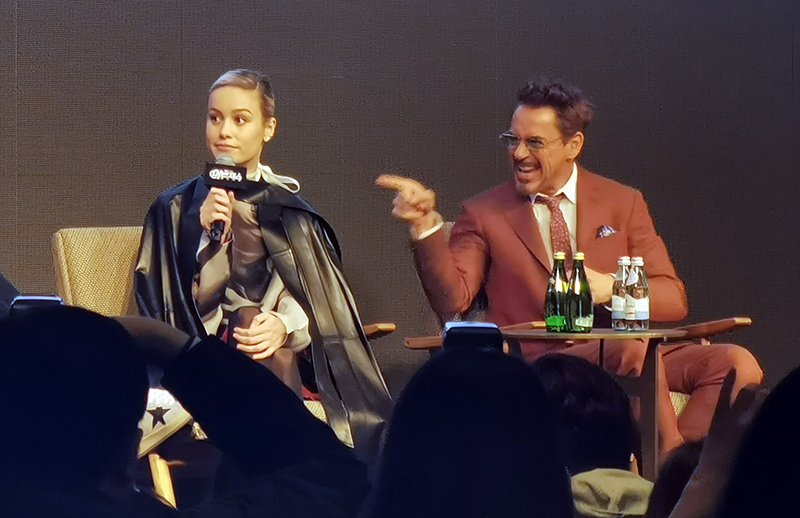 "My favourite (fan) theory is where Ant-Man goes up Thanos's butt!" declared the 54-year-old actor, who along with co-stars Jeremy Renner and Brie Larson, led the movie's press conference in Seoul, Korea this week.
Clearly, Robert Downey Jr has been keeping up with fan theories on how the Avengers would defeat Thanos in Endgame and gave his thumbs up on this popular theory.
The Iron Man actor was in a playful mood at the Avengers: Endgame press conference, where he was also joined by directors Joe and Anthony Russo, producer Trinh Tran, and MCU head honcho, Kevin Feige.
RDJ danced to his way to the stage and played with microphones when answering press questions.
But playful as he may be, he's grateful and humbled by the magnitude of what the Marvel Cinematic Universe has delivered, "Some of you hold the MCU close to your heart, and 10 years later, I'm glad to be part of witnessing this cultural moment. And I have a lot of gratitude."
Having been Iron Man for the past 11 years, RDJ alluded to passing the Avengers leadership baton to the leader of the next generation – Captain Marvel, when he addressed Brie Larson as the "Lady of the hour".
As the newest kid on the block, and the latest movie from the MCU to join the Billion Dollar Club, Larson says she is thankful to be part of the group, and candidly shared that playing Captain Marvel/Carol Danvers has changed her.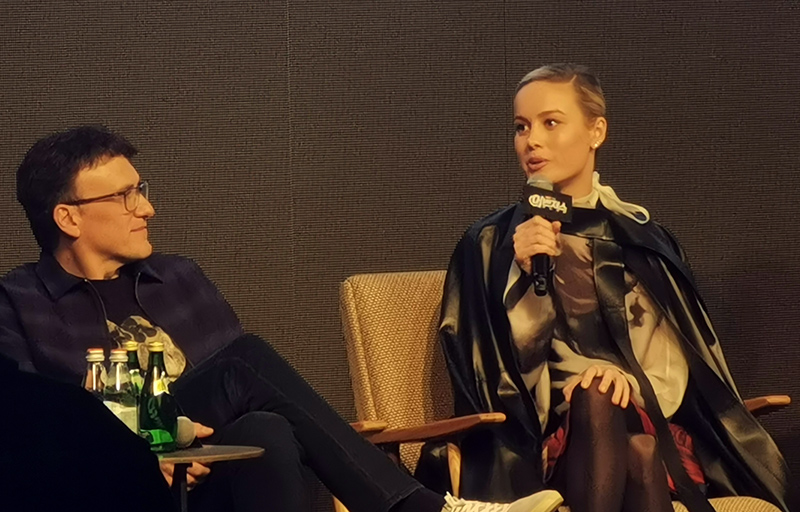 "Carol taught me so much. I always label myself as an introvert with asthma, and to prepare for the role, I learned how to box – I trained for 9 months before I started filming the movie. And it changed my brain, it changed the way I carry myself and it strengthened my voice, so it was an honour to have that role."
When pressed about the movie's plot, all three actors showed that they have mastered the art of responding but not answering anything. But here's a little fun fact that let slip during the press conference – Thanos doesn't meet all the Avengers. Hawkeye star Jeremy Renner acknowledged that he's never met Thanos star Josh Brolin, who plays the ultimate villain.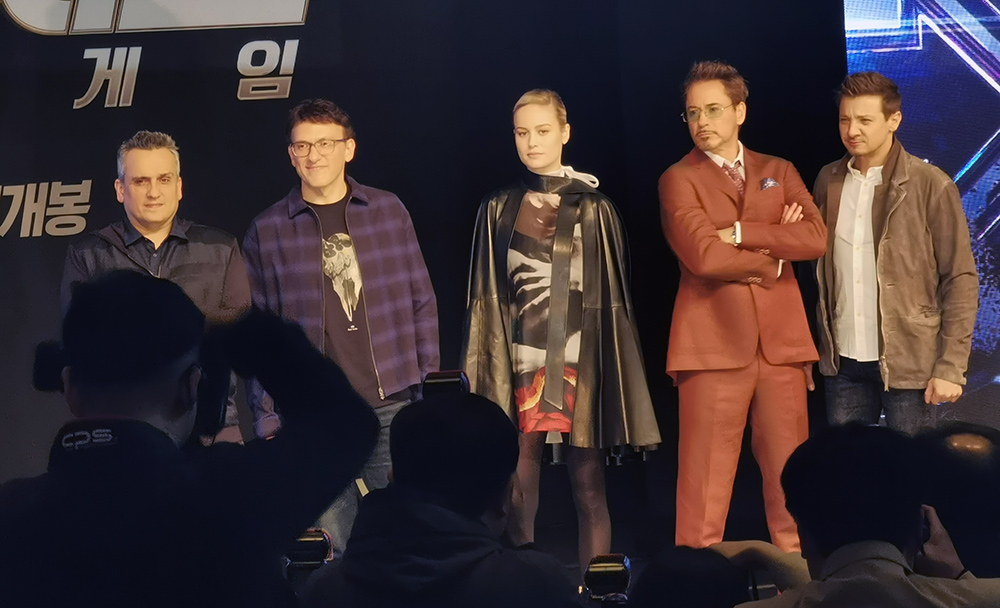 In an effort to deflect attention, Larson quipped, "I don't know but I do think he should be scared". RDJ artfully dodged the question by sharing that Josh Brolin is a lovable guy and feels bad that he had to be the bad guy. Perhaps they were afraid that any indication of a relationship with Josh might indicate a possible amount of screen-time with Thanos in Endgame.
The directors and Feige were equally tight-lipped about the movie, simply because they want to keep the element of surprise for fans.
Feige's main focus for the movie is to deliver an epic (spoiler -free) story that will satisfy the fans.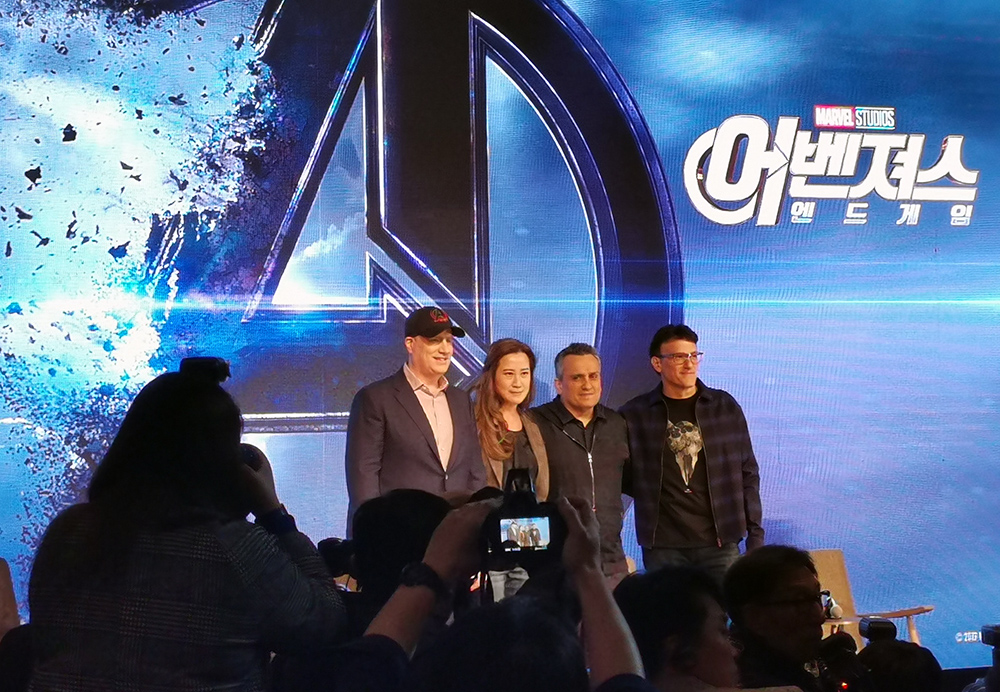 "This film is the ending; it's the culmination of the 22 films that we've made up to this point. We wanted to deliver to the fans, we (the filmmakers) are all fans and we've spent the better part of 10 years working towards this film. So the main concern is making sure that it is full of surprises, and that it will be a very satisfying conclusion to the Infinity Saga of 22 films."
Fans are clearly at the centre of what the filmmakers do. When asked how they feel about undertaking a project of this magnitude, Joe revealed that it was the fans' passion that drove them.
"This is a massive undertaking anyone has done for a movie, outside of the Lord of the Rings. Everyone worked incredibly hard to deliver, and we're really proud of the movie, and Anthony and I think this may be our best work at Marvel. And we hope that audiences feel the same."
"Of course there were moments of doubt, (where) you feel tired or exhausted, but we all have so much passion for what we do. And most importantly, we want to surprise our fans and making them happy was what kept us going."
With a running time of three hours and two minutes, there are sure to be plenty of surprises in store for fans.
And speaking of the run time, the directors and Feige had some tips on how to enjoy the movie. Anthony stressed that because it is the ending to a 22-movie run, you would not want to miss any of the 182 minutes.
"The one thing you need to prepare for the movie is not to eat or drink anything."
Feige urged fans to bring their enthusiasm and love for these characters, and lastly, he joked, "Bring tissues".
The press conference ended with the cast and filmmakers receiving traditional Korean craftwork with the Avengers logo printed on it.
Check out our coverage on the Avengers: Endgame Fan Event that followed!