It flips, it folds, and most importantly, it works. ASUS has maintained a stellar reputation for pushing beyond the boundaries of creativity, and the company has demonstrated its prowess yet again with the Zenbook 17 Fold OLED (UX9702) laptop (read our review). Designed to sit on the middle ground between a tablet and a laptop, this ultraportable hybrid looks to offer novel versatility, but without sacrificing hardware and display performance.
Here's how it works. Unlike traditional clamshell builds, the world's first 17-inch foldable OLED notebook can transform into a compact 12.5-inch alternative machine for on-the-go convenience, with six different modes available to users. The first, which is the familiar but traditional Laptop Mode, presents a 3:2 aspect ratio that gives a similar viewing area as a conventional 13-inch, 16:9 laptop display, and features a virtual keyboard for typing on the touchscreen.
For those who prefer a more tactile touch, there's a second option available where this petitie performance notebook can also be hooked up to the ASUS ErgoSense keyboard and touchpad, both of which will be sitting on the lower screen. Extended Mode, meanwhile, functions as two 12.5-inch full-size displays, with the portrait orientation and wireless keyboard support offering more vertical space and easier navigation.
In its 17.3-inch state, the Zenbook 17 Fold can switch between Desktop Mode, Tablet Mode, and Reader Mode. The last feature, in particular, comes in nifty for e-book readers, as the vertical screen not only optimises the experience, but also comes with certified low blue-light emissions for improved eye care.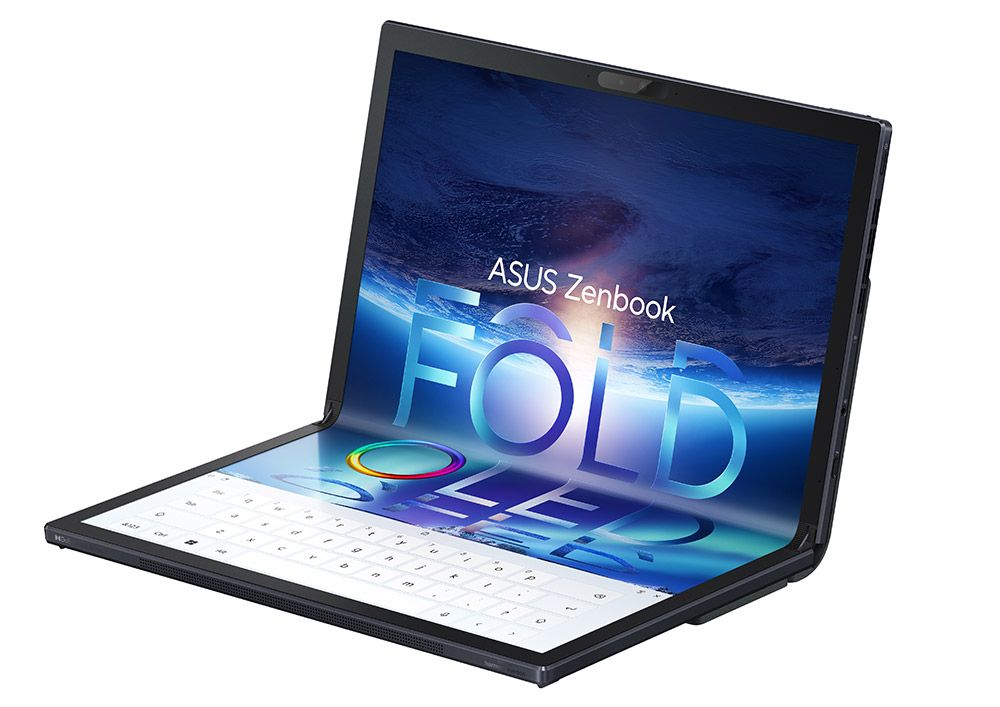 The window management feature in ASUS' intuitive ScreenXpert app serves to enhance this multi-screen experience. The displays on the device can be split in various ways for maximum productivity and efficiency, with up to three windows in any mode. Landscape orientation, for instance, will see the topmost window becoming the main window, while the others are automatically sized to fit via Mode Switcher, an icon that can be found at the lower right corner.
Looks and forms aside, one thing is constant across the board, and the notebook remains lightweight and slim in any state, measuring only 17.4mm when folded, and a mere 1.5kg without its keyboard. That doesn't mean that the notebook struggles to hold its own as it packs in quite the punch with up to a 12th Gen Intel Core i7 processor, as well as an Intel Iris Xe graphics card. Essentially, the Zenbook 17 Fold is a lean, mean machine that can be brought around anywhere – and for long hours to boot.
Indeed, its 75Wh battery ensures that the laptop will be able to last users through a whole day of use, which makes both the work and play experience even more enjoyable, especially when unfolded. At full size, its 2560 x 1920 resolution and 4:3 display work together to bring increased immersion, while the 1920 x 1280 resolution continues to demonstrate competency in producing decent visuals – despite the smaller form factor.
The use of OLED technology also puts the Zenbook 17 Fold in a great spot to deliver accurate colour, natural hues, and lively tones. Coupled with a response time of 0.2 millisecond, the device promises a visual marvel that packs in plenty of smooth, beautiful action. Switching between work, gaming, and watching videos will never get more seamless than this.
As a laptop-tablet hybrid, the ASUS Zenbook 17 Fold OLED has the flexibility to explore the limits of multitasking and creative work capabilities that conventional laptops are otherwise unable to tap into. It offers a convenient one-stop solution for those who are often on the go, and isn't just for show – the combination of performance, day-to-day functionality, and adaptable forms shows that versatility is king here.
The ASUS Zenbook 17 Fold OLED is out now and retails for S$5,499.
---
This article is brought to you together with ASUS Singapore.