Singapore's biggest gaming convention (video and tabletop), GameStart Asia 2017 took place earlier in October, and like with previous years, the queue to enter the place was so long, it stretched to the floor below and around the perimeter of the Suntec Convention Centre. Here's a recap of some of the highlights at the event.
[#1] Nier: Automata Segments at the Main Stage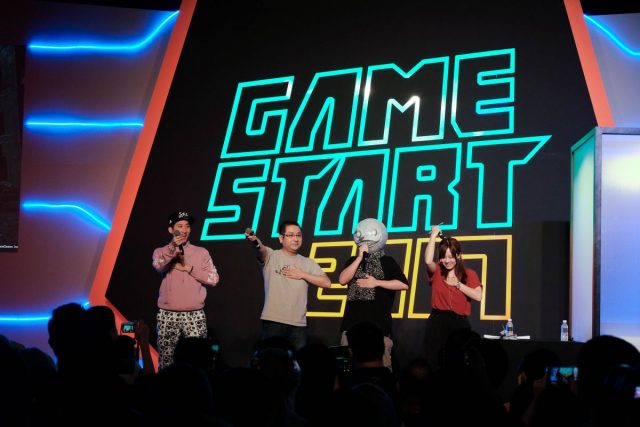 If you have not played Nier: Automata, quick, get it for the PlayStation 4. Game director, Yoko Taro, and producer, Yosuke Saito, the duoe behind the hit Square Enix game hogged the limelight at GameStart 2017, and fans had an opportunity to hear the dynamic duo answer their pressing questions, and learn the results of the fan poll. If you're wondering, Yoko Taro is not a fan of being photographed, so he only appears at events wearing a special helmet.
On the second day of GameStart, a Nier: Automata cosplay competition was held, with Yoko Taro, Yosuke Saito and Tokumaru Oguri-san (President of World Cosplay Summit) judging the competition. What was special about this competition was that the contestants were also judged on their ability to play the game… while in costume.
What? You expected some walkthrough for this competition? No way.
After the competition, and the winners were crowned, most of the contestants shared that they felt that they had already had a great achievement as they had met and shared the same stage as the Nier: Automata developers.
[#2] PlayStation's Booth

While many of us did not have the chance to attend the PlayStation Experience event in Malaysia, We had the PlayStation booth at GameStart 2017 to try out the latest unreleased games, and score some PlayStation swag. I cured my itch by trying out  Dissidia: Final Fantasy there. There were also throngs of games queuing to try out Bravo Team, a PS VR game compatible with the the PS VR aim controller.
Another hit among the crowd was the Grand Turismo Sport station which allowed gamers to try out game in the best possible way – in a pod with a steering wheel and a real driver seat.
[#3] Bandai Namco's booth
Another popular favorite of GameStart's attendees was Bandai Namco, who showcased Dragon Ball Fighter Z, an upcoming 2.5D fighting game featuring characters from the Dragon Ball Series. Watching the live game play with all the flashy moves, and devastating Ultimates got me excited for the game's actual release date in early 2018.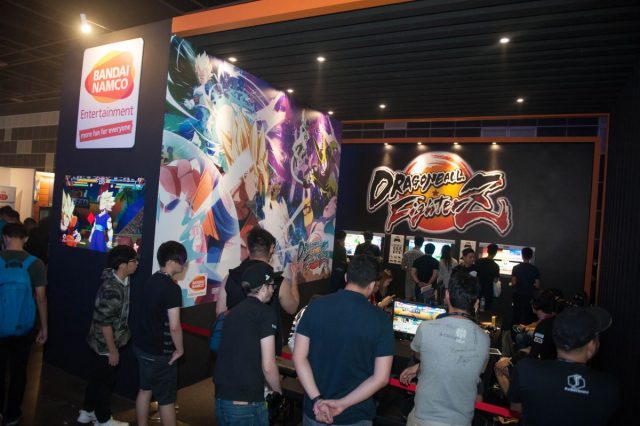 [#4] Doujin Market
Doujin Market makes a return to GameStart 2017 with 40 booths featuring talented artistes selling their fan art from games. My favorite piece this time was Darren Tan's  Iden Ersio, the lead character for Star Wars Battlefront 2's single player campaign. The art was actually completed just in time to be exhibited at GameStart for the first time.
More images of the booths at Doujin Market can be found here:
[#5] The Secretlab Grand Prix
The Secretlab Grand Prix aka Office Chair Race returns this year. It is always entertaining to see cosplayers and event attendees racing each other in Secretlab chairs to win prizes, and to see the amused reactions of passer-bys.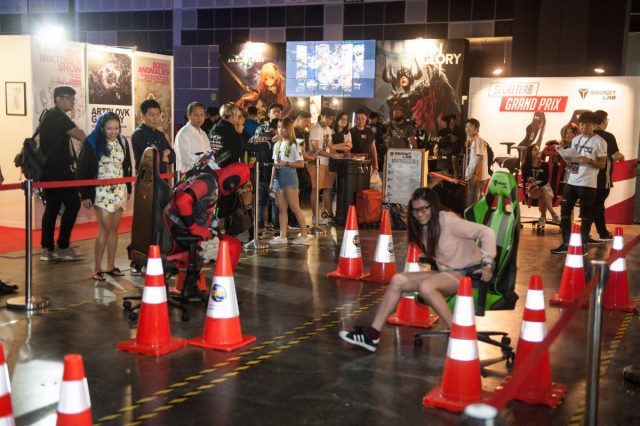 [#6] TableTop Games Area
With 3D printing and KickStarter becoming more accessible to the general public in Singapore, we are seeing more local board game designers creating their own games. GameStart featured many of these designers for the attendees to try out these games.
Also, the latest Collectible Card Games(CCG) such as Magic: The Gathering, Force of Will and the Final Fantasy CCG were available for the public to try. It was really helpful to learn a game with someone teaching and guide you on how to play, and an added bonus if the person teaching you is in cosplay.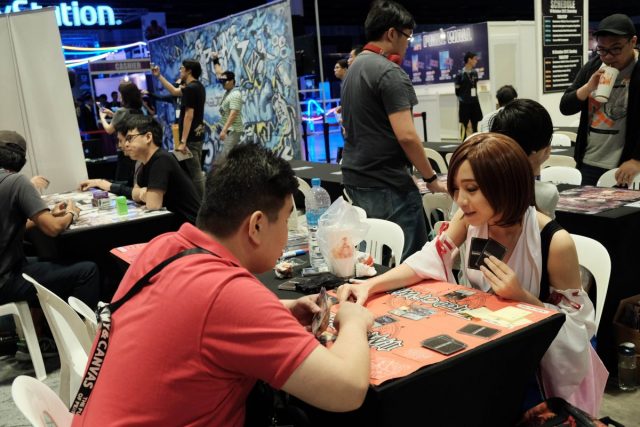 Eric Lang, a celebrity board game designer who had designed hit games and games with IPs such as Marvel and Star Wars also made an appearance on stage to share his experience in designing games.

[#7] HADOSG's Augmented Reality Game
Ever wished you could shoot fireballs out of your hands? That is exactly what Hado Singapore allows you to do in Augmented Reality. The game is simple, in teams of 3, you throw fireballs to hit your opponents, while dodging fireballs or shielding your allies. As the game requires you to move a lot, playing this game was a great workout.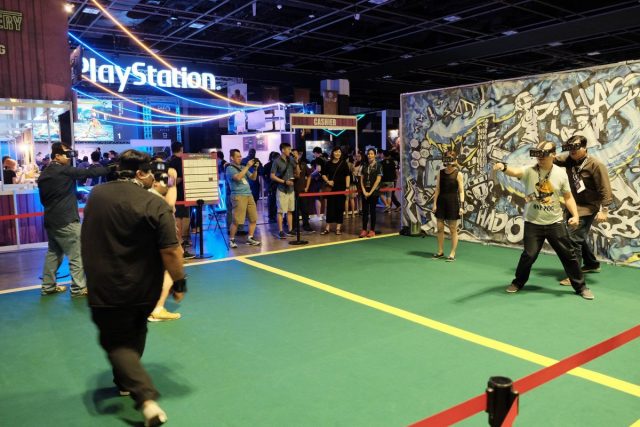 [#8] Indie Games
GameStart Asia featured indie games at the founder's base and at the IGDA booth. A game that caught our eye was the music game, Songbird Symphony by JoySteak Studios. GameStart attendees had the opportunity to get their names in the game's credit by submitting a birb (a game character) design at the event itself. This game won GameStart 2017's Judge's Choice Award.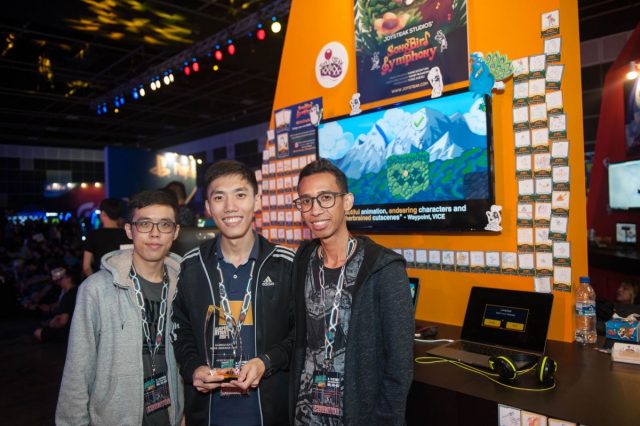 Another crowd favorite was the action RPG, Cat Quest, by the Gentlebros. The game was voted by the attendees who won GameStart's People's Choice award. I am guessing mixing Skyrim with cats was a really good idea.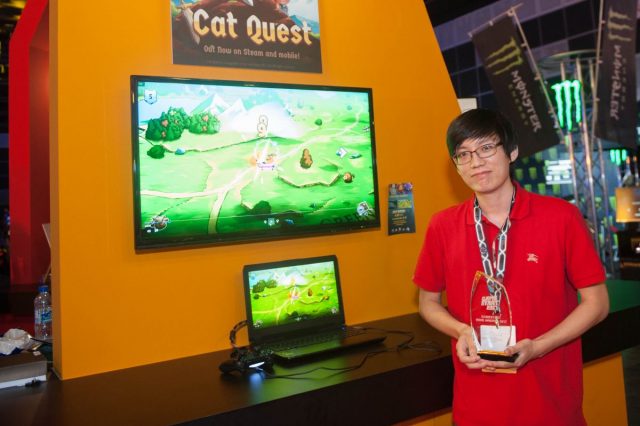 One thing we did miss was the presentation of Fight of Gods. Once the game was pulled out of the local Steam store, the developers decided against showcasing the game at their booth.
[#9] Cosplay
No game convention is complete without its cosplayers. Fans took the opportunity to take photos with them, and get memorabilia signed by the celebrity cosplayers from overseas.
GameStart also featured a game themed cosplay runway at the main stage, where Overwatch and League of Legends cosplays were trending. With a detailed costume which required the Fiddlesticks cosplayer to walk on stilts, the cosplay was a clear winner the moment he set foot on stage.
[#10] Esports!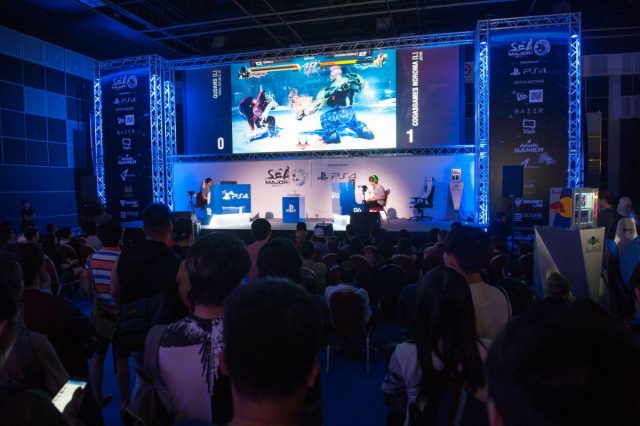 There was lots of esports action going on at GameStart 2017. Sponsored by PlayStation, the SEA Major tournament returns to GameStart. It featured various popular fighting games such as Street Fighter V, Marvel vs Capcom Infinite and Tekken 7.
There were also Injustice 2 and Windjammers competitions going at GameStart's main stage. We saw, Xian, a local favorite esports athlete in action. He achieved 4th place in Street Fighter V, and 2nd place in Injustice 2.  Mobile Games also had some esports with Shadowverse and Vainglory tournaments going on. Finally, GameStart ended with a bang with its last scheduled tournament, featuring Player Unknown's Battlegrounds.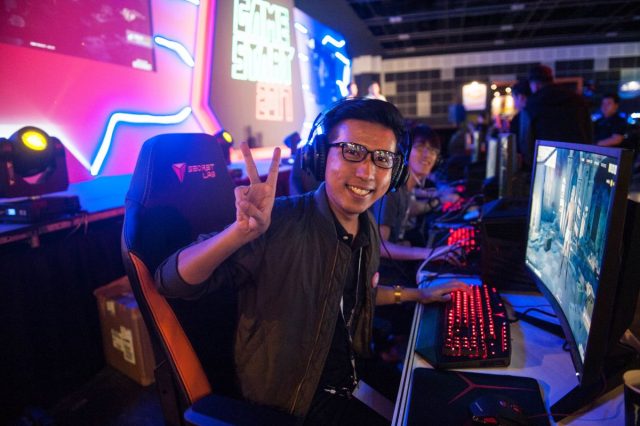 SnapSniper is an avid geek who is both a huge fan of games and an even bigger Star Wars fan.