Steam may have proudly reigned in the PC market over the past decade or so, but the landscape is slowly changing with the inception of the Epic Games Store and the Discord Store, both of which offer greater revenue shares to game publishers.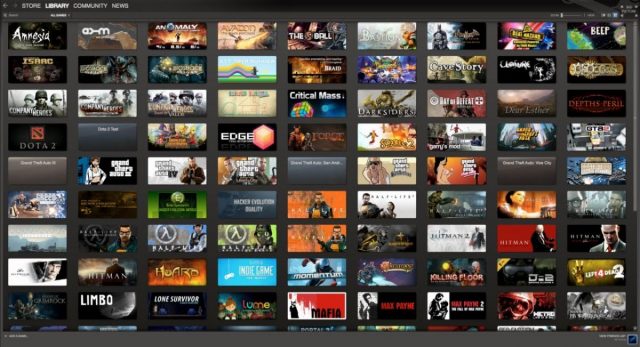 In light of such competition, it is, perhaps, only expected that Valve is all geared up to push out some new features for the new year.
As per the official blog post, a total of eight changes will be making their way to Steam in 2019 – just in time for the team's celebration of achieving the 30,000-game (excluding DLC or software) milestone.
The most prominent update of the list would be Steam's official expansion into China's PC gaming market, supported by a partnership with Chinese studio Perfect World, whose specialisation lies in MMO titles. The store discoverability experience is also set to be enhanced through the use of machine-learning technology, which allows for more accurate match-ups that are adjusted based on one's individual gaming preferences.
Meanwhile, content creators and streamers can stand to benefit from an upgraded Steam TV, as platform compatibility is extended to all games in due time. Cheating cases are expected to go down in numbers as well, courtesy of an expanded Steam Trust system. Last but not least, a brand-new Steam app will be introduced to the mobile market, with its special PC cafe build planned for an upgrade.
Below is a more detailed look at each of the changes, according to Valve's complete description:
Store Discoverability: We're working on a new recommendation engine powered by machine learning, that can match players to games based on their individual tastes. Algorithms are only a part of our discoverability solution, however, so we're building more broadcasting and curating features and are constantly assessing the overall design of the store.
Steam China: We've partnered with Perfect World to bring Steam onshore into China. We'll reveal more details about this in the coming months.
Steam Library Update: Some long-awaited changes to the Steam Client will ship, including a reworked Steam Library, built on top of the technology we shipped in Steam Chat.
New Events System: We're upgrading the events system in the Steam Community, enabling you to highlight interesting activities in your games like tournaments, streams, or weekly challenges.
Steam TV: We're working on expanding Steam TV beyond just broadcasting specific tournaments and special events, in order to support all games.
Steam Chat: We're going to ship a new Steam Chat mobile app, so you can share your favourite GIFs with your friends while on the go.
Steam Trust: The technology behind Trusted Matchmaking on CS:GO is getting an upgrade and will become a full Steam feature that will be available to all games. This means you'll have more information that you can use to help determine how likely a player is a cheater or not.
Steam PC Cafe Program: We are going to officially ship a new PC Cafe Program so that players can have a good experience using Steam in hundreds and thousands of PC Cafes worldwide.
The above changes are, to say the least, rather interesting, although it is too early to judge whether they are effective measures in keeping out the competition. Our bet is on the 'probably not' option, but there's no denying the potential of user base growth with Steam's venture into China.
---

Drop a Facebook comment below!