If you've been playing games on PC, STEAM is a must-have. Because, well, we really don't have a lot of viable options for distribution platforms. But that might be about to change, because the Epic Games Store is debuting, touting a more lucrative profit split for game developers.
While Steam traditionally offers developers a 70-percent share of the revenue, Epic Games has decided to shake things up a little by taking only 12-percent of the proverbial pie, so developers using the Epic Games Store will get to bring home a considerable 88-percent. As an added bonus, those using Epic's Unreal Engine will also have their royalties waived on the Epic Games Store.
That sort of… consideration for developers seems to stem from Epic Games' own experience on the digital market.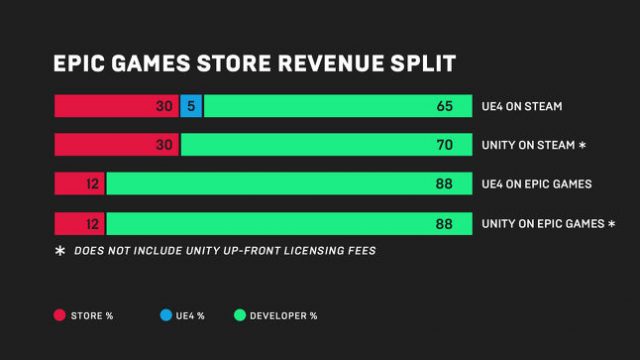 In an interview with Gamesindustry.biz, Epic Games' founder and CEO, Tim Sweeney, said, "Fixed costs of developing and supporting the platform become negligible at a large scale. In our analysis, stores charging 30% are marking up their costs by 300% to 400%. But with developers receiving 88% of revenue and Epic receiving 12%, this store will be a profitable business for us."
Revenue-split aside, Epic Games is also kickstarting the Support-A-Creator Program, which will match developers up with content creators, and this will hopefully "make it easier for players to discover games, and [for developers to] reward content creators for their efforts", according to Sweeney.
While the selection process for what games get to go into the store is currently all manual, Sweeney promises to announce more details when the store is ready for a wider market in 2019 — although he does mention that their considerations tend to lean on the technical and quality assurance side of things, and they're not looking to curtail content or artistic expression (except for adult-only works).
And if you're looking for a new forum board to troll, stalk or… politely partake in, well, you're out of luck, Sweeney notes that there are already existing online communities which fans will naturally gravitate towards — like Reddit or Discord — which is fair, we suppose.
On the bright side, they're looking into "no-questions-asked" refund tokens, available for use fourteen days after purchase. The store should also support mods, free-to-play and non-commercial games, with a free game featured every two weeks through 2019.
---

Drop a Facebook comment below!