Fans of the Strawhat Pirates looking for some new gear and apparel to show off their love for One Piece will be excited to know that Japanese bag brand Mis Zapatos has recently launched a new range of handbags and backpacks.
Though One Piece has many well-loved characters, this time Luffy and Zoro take center stage, with both the pirates dressed in their kimonos as seen in the currently-ongoing Wano Arc in the anime and manga on a range of bags, including the spacious 2-Way Tote Bag (7,150 yen/S$92.52), Gear Second PC Backpack (8,250 yen/S$106.76), Gear Third Shoulder Pouches (4,290 yen/S$55.51), Gear Fourth Crossbody Bag (7,150 yen/S$92.52).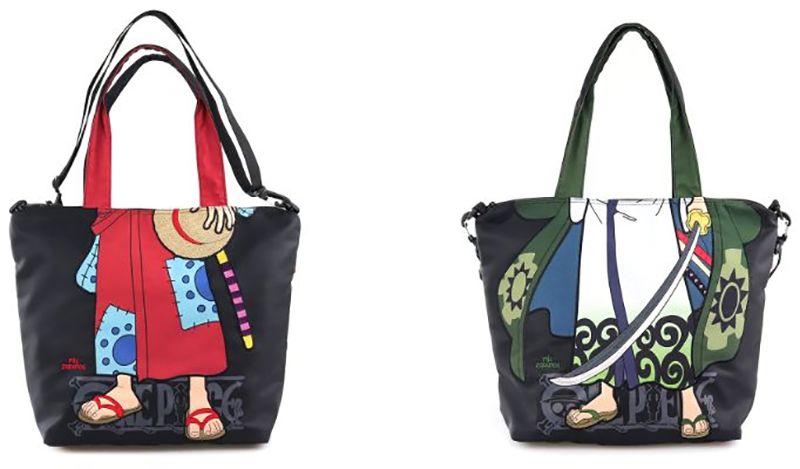 As Mis Zapatos stands for "my shoes" in Spanish, their bags often sport pairs of beautiful footwear. Only this time, instead of pretty billowing skirts and pointed heels, it is Luffy and Zoro in traditional Japanese geta and kimono.
If you'd prefer not to have the bottom halves of Luffy and Zoro on your bag, but will still wish to show off your love for the series, Mis Zapatos also has the Flare Skirt Rucksack: Straw Hat Pirates (6,490 yen/S$83.98) which comes in both black and beige. Both bags feature close up shots of Luffy's squad patterned onto the flare skirt.
If you wish to have the highest level of subtlety with these bags, there is the Long Skirt 3-Way Satchel: Straw Hat Pirates bag (6,490 yen/S$83.98) which can function as either a backpack, tote bag, or shoulder bag. Though at first glance it might seem like any other Mis Zapatos product, discerning viewers will be able to spot that the fabric of the shoes are plastered with portraits of the Strawhat gang. It also comes in both black and beige.
If you wish to snatch one of these One Piece bags before they're gone, you can do so on Village Vanguard's website.
---

Drop a Facebook comment below!