You often hear people say to enjoy the little things in life.
Perhaps no one embodies this saying better than toy photographers like Joel "Tiger" Magno, who is best known for his numerous awesome toy photographs on his Instagram @Tigermiyaw.
A digital marketer by trade, and photographer and chibi toy collector on the side, Tiger got inspired to try toy photography from his brother who was the first toy collector in the family.
"His collection was more of those action figures and transforming robots. I saw him taking photos of his collection and thought I wanted to do that too," Tiger shared in an email interview with us "It was then I decided to collect cute chibi toys and started toy photography in 2011."
Tiger has come a long way since first starting his hobby in 2011. Since then, Tiger has worked with brands such as Logitech, Golden Village, and Sony, providing his expertise on toy photography to help them promote their products.
A quick look on his Instagram, which has an impressive follower count of over 18,000, shows Tiger's impressive collage of toy photography, spanning series such as Marvel, DC, Pokemon, and Disney.
Accompanying Tiger these nine long years is his 2.5-inch tall figure of Carl, from the Pixar movie Up. According to Tiger, he has had the Carl figure since the very first day of his toy photography journey, hence it holds a very special place in his heart.
Still, there was once he had a scare in Japan when he thought he had lost his tiny figure.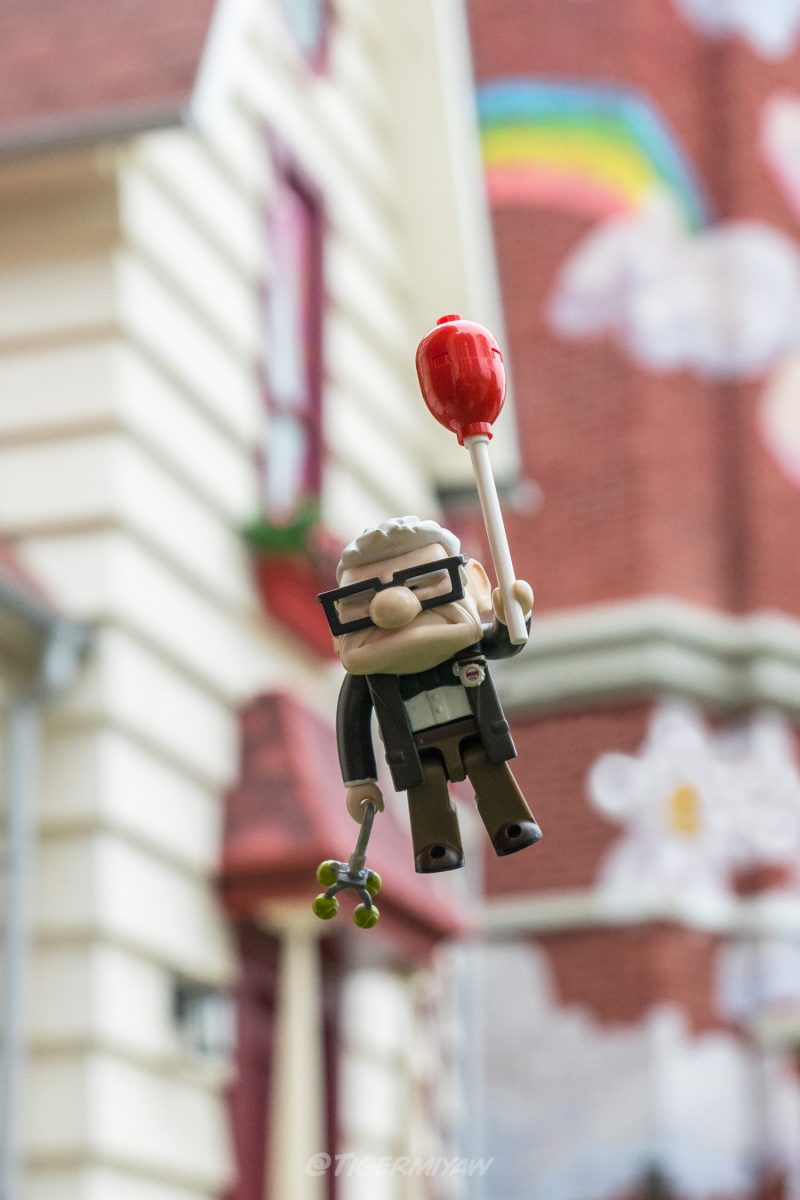 "I have brought [Carl] to many of my travels – in Asia, Australia and even the US. I travelled once to Japan and I couldn't find him. I thought I lost him because he was like, maybe only 2.5 inches tall but luckily he was just in my backpack. He's the most travelled toy from my collection."
Out of all the photos he has taken throughout these nine years, his favourite has to be his chibi-fied recreation of Tony Stark's passing with Spider-Man by his side at the end of Avengers: Endgame, calling it both "emotional and really cute at the same time". Indeed this scene will be a familiar and heartbreaking one for fans of the MCU, but the Nendoroids used does help to add a pinch of cuteness to an otherwise all-too depressing scene.
Of course, Tiger admits he did not become a master of toy photography overnight. In the beginning, he had trouble finding a style to make him stand out from other toy photographers, especially since it was inevitable for toy photos to look the same as everyone else's.
"For me, I tried my best to put my heart and feelings into every single photo," Tiger added. "Eventually, it transcended to my photos. Still, I can't say they are unique but I feel good with how my style turned out to be."
Being an outdoor toy photographer, Singapore's current Circuit Breaker measures has posed somewhat of a problem to Tiger as he is now unable to go to parks and other places outdoors to take his photos. Fortunately, Tiger has decided to make the best of this situation as is currently trying to pick up indoor toy photography.
"I miss going out being in the wild but we must stay at home to keep ourselves and others safe," said Tiger. "I will take this opportunity to pick-up indoor toy photography and may stop-motion with my figures. It's high time to improve on our craft and try to learn more things this CB period."
Though both involve photography, indoor and outdoor photography each pose their own challenges. For example, when taking photos outdoors, you have an unlimited amount of background options. You can choose to take a photo by the sea, or in a field of grass, or against the bright blue sky, whereas in indoor photography, you are limited to what you have in the room you are in, meaning you will have to get creative to shoot something different.
For those who are interested in starting toy photography, Tiger has three quick tips to share:
Firstly, he highly recommends unboxing your toy, playing with them first before taking a quick snap. It doesn't have to be an amazing photo, but everyone has to at least start from somewhere after all. Secondly, Tiger says to experiment with different ways of taking photos of your toys.
"Think of emotions and how you want your photos to be received" Tiger shares. "How do you want people to feel upon seeing them? Do you want to make them laugh, happy or sad? You decide."
This also goes back to Tiger's earlier challenge of finding a 'style'. Through experimentation, you will have a better idea of the kind of photos you'd like to take, which in turn can help you find a style that is uniquely yours.
Lastly, Tiger says to never be shy, especially for those who wish to try outdoor toy photography. You might get stares and whispers when playing with your toys in public but Tiger says that " there's nothing to be ashamed of playing with toys", just have fun with your toys and tell the story you wish to share with your photography.
Or as Tiger succinctly puts it, "Tell a big story with small cute figurines and enjoy."
---

Drop a Facebook comment below!