It has been six years since Windows 10 has become the household operating system for Windows users, and the time for an upgrade is nigh. After months of teases and a giant leak last week on Baidu, Microsoft has confirmed the name of its upcoming project, which is none other than… wait for it, Windows 11.
The new operating system will bring both novel and familiar offerings, with changes made to existing elements, and a handful of the latter swapped out for fresh features. Focusing on delivering a simplified and more integrated user experience, Windows 11 is set to be the sleekest version of itself when it arrives sometime this holiday.
From a cleaner user interface (UI) to a new Xbox app, here are our top five picks that are welcome additions to the new operating system.
---
UI Improvements
Prior to Windows 11, the team was reportedly working on Windows 10X, a project planned for dual-screen devices that unfortunately ended up being cancelled. It wasn't all a lost cause, however, for a lot of the features developed then are seemingly carried over to Windows 11, including a new Start menu and an updated Start button that will both be centred on the taskbar.
Additionally, the Live Tiles offering is opting for a launcher that falls more into the style of Chrome OS and Android. Rounded corners are going to be a thing here, as is also the case with apps, recent documents, and a separate search interface.
Snap Layouts and Snap Groups, meanwhile, are new features that seek to improve multitasking capabilities on multi-display set-ups. Where the former allows users to quickly snap apps into various supported modes, Snap Groups helps to remember where these apps are stored. To make the experience more user-friendly, Microsoft has ensured that apps will only open on the designated screen, so there's no need to worry about clutter or switching between different windows.
Android App Support
In evident response to Apple's integration system and progress with M1 chip capabilities, the software giant is rolling out Android app support for the first time. More information is expected to be on the horizon, but here's what we know: supported apps will downloadable from Amazon's Appstore via the new Windows store included in the operating system, and can be pinned to the taskbar or snapped alongside traditional Windows apps.
Microsoft is partnering with Intel to make this a reality via Intel Bridge technology, with the likes of TikTok, Snapchat, Venmo, Instagram, and Adobe Creative Suite joining the list of supported apps. All of them are set to still work with AMD and Arm-based systems, though the line-up has yet to be announced.
New Xbox App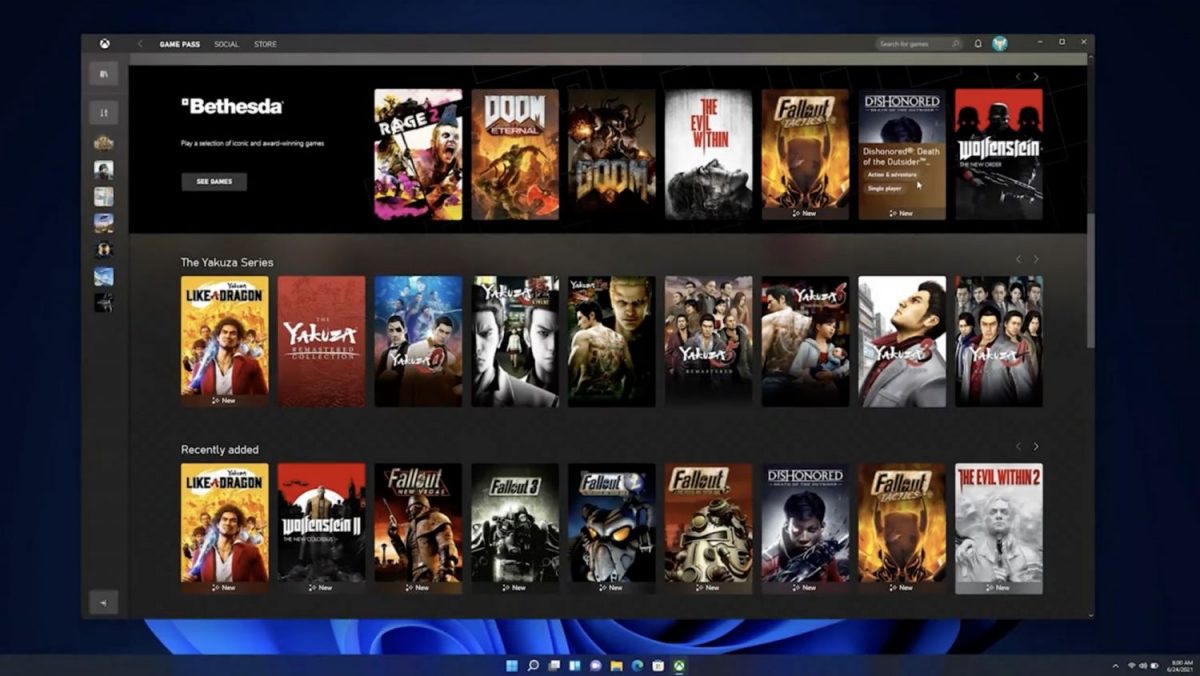 Microsoft has made gaming more accessible and convenient with the Xbox Game Pass, and that isn't about to change with Windows 11. Courtesy of a new Xbox app, the Xbox Game Pass is being integrated directly into the operating system, and will offer performance-boosting elements, such as Auto HDR and DirectStorage, from the Xbox Series X|S family.
Where Auto HDR helps to add high dynamic range (HDR) to a series of DirectX 11 and DirectX 12 games for improved visuals, the latter is designed to speed up game load times on the new operating system, thus allowing for smoother, more efficient transitions. Streaming games from Microsoft's cloud will be available through xCloud integration as well. As gaming enthusiasts would say, "GGEZ".
Microsoft Teams Integration
Say goodbye to the end of an era. Windows 11 is swapping Skype out for Microsoft Teams, allowing consumers to call their contacts from the taskbar. A universal mute button has also been included in the system tray, which makes muting the microphone a much simpler affair across all apps.
While it all boils down to personal preferences, Teams is ultimately a more well-rounded communication platform with its Microsoft apps compatibility, document collaboration, scheduling tools, and the ease of access to video calls without having to log in – perfect for meeting up with clients who aren't using a Teams account (Skype, in comparison, could only host calls between account holders).
Redesigned Windows Store
The biggest part of Windows 11, the redesigned store will house a slate of apps that weren't available on the operating system prior, including Adobe Creative Suite, TikTok and Instagram (as mentioned earlier).
But it's not only the users who stand to benefit from the upgrade. In line with its vision to encourage sovereignty for creators, Microsoft is offering them the option to use their own "commerce engines" and payment systems without taking a cut of their earnings.
Talk about killing two birds with one stone.
---
As with all updates, Windows 11 will come with a series of upgrades and new features in tow, though the focus on integration is particularly noteworthy. The digital way of life, after all, has led to increased interconnectedness, and building a seamless, convenient ecosystem would very much be a boon. Naturally, we're not expecting it to function perfectly on launch – Windows 10 came with its fair share of bugs and glitches when it first landed – but it does seem to help pave the way for a more user-integrated future.
Windows 11 is expected to be a free upgrade for Windows 10 users this holiday, with no exact release date announced just yet.