The first time anyone saw the Millennium Falcon, it was at Docking Bay 94 at Mos Eisley. The next time you catch it, it won't be anywhere near the wretched hive of scum and villainy, but nearby at LEGOLAND Malaysia.
Come this May, LEGOLAND Malaysia will be playing host to Asia's only Master Builder event, with the world's only father-son Master Builder Team, Daniel and Christopher Steininger, in attendance. Daniel is currently the most senior LEGO Master Builder in the business, and there are only seven around the world.
Together, they've built the world's largest LEGO replica of the Millennium Falcon (250,000 bricks), which was shown last May in Melbourne, Australia. They were also responsible for the world's largest X-Wing (5,000,000 bricks), which was unveiled in Times Square, New York City back in May 2013.
(We hope you've seen the trend and the dates, because they will be across the Causeway, to celebrate Star Wars Day on May the 4th, 2016.)
And yes, they will rebuilding the LEGO replica of the Millennium Falcon at LEGOLAND Malaysia.
Apart from that, there will also be a while slew of activities taking place in LEGOLAND Malaysia throughout the month of May. This is regarded as the largest LEGO Star Wars event in the region, and here's a handy guide of all the activities that will be happening in the month of May at LEGOLAND Malaysia, so you can mark your calendars for those that matters most.
21 April to 8 May
Parents are encouraged to partner up with their kids, to participate in the "Build Your Own Dream LEGO Star Wars Starship" social media competition! To enter, participants simply have to upload a photograph of their LEGO Star Wars creations onto LEGOLAND Malaysia's Facebook page, with the hashtags #MasterYourForce and #LEGOStarWarsDays. After a week of judging by the LEGO Master Builders, 10 winners will be picked and awarded with special prizes on 14 May 2016.
30 April to 3 May
Watch the father-son LEGO Master Builder Team build the world's largest LEGO Millennium Falcon, using more than 200,000 bricks, once again. The final brick will be laid on 3 May, during a media session with LEGOLAND Malaysia Resort's guests-of-honour. The completed spaceship will be on display till end of May 2016.
1 to 31 May
LEGO Star Wars MOC competition works will be displayed all over LEGOLAND Malaysia, with 99 finalists chosen from countries in the region, including Hong Kong, Indonesia, Malaysia, Singapore and Taiwan. This year, the competition consists of 3 categories: 7-15 yr old, above 15 yr old, and parent & child. The winners of the respective categories will be awarded on 8 May 2016.
7 to 8 May
Two giant TIE Fighters will be built on site, and guests will be able to help out with the construction. These will then be put on display until the end of June 2016. Park guests will also be treated to a real-life Imperial March, led by more than 90 Star Wars Star Wars costumers from the 501st Legion.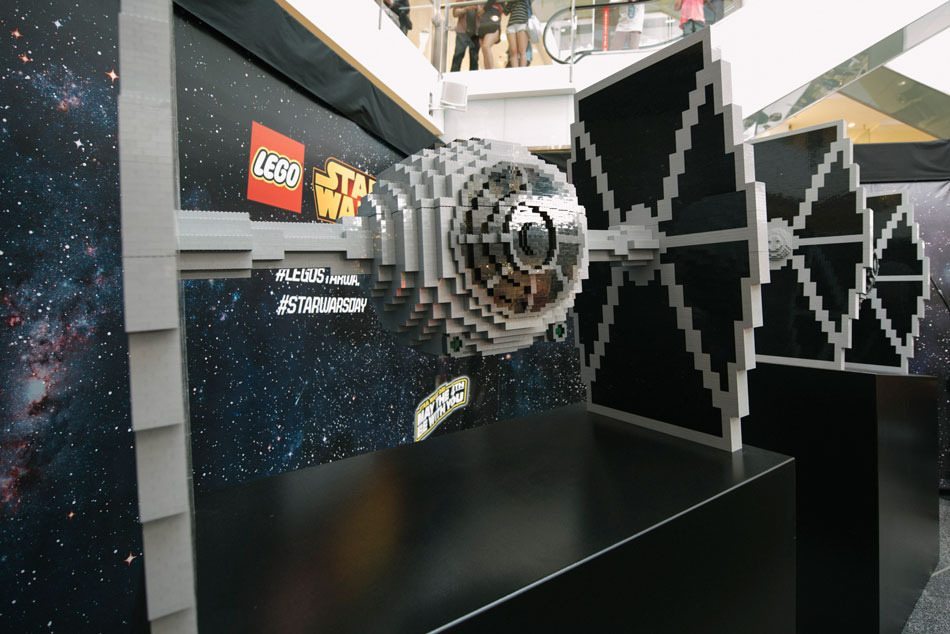 Every Weekend in the month of May
Park guests will get to bring home a mini LEGO Millennium Falcon build! We're guessing it would probably be the Microfighter, or perhaps a cutesy MOC of sorts? There will also be a treasure hunt and photo opportunities with LEGO Star Wars characters throughout the park.
For more details, or to book tickets, head to www.legoland.com.my.