There can be no game without a way to control the game. For the consoles, that way is through controllers. Hardcore gamers especially can be really picky about their controllers. Razer, one of the biggest name in gaming, has added a new lineup to their Raiju series of officially licensed controllers called the Raiju Ultimate and Raiju Tournament Edition. Along with these controllers, Razer is also releasing a gaming headset called the Razer Thresher.
Stating that controller design development has been slow in comparison to the development of gameplay standards in console games, Co-Founder and CEO of Razer, Min-Liang Tan, said that Razer has created these controllers, as well as a gaming headset, to "answer the call for the next-level PS4 hardware".
---
Razer Raiju Ultimate
Customization. That's the buzzword of the day. The Razer Raiju Ultimate is designed to be modular and customizable at many levels. From mappable buttons to lighting effects, these are only a few of the customizable parts on the Raiju Ultimate.
To keep track of all the customization, the controller connects to a mobile app. This app can change the mapping of the multi-function buttons and save more than 500 profiles for different games and game styles. The sensitivity of the thumbstick can also be adjusted for better aiming or faster response. Lighting effects, powered by Razer Chroma, syncs up the controllers RGB lighting with vibrations and responds to button actions as well.
The thumbsticks and D-pad are interchangeable, depending on preference. The thumbsticks can be a concave design with a crosshair texture or a domed design. The D-pad comes with either a one-piece concave D-pad or one with individual buttons. Razer also uses their patented Mecha-Tactile Buttons, where the buttons keep the comfort of a membrane rubber dome, but with the tactile clicks of mechanical buttons.
There are several different ways this controller can connect to your console and/or PC. A built-in switch on the back of the controller can switch the connectivity modes between PS4, Bluetooth, USB and PC Bluetooth mode. There's a quick control panel that gives instant access to functions like on-the-fly mapping and profile switching. To prevent those unintentional key presses that can totally ruin a gaming session, a secure button lock will prevent this those accidental presses from registering.
---
Razer Raiju Tournament Edition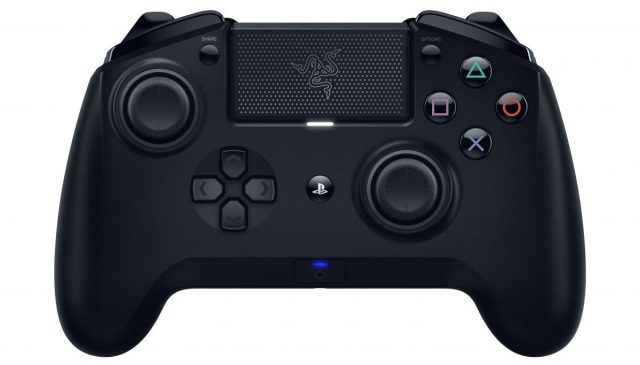 The Raiju Ultimate is packing a plethora of features and customization options. If that's not something that's too important, for a lower price, the Raiju Tournament Edition offers the same basic functions as the Raiju Ultimate. What's not available on the Raiju Tournament Edition are interchangeable thumbsticks and D-pad, lighting effects, and a quick control panel. Everything else, like the mappable multi-function buttons and over 500 saved profiles, are still available.
Razer Raiju Ultimate
Razer Raiju Tournament Edition
Connectivity
Bluetooth & wired
Action buttons
Razer Mecha-Tactile Buttons
D-pad
Interchangeable
Individual buttons, concave plane
Analog sticks
Interchangeable
Concave, crosshair texture
Multi-function buttons
Yes
Lighting effect
Chroma Lighting
No
Trigger stops
Yes
Configuration
Mobile app $ quick control panel
Mobile app
Sensitivity clutch level adjustment
Adjustable through mobile app
3.5 mm headphone jack
Yes
Approx. size
106 mm x 155 mm x 66 mm
104 mm x 159.4 mm x 65.6 mm
Approx. weight (w/o cable)
352 g
322 g
SRP
S$359.90
S$239.90
---
Razer Thrasher for PS4
To cater to gamers even better, Razer has announced their Razer Thresher for PS4 headset. It's designed for comfort and control. It has a wireless mode using a 2.4 GHz connection with a range of up to 12 meters. If wireless is not an option, a wired 3.5 mm connection is also available.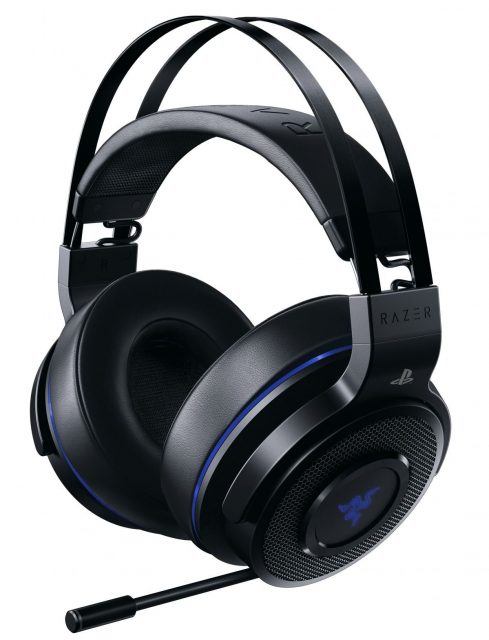 The controls are placed on the headset for easy reach and control. No more fumbling trying to find the control on your wire. For clear communication during online gaming sessions, the headset features a retractable unidirectional boom microphone and mic-monitoring. The mic-monitoring allows you to hear yourself in-game, so you know when your mic is working properly or not.
Long gaming sessions can mean long periods of wearing headsets. The Razer Thresher comes with large leatherette ear cushions made of memory foam to conform to anyone's head. The foam provides not only comfort but noise isolation. I personally hate wearing headsets because it presses on my glasses, but Razer has indented eyewear channels in the ear cups to ease the pressure of the glasses on your head.
Though made for the PS4, the Razer Thresher is also compatible with the PC, Nintendo Switch, and other devices as long as they have a 3.5 mm audio port. There's no need to buy multiple headsets for multiple devices.
| | |
| --- | --- |
| | Razer Thresher |
| Connectivity | Wired & wireless |
| Frequency Response | 12 Hz – 28,000 Hz |
| Drivers | 50 mm with neodymium magnets |
| Impedance | 32Ω at 1 kHz |
| Wired connection | YAnalog 3.5 mm |
| Wireless connection | RF 2.4 GHz, up to 12 m |
| Mic frequency response | 100 Hz – 10,000 Hz |
| Mic Sensitivity (@1kHz, 1V/Pa | -38 ± 3 dB |
| Mic Signal-to-Noise Ratio | >55 dB |
| Battery life | up to 16 hours |
| SRP | S$209.90 |
The Razer Raiju Ultimate, Raiju Tournament Edition and the Razer Thresher for PS4 is available now on Razer.com and worldwide in Fall 2018.
Dea wishes she could play the latest Tomb Raider or Uncharted, but she can't, so instead she reads and watches other people play. On her down time, you can probably find her re-reading Captain Marvel. The Carol Danvers one.
---

Drop a Facebook comment below!