ASUS TUF Gaming is releasing two new gaming laptops: the FX505 and FX705. Promising quality at an affordable price, ASUS has engineered these laptops to be durable with all the essentials of a gaming laptop.
Let's take a closer look at what these machines have to offer.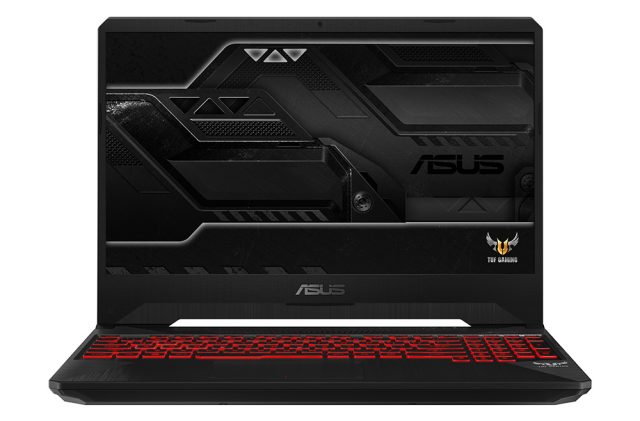 Any gaming machine is useless without a good processor. ASUS has chosen to use the 8th generation Intel Core i7-8750H as the core of their machines. It's capable of processing at a much faster rate than the previous generation. Along with the i7, both models feature up to an NVIDIA GeForce GTX 1060 GPU and up to 32GB of DDR4 2666 MHz RAM. This, and a 512 GB PCIe SSD and a 1TB FireCuda SSHD, creates a machine that promises to deliver a fast game-load times, whether that game is Overwatch or Fornite.
A fast machine is all well and good, but the outside matters as well. A great screen is crucial in gaming and ASUS made sure of this by using a full HD IPS-level NanoEdge display with a refresh rate of up to 144Hz.  The display is also matte non-reflective, making for a wider viewing angle with vivid colours. The bezel on these laptops is also slimmer than previous models, giving that immersive experience with a smaller overall laptop footprint.
Since most games are played with the keyboard, considerations must be put into the design of it. The keys have 1.8mm of key travel, on the longer side than a lot of laptops. Hitting the keys at the right moment can make or break the game, so ASUS has developed the ASUS Overstroke technology where it raises the actuation point in the keys, making it even more responsive for those split-second decisions. In trying to make it even more like a desktop keyboard, the keycaps are dished and the arrow keys are laid out separately from the rest of the keys. There's also backlighting with customizable RGB or a red glow that matches the red accent of the laptops.
For a completely immersive gaming experience, good audio is a must. Both laptops are integrated with the DTS Headphone:X technology. Whether over headphones or speakers, ASUS guarantees you an audio experience that can be tailored to your needs, whether it's for gaming, watching movies, or playing music.
A gaming rig would not be complete without connectivity. ASUS is providing Ethernet ports for faster, reliable internet as well as Intel's 2×2 MIMI 802.11 ac Wave 2 Wi-Fi. The laptops are also equipped with HDMI ports for multiple displays, so you can play PlayerUnknown's Battlegrounds on one screen while watching your favourite streamer plays on the other. There are also both USB 3.1 and USB 2.0 for other peripherals.

As per the name, the TUF Gaming products are designed to be tough and last a long time. Not satisfied with the standard testing, ASUS used a military-grade MIL-STD-810G test. It can withstand sudden jolts and drops, not that you should be doing that to your laptop anyway. Their HyperStrike keyboard has been tested to last for 20 million key presses, or roughly 39 years. The laptop will probably break before the mechanical keys do.
It is inevitable for any computing machine that does a heavy workload to heat up. Gaming especially takes a lot of processing power, which can result in throttling, making your computer and your gaming much slower. To solve this, the FX505 and the FX705 features the HyperCool system. The processor and discrete graphics have their own independent fans and heatsinks. Feeling uncomfortable using the keyboards because of heating issues? The design allows for fans to be located directly under the keyboard, making it cooler for a more comfortable gaming experience.
Series
FX505
FX705
Processor

8th Gen Intel

Core

i7-8750H

Graphics

Up to NVIDIA

GeForce

GTX 1060

Memory
Up to 32GB DDR4 2666MHz
Storage
Up to 512GB PCIe SSD
Up to 1TB FireCuda SSHD
Display
15.6″ FHD NanoEdge wide-view display up to 144Hz and 100% sRGB
17.3″ FHD NanoEdge wide-view display up to 144Hz and 100% sRGB
Dimension
FX505
(AL) 36.04 x 26.2 x 2.58cm
(IMR) 36.04 x 26.2 x 2.675cm
FX705
(AL) 39.98 x 27.94 x 2.66cm
(IMR) 39.98 x 27.94 x 2.76cm
Weight
2.2kg
2.6kg
The ASUS TUF Gaming FX505 and FX705 will be retailing later in 2018, with detailed product specifications, prices and availability announced at launch.
Dea wishes she could play the latest Tomb Raider or Uncharted, but she can't, so instead she reads and watches other people play. On her down time, you can probably find her re-reading Captain Marvel. The Carol Danvers one.
---

Drop a Facebook comment below!

---