Mention Wolverine to any layman and they can probably conjure up three impressions: Hugh Jackman, those adamantium claws and… an unrepentant drunk? Actually, given his body's speedy recovery abilities, his liquor habits are probably more to feed a hedonistic appetite for spirits, than unchecked alcohol dependence.
But here's the thing – we're sure you can never emulate his lifestyle without emptying your entire bank account.
Luckily for you, Diageo is organising its very own Great Whisky Sale from 27 to 28 June, 5pm. Held in conjunction with Lazada, this one-time exclusive event not only makes available plenty of the world's top whisky brands to you at a 20% discount, you will also get to sample more than 40 types of liquor at their newly spruced up headquarters.
If you haven't heard of Diageo before, rest assured that you're about to. Diageo is the world's biggest whisky maker and carries some of the most reputable brands in the industry: Johnnie Walker (whisky), Smirnoff (vodka), Gordon's Gin (gin) and Baileys (a whiskey- and cream-based liqueur), just to name a few.
For those better acquainted with Diageo's main whisky collection, you'd be happy to hear that plenty of brands such as Caol Ila, Glenkinchie, Talisker, Lagavulin, Oban and many more will be on display for you to taste to your heart's content.
So how does this sale work? Simply head on down to their office (address below), treat your palate to a variety of whiskies, gin, rum and vodka, and then whip out your phone to order directly from the Diageo Lazada store. You may also utilise the iPads that Lazada has very kindly provided to make your purchase.
If you work near Diageo's office, your lunch break will be well worth the trip: every S$120 spent onsite entitles you to a sure-win lucky dip prize, ranging anywhere from glasses to full volume bottles.
But, I hear you say, we're in the heat of World Cup season – why would anyone even drink anything other than beer during this period?
Well if you'd much prefer to have your drink neat or on the rocks in the comfort of your own home, then look no further, for your entire order will be delivered straight to your doorstep. That's right, who needs football and beer when you can Netflix and whisky with Luke Cage Season 2 right after that disappointing knockout match?
Basically, you'll get to live the same connoisseur life of Wolverine without the excess loosening of purse strings. Such guilt-free indulgence. Even so, Diageo would like to remind you to drink better and drink responsibly. After all, none of us are really Wolverine, are we?
---
The Great Whisky Sale
27 to 28 June 2018
11am to 5pm
Diageo Singapore, One George Street
#13-04, Lobby B, Singapore 049145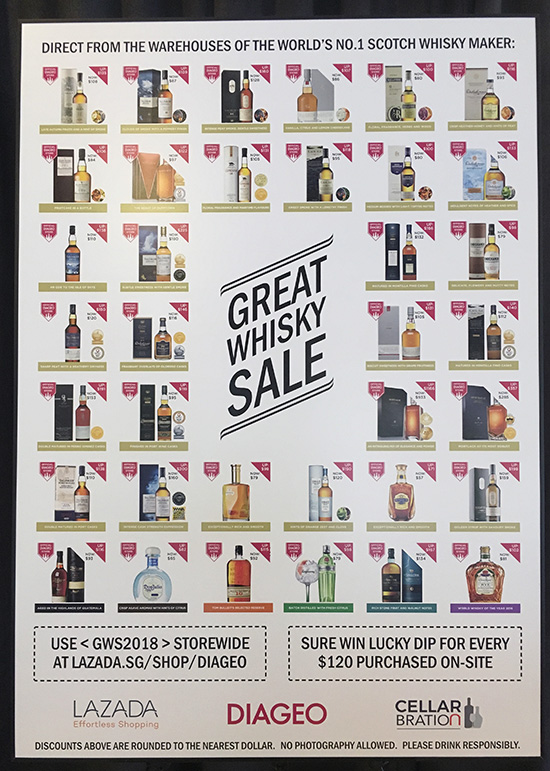 ---

Drop a Facebook comment below!