Users of the MacBook Pro have Singapore-based company HYPER – led by Sanho Corporation – to thank for the laptop's first-ever USB-C hub with two USB-C connectors.
Named HyperDrive, the tech tool was first released on December 5, 2016, and proceeded to raise over US$3.1 million on Kickstarter and Indiegogo, which unsurprisingly, gave it the honour of being the highest crowdfunded MacBook and USB-C accessory in history. Further buoyed by the positive response from the media, the product was subsequently shipped following its public demo at CES 2017, and later awarded a patent.
All in all? The Hyperdrive certainly became successful.
In the latest scheme of things, it seems another company, Kaijet Technology International Limited Inc. (j5create), is looking to replicate that same success with their very own Ultradrive creation – except it's not, so a lawsuit has been filed against them, courtesy of Sanho Corporation.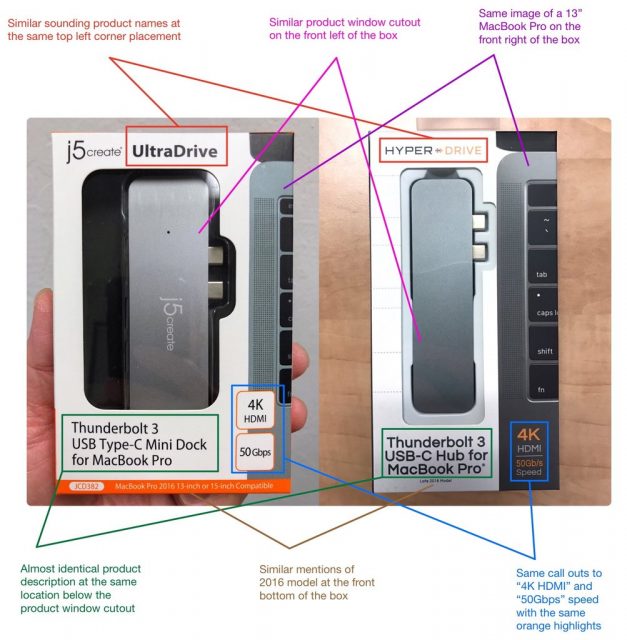 Allegedly claimed to have blatantly copied the HyperDrive and infringed its registered trademark, the lawsuit is more than well-warranted. Apart from sporting the exact USB-C input connectors, seven output ports, overall look, and blue LED light on the original version, the UltraDrive also adopted an identical packaging, such as a near-copy of the product description, as well as the same call-outs to the "4K HDMI" and "500Gb/s" features.
While patent infringement remains the primary concern, Sanho Corporation is seeking other claims and damages in excess of US$100 million, and additionally alleges that j5create has wilfully, intentionally, and purposefully tracked HYPER's business progress. A number of unknown sellers are listed as defendants, all of whom were responsible for selling infringed products online on the likes of Amazon and eBay.
Fellow Singaporean Daniel Chin, founder and CEO of HYPER by Sanho Corporation, expressed his disappointment at j5create's approach, and demands a trial by jury for injunctive relief, enhanced damages, and redress:
The fact that j5create's bestselling product is a direct knockoff of our HyperDrive product highlights the extent of j5create's infringment to HYPER's detriment. j5create's name itself is a misnomer, they should be called j5copy instead.
Snarky.