While it might be 2017, most gamers are still sold on the notion that in order to achieve peak performance, what matters most are the peripherals they have in front of them. By that, it usually refers to the keyboard and mouse as mainstays of any gaming set-up but this has caused them to neglect a critical aspect of their battlestation – their chairs.
This is where Singapore's very own Secretlab has been able to capture an ever-growing niche in the gaming market.
Having been in the business since 2015, the Singaporean gaming chair manufacturer has gone from strength to strength. Their top of the line models, the Omega and Titan, have received our mark of approval, and their upcoming refreshed line look to be even better than ever before.
Introducing the new Omega 2018 and Throne 2018
One can't help but notice the awesome new colours the new chairs come in, especially the Throne 2018, which has shed all those extra fancy racing stripes, to make itself look as classy as its more premium brethren.
The Ash coloured Omega 2018 will be a new colour available for the range, and it looks be a definite head turner. Who said gaming chairs had to come in black or in other garish colours only?
Secretlab's 2018 lineup of chairs is more than skin deep though (ie: not merely a cosmetic upgrade), and improvements have been made to the chair's inner cushioning for better weight distribution, as well as the hydraulic piston to accommodate a wider range of user heights. But, the biggest changes would be the addition of a new memory foam lumbar pillow and upgraded armrests.
One common request I've heard from existing Secretlab owners is a call for a better back pillow, and based on our Instagram video above, it should give you a good idea how the new pillow would be able to mold itself nicely to your lower back.
While the chair has the gamer's back, the new armrests feel better cushioned and are wider than the existing models. We've all heard of the gamer's wrist, hopefully this would alleviate the gamer's elbow even further.
The best part of this entire announcement would be that Secretlab's latest chairs would become even more affordable than ever before. The Omega 2018 will be available direct to consumers for S$469 while the Throne 2018 will be priced at S$399. Compared to the existing models, you'd be getting a newer product at a much more wallet-friendly price point.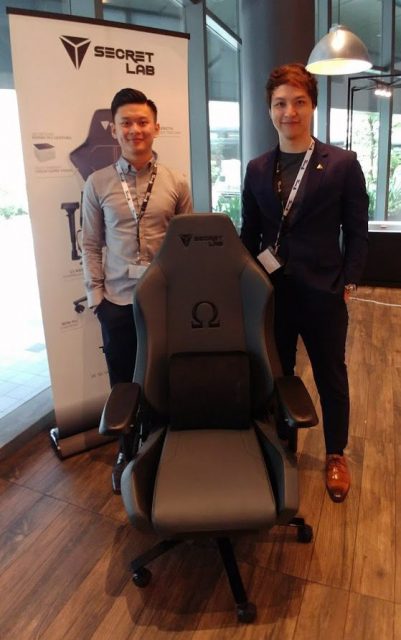 Though the new chairs are great in itself, the current models are still the same ones that we fell in love with initially. In time to come, these models will also be seeing price reductions and if you're also looking to upgrade your existing model, Secretlab has mentioned that they will also be implementing a trade-in programme soon.
If you're the type that games or even simply works at a desk for hours on end, these new chairs from Secretlab will do your back a huge favour.
Gerald currently straddles between his love of video games and board gaming. There's nothing that interests him more than trying out the newest and fanciest gadget in town as well. He dreams of publishing a board game sometime in the future!
---

Drop a Facebook comment below!

---