You know the drill at COMEX, or any of the annual tech sale events – you walk the halls comparing prices, and can swear that you saw a similar item priced cheaper at another booth.
But what happens when both items are actually almost identical, but both are priced very differently? Such is the curious case of Singapore brands PRISM+ and newcomer SuperSolid. Think Intel vs. AMD. Radeon vs. NVIDIA. Windows vs. OSX.
Singapore brands AfterShock vs. Dreamcore. Wait, what?
PRISM+ is also the companion brand of laptop and PC builder, AfterShock, while SuperSolid is by Dreamcore, the guys who, you guessed it, help customers build their own PC machines. Surprise surprise.
Both players are marketing monitors, or to be more precise, OEM displays, and both are apparently launching new 27-inch displays at the show. But that's not the coincidence.
Not only do the monitors look the same, both displays also carry the same model number. One is the PRISM+ P270, while the other is the SuperSolid X270. And the similarities do not stop there. To prevent ourselves from rattling off a list of specs, all the essentials you might want in a modern gaming monitor are here, and they apply to both:
27-inch 4K (3840 x 2160) resolution IPS (AHVA)
Horizontal/vertical viewing angle of 178°/178°
75hz refresh rate
2 x HDMI 2.0; 2 x DisplayPort 1.2
AMD FreeSync
We're pretty certain these are the same two display monitors skinned differently. The coincidence is simply too hard to ignore. This is what they both look like.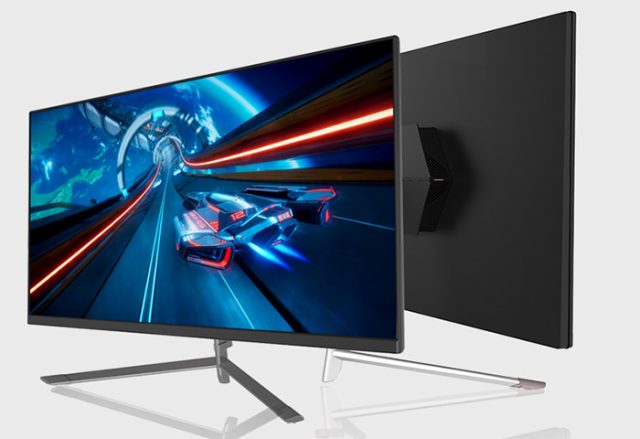 While we have yet to take a look at the actual displays, both tout the monitor being able to deliver professional-grade colour reproduction. This is a bold claim but the devil really is in the details and being able to get up close to have a look at each.
With so much in common, it would appear that the panels themselves are the dealbreakers. The PRISM+ model features a display panel with an "A+", rating while the SuperSolid has gone with panels with "A" rating.
Like in school, the "A+" grade is superior with a less incidence of bright or dead pixels manifesting on the screen itself. While SuperSolid claims that they have taken the time to ensure that their "A" grade panels are dead pixel free, this has to be a key point to consider when deciding between the two.
However, that decision should be easy, especially when it comes to a sale event like COMEX.
At S$369, the PRISM+ P270 is by far the more affordable alternative, compared to the S$429 for the SuperSolid X270. SuperSolid is offering a trade-in, which drives down prices to S$379, but that's still $10 more than the PRISM+ model.
We're also pretty sure once this article hits, price adjustments will be made. Let us know what you see at the show.
Gerald currently straddles between his love of video games and board gaming. There's nothing that interests him more than trying out the newest and fanciest gadget in town as well. He dreams of publishing a board game sometime in the future!