Just as we are recovering from the aftermath of The Last Jedi, it seems that we have a whole new batch of Star Wars LEGO sets to look forward to!
With Disney allowing our wallets to recover until the middle of the year, here's a peek at the upcoming sets from the new Star Wars Han Solo movie –
75211 – LEGO Star Wars Imperial TIE Fighter | USD$69.99
Do we really need more TIE Fighters? LEGO seems to think we do! But if you're looking for a handy mod to turn a TIE Fighter into a TIE Interceptor, this post might help!
75210 – LEGO Star Wars Moloch's Landspeeder | USD$49.99
Update: The two creatures have been revealed as Corellian Hounds.
This is an interesting set with the addition of two creatures from the Star Wars universe. Given the success of the Porgs, this could be another avenue for Disney to market even more "cute" critters. With all the pixelization, it's hard to make out from the leaked images.
But nope, these critters are no way cute –
75209 – LEGO Star Wars Han Solo's Landspeeder | US$29.99
One affordable way to get a young Han Solo in this series, the 75209 land speeder also includes one of the critters from above but it looks slightly larger than the ones we saw previously.
Given two landspeeders being included in the release, could there be a car chase scene in the movie?
75207 – LEGO Star Wars Imperial Patrol Battle Pack | USD$14.99
New movie, new Stormtroopers! The prints of these guys look pretty awesome and a worthy addition to any Imperial army!
75212 – LEGO Star Wars Kessel Run Millenium Falcon | USD$169.99
How would it be ever possible to have a Han Solo movie without the Millenium Falcon? As we all know the YT-1300 light freighter was made as a cargo pusher like the image below –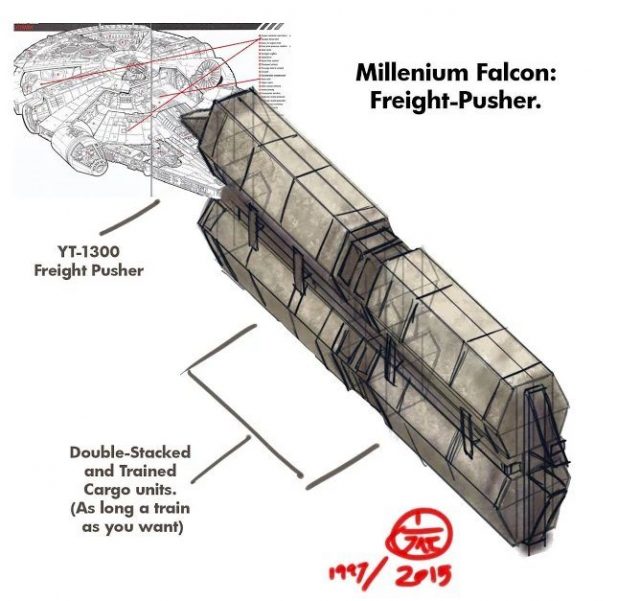 Eagle-eyed fans might have already noticed the YT-1300 is missing its trademark notch on the front. Possible major plot point from the movie! This could possibly what it takes for Han to make the Kessel Run in 12 parsecs.
We will only know once the movie is out in the middle of 2018.
[UPDATE! We now have higher resolution shots and minifig character names. Scroll through the gallery below]
Gerald currently straddles between his love of video games and board gaming. There's nothing that interests him more than trying out the newest and fanciest gadget in town as well. He dreams of publishing a board game sometime in the future!