If you are looking for a puzzle platformer that's creepy, atmospheric, and with a distinct look, look no further than Tarsier Studios' upcoming release, Little Nightmares. If you played 2016's Unravel, it is somewhat reminiscent of that charming game, albeit coated with a thick, grotesque paint of scares and frights.
Little Nightmares' protagonist, Six, is trapped in a foreboding world known as The Maw with nothing but her smarts and a handy lighter for survival. Search for light, overcome your fears, and try to escape from The Maw and its monstrous denizens. Every environment is a trap, every creature a threat, muster all your wits and ingenuity before the dark consumes you!
Little Nightmares will be coming to the PlayStation 4, Xbox One, and PC this coming April 28 in both digital and physical formats. Digital pre-purchases will begin February 8.
We're eyeing this cool Collector's Six Edition which comes with a 10cm tall figurine trapped in a themed cage box, original soundtrack by Tobias Lilja from Tarsier Studios, an A3 poster, and stickers!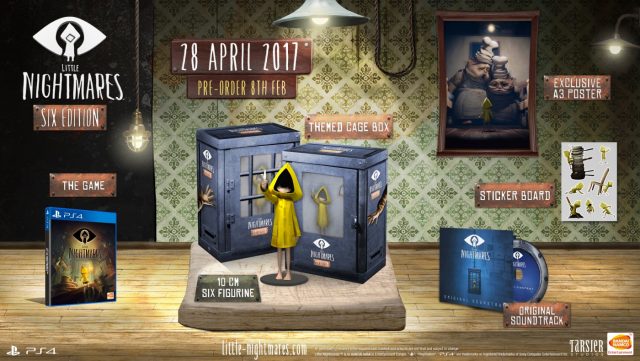 All pre-orders of the game will receive The Scarecrow Sack and the Upside-down Teapot Masks to help Six blend in with the other inhabitants of The Maw. On top of that, PS4 and PC users will also receive the original soundtrack in digital format and an exclusive PS4 theme/PC wallpaper featuring The Janitor.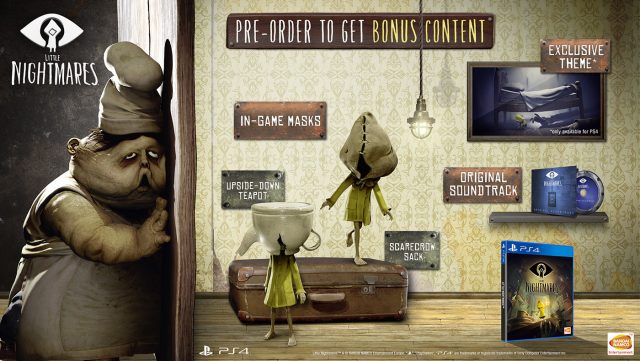 ---

Drop a Facebook comment below!