Sixteen years, 12 games, four studios, three consoles, two live-action films and one Master Chief. And let's not forget 65 million games sold. Very few games can claim such a rich and varied pedigree, and come next month, fans of the Microsoft-exclusive Halo series can pick up Halo Wars 2 (HW2), the 13th game in the franchise.
Thanks to Microsoft Singapore, Geek Culture had the opportunity to check the game out at a special preview event in Hong Kong, and based on what we've seen, it's time to clear some block leave Spartans!.
Clay Jensen, the Design Director of current Halo developer, 343 Industries, was on site to lead the preview and he explained that having found the "perfect partner" in Creative Assembly (of Total War fame), the time had come to finally make a sequel to the best-selling console real-time strategy (RTS) game, Halo Wars (2009).
First announced in 2015, HW2 takes place 28 years after the events of Halo Wars, and soon after 2015's Halo 5: Guardians. Hearing Jensen talk about the game, it is clear that HW2 has been a passion project for the teams at 343 Industries and Creative Assembly. Often referencing the 2009 original, Jensen touched on the care and detail that the developers went into for the campaign, multiplayer, and Blitz mode (more on that later). With this new entry, one would expect to have a pretty significant chunk of lore to wade through to understand the story, but thankfully, that is not the case.
Whether you are a fan of the original Halo Wars or a newbie to RTS, Jensen explains that HW2 was designed to help gamers return to a once dominant, but now dormant genre. While adding depth, units, strategy, and building upon the foundations of the original game were core tenets during the game design process, to keep veteran players happy, the developers also did not want to alienate newcomers either.
"It's really an RTS for everybody," he noted. "It doesn't mean that it's easy, (because) there's lots and lots of deep strategy, but that means there's a number of different ways that you can play."
Whether players are in the mood for a long, epic Deathmatch that lasts two hours, or want something quick and fast like Blitz mode, the innovation in HW2 means players will get their fix, all contained in the same product. Stellar gameplay is nothing without an enticing story, though, and HW2 definitely leaves a good first impression. With Blur Studio handling the cinematics for the game, it is simply marvellous to watch the characters come to life, with renderings that make every scene a watercooler moment.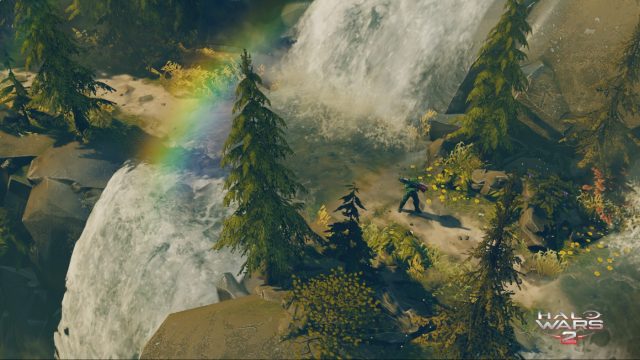 HW2 follows the Spirit of Fire, a support vessel long thought missing, and her crew, who wake from cryosleep to reemerge near the Ark (Halo fans will undoubtedly be familiar with Installation 00) after 28 years of being adrift. Like the player, the crew has no idea what the Ark is, or why they are there. Together, players will learn the story of the Spirit of Fire, as well as the parallel going-ons in the mainline Halo series.
"Having a massive battlefield like the Ark, you couldn't ask for a better setting or environments to play with," explained Jensen. It also helps that the Ark has a story of its own, with ties to the Forerunners and Sentinels, forming a triangle of conflict between the UNSC, the Ark, and the new faction, the Banished.
The main antagonists, as far as we know, are Atriox and his band of Banished, who broke away from the Covenant and rose to power after the demise of the Covenant. Having seen his clan be wasted as frontline fodder, Atriox developed a brooding anger for the Covenant that eventually led to open rebellion. A fearsome soldier, and an even more impressive commander, Atriox leads with his strength and cunning, and the Banished look to be shaping up as a dangerous foe to deal with.
Suitably intrigued by what was on display, it was time to have an exclusive hands-on experience with the game. Diving into the Ascension campaign mission, the varied facets of an RTS game was immediately familiar. With the exception of connected base structures, as opposed to traditional base building, HW2 plays like a dream. By introducing Domination mode gameplay into this mission, it wasn't long before I clashed with the Banished over several controls points, and was causing mayhem with my Warthogs and Spartan. There is enough familiarity, but also new additions to the tried and tested formula, such as unit-specific abilities, that added a strategic layer to the game.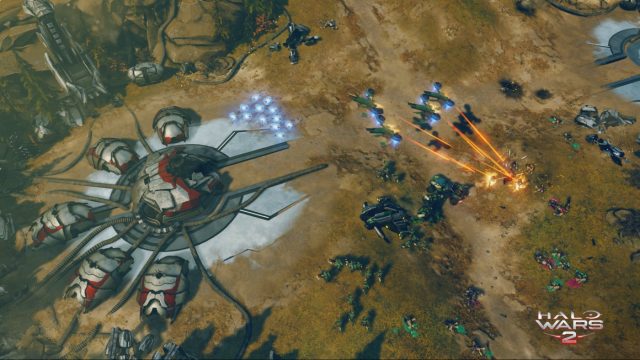 Deathmatch is a more traditional multiplayer affair, with opposing teams vying for territory to expand to, and engaging in border skirmishes. The different Leaders brought with them different units and tactics, I found myself leaning towards Captain Cutter's UNSC units and tech, but Atriox's overwhelming numbers were also an option.
Both maps on display at the demo, Ashes and Frontier, were huge and beautiful… that is, until they were littered with the bodies of my enemies. Vantage points, potential chokepoints and large stretches of land played host to tactical battles and all-out warfare.
The most impressive addition to the formula has to be the new Blitz mode. Simply put, this is a mashup of traditional RTS Deathmatch and trading card games, designed to last just 4-6 minutes on average per match. The twist here is the deck you use, which will influence your strategy, as well as your units and abilities brought into battle. With just 12 cards to use, either you or your team (2v2 and 3v3) will have to wrestle control areas and earn points, with the first to score 200 declared as winners of the match.
While you earn energy to play cards passively, you can also capture energy cores for a boost. Naturally, more powerful units and abilities require higher energy costs. The fast-paced nature of a Blitz match often makes for exciting viewing, with the tides turning on a single mistake or a moment of genius with a well-timed ability. Being able to jump in and finish a game in as little as 4 minutes is awesome, and the strategic depth of the mode is plain to see. Then there is the added complexity when it comes to 2v2 or 3v3 matches, which allows for team configurations that are uniquely suited to this new game mode.
But this mode isn't without its faults, and the elephant in the room is, or rather, are the microtransactions involved when partaking in Blitz mode. Like all modern trading card games, players can either earn card packs by playing the main game or accelerate their progress with real money, by buying more packs. The pay-to-win argument is definitely on the forefront of 343 Industry and Creative Assembly's balancing act, but Jensen is confident that the core of Blitz mode will be kept pure when it comes to the competition between paying and non-paying gamers.
"As you get cards, all of them basically builds towards your deck. Duplicates just add to cards you already have, and boosts the base card that you have," explained Jensen. The developers "didn't want to give people huge, overpowered advantages for buying cards, but ultimately it comes down to what you do with those cards. In the process of matchmaking, those imbalances tend to even themselves out." He added with a smile, "The strength of your cards will help you. It will give you an advantage. But it won't save you!"
The overall balance of the mode remains to be seen, but what has been showed to us has the potential to go the distance. With unique Leaders, cards, abilities, units, and a team dynamic that lends itself well to this quickfire mode, Blitz might just be where I spend the most time playing come this February 21.
Halo Wars 2 has the potential to be the flagbearer for what is hopefully a revival of the RTS genre, backed by the Halo franchise. With a new and engaging story to be discovered, tried and tested gameplay mechanics and some surprises thrown into the mix, Halo Wars 2 looks set to delight (or frustrate) old and new fans alike.
Halo Wars 2 will also be having its final multiplayer beta – the Blitz Beta – for both Xbox One and Windows 10. It will bring the new Blitz mode to the public for the first time, for 1v1, 2v2, and 3v3 battles that will take place on the "Proving Grounds" map. The Blitz Beta will run from January 20 to 30., and is open to everyone. Give it a shot and see if Halo Wars 2 is for you.
---

Drop a Facebook comment below!