It went from a giant brown box that dominated the home, to a flat panel resembling a painting on your wall.
Now, Korean home entertainment leader LG wants to further redefine entertainment at home, with a TV that practically melts to the wall.
With their industry leading OLED technology, the company is paving the way with their flagship "television" of 2017, if you can even call it that.
By all conventional descriptors, the LG Signature W7T 4K TV projects a display but sheds all the weight commonly associated with a television. The display is so thin, it's like a wallpaper.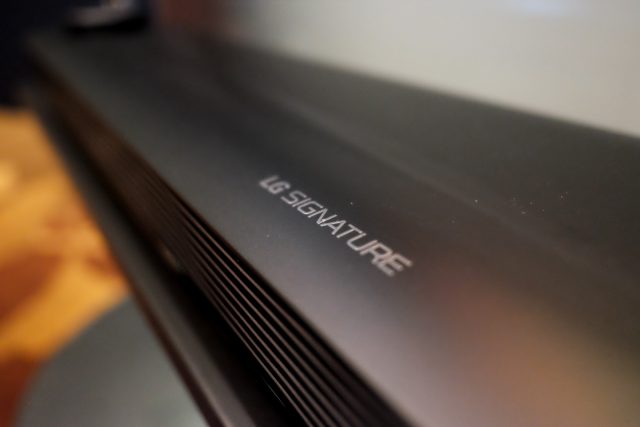 All the guts of LG W7T has now been shifted to the TV's soundbar, which houses all of the necessary electronics to power the screen, and provide sound. What we are seeing is essentially a metamorphosis of our highest rated television of all time, the LG Signature G6 OLED 4K TV. The new LG Signature W7T 4K TV has shed so much, it's practically a sheet of paper placed on the wall. Just take a look for yourself –
While the physical aspect of the LG Signature W7T is to be marveled at, LG continues its partnership with Dolby, to deliver the most stunning picture quality you could possibly imagine. When we last saw the current generation of LG Signature devices, there was a small gap in Dolby Vision content, but look how far a year has changed things. There is now a deluge of Dolby Vision content available on Netflix and Amazon Prime Video, such that the new television controllers are pointing TV owners where to go, with dedicated streaming video buttons.
After watching a tv show which is Dolby Vision compatible, going back to a regular 4K display would be jarring. The difference in the technological magic that Dolby has invested in making television look so good, does make a difference.
If you still haven't had the opportunity to grab last year's Signature television models, the new LG Signature W7T 4K TV might probably be the one for you, if you have a cool S$12,888 to part ways with for a 65" model.
We said the television was beautiful, but we never said it would come cheap.
---

Drop a Facebook comment below!