It's April and if you had your calendar set to catching the latest season of Game of Thrones, you would have been disappointed to learn that HBO's biggest title has been postponed till July 2017. But no worries, there's an excellent event happening right now to tide you through the longest winter before spring re-appears with season 7.
If you're an avid fan of the series, it's hard to escape the iconic designs that we have all come to hold dear to our hearts. See a husky on the road and if you instantly thought of House Stark, you're a fan after our own hearts.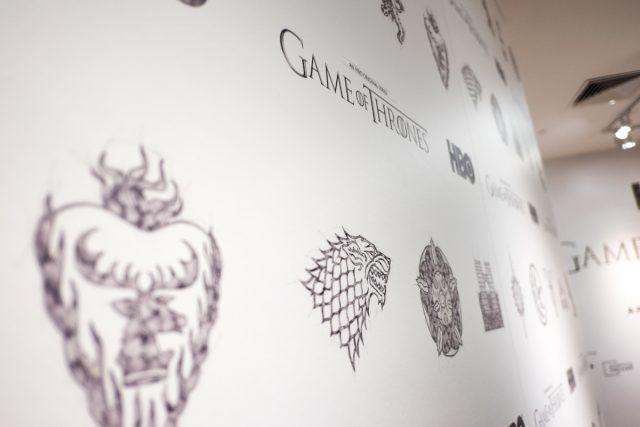 Some individuals take it even further to the point of crafting icons from the show out of pencil graphite rods. Enter Salavat Fidal who has painstakingly crafted 16 sculptures for a special exhibition organized by HBO in Singapore.
Depending on who you are rooting for in the show, this is one spectacle which should not be missed. And the layout of the exhibition itself is pretty well thought out considering that everyone is given a magnifying glass as they roam through the space.
All of the sculptures are extremely Instagram worthy and it was good to discover a camera phone was more than competent in getting a decently sharp image. All of the displays were nicely protected by a glass dome and well lit to achieve that perfect shot.
But don't take it from me as these images hardly do the event sufficient justice. If you're around the area from now till June 4, 2017, you'd want to make a beeline for the Iron Throne. Fidal took three weeks to craft this amazing piece of work and this would be his third attempt at sculpting the throne. As we would all know, a graphite pencil is not exactly the hardiest of materials and to be able to imbue the material with this amount of detail is another level of genius.
There are still plenty of works to be seen at the event space and I would be doing the artist a disservice if I were to feature all of his work. Don't worry, everyone will be peering into the glass domes so there's no need to feel ashamed really going up close.
Also, it was pointed out to me that the entire construct sits on has been modeled after the Wall. I didn't notice it at first glance, but take a step back and you might become enlightened.
GAME OF THRONES A Pencil Microsculpture Exhibition By Salavat Fidai

K+ Curatorial Space, Scotts Square #03-11/12/13, 6 Scotts Road, S'pore 228209
Opens daily 11.30am – 8.30pm
April 22 – June 4 2017
Make sure to go check it out!
Gerald currently straddles between his love of video games and board gaming. There's nothing that interests him more than trying out the newest and fanciest gadget in town as well. He dreams of publishing a board game sometime in the future!