In a world where upsizing is the norm, LG is doing the opposite. Where their TWINWash lineup of washing machines and dryers started out big in size, it has expanded to include several brand-new smaller-capacity additions, giving rise to a complete laundry system supported by wifi connection, and LG's very own SmartThinQ app.
With the multi-tasking trend still going strong on the market, one of the signature elements of the TWINWash models would be their convenient ability to wash two loads of laundry simultaneously. Naturally, the new series has stuck to the same formula, with a mixed pool of both enhanced and existing technology in store.
Building upon its already-established TrueSteam and TurboWash features, the latest members of the family will look to rid your household free of allergens, wrinkles, and odours, alongside a shorter washing cycle time. These washing machines also allow consumers to choose and pair one main washer to a mini-washer for versatile usage, though it comes with a catch – only products in the same group can be stacked together, and one easy way of identification is by means of their colour. Apart from boasting washer-only models, the lineup includes washer-dryers as well, with maximum capacities spanning from 8kg and 9kg, to 8/5kg, and 9/6kg across the board. Pairing them up with a 2kg mini-washer makes it handy to separate small loads, or delicate and separate items from the main laundry pile, such as gym wear and baby clothes – essentially, users have the freedom to purchase each individually, if they so wish. While the concept isn't exactly new, LG's revamped TWINWash technology is certainly something – check it out in action above.
For larger households, there are the bigger-sized washer-dryer alternatives FG1410H3W and FG1612H3W available for purchase. Boasting 10/7kg and 12/8kg front-loaders respectively, these models are likewise able to be paired with a mini-washers as well. And if space is still lacking, the F2718RVTV and F2721HTWV seek to get the job done with their whooping 18/10kg and 21/12kg front-loaders.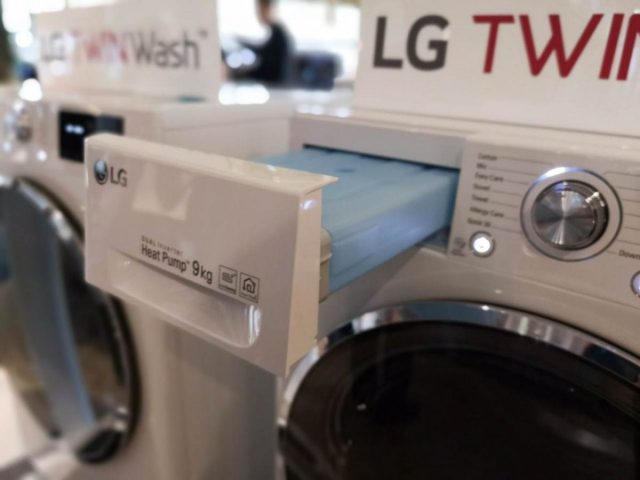 The washing machines have been covered, and the same goes for the washer-dryers; what's left are the standalone dryers. LG's newest lineup of TD-H90SD and TD-H90WD are armed with the industry-leading DUAL Inverter Heat Pump, which has been certified by the National Environment Agency (NEA) to the lowest-energy consumer in the local market. It's a viable choice for environmentally-friendly individuals, especially when packaged with a faster drying time and an enhanced performance.
One common complaint about dryers is the end-result of shrinking and damage clothing. LG's Heat Pump technology is designed in such a way that its low temperature aims to reduce the chances of that happening, and the accompanying Sensor Dry feature helps to automatically adjust drying time and temperature in accordance to the amount of moisture detected. For pet owners, there's an added bonus – the Allergy Care cycle ensures that house dust mites, pet allergens, and pollen are eliminated for clean and hygienic results.
Completing the whole laundry package would be the LG Styler, a primarily clothes sanitiser that also doubles up as a room dehumidifier. Its chemical-free TrueSteam technology works to sterilise clothes, reduce wrinkles, and eliminate unpleasant odours, alongside a special door compartment for adding neat creases to dress pants. The dehumidifying feature, while certainly useful in hot, tropical Singapore, only comes into play when the door is inclined at a 45-degree angle.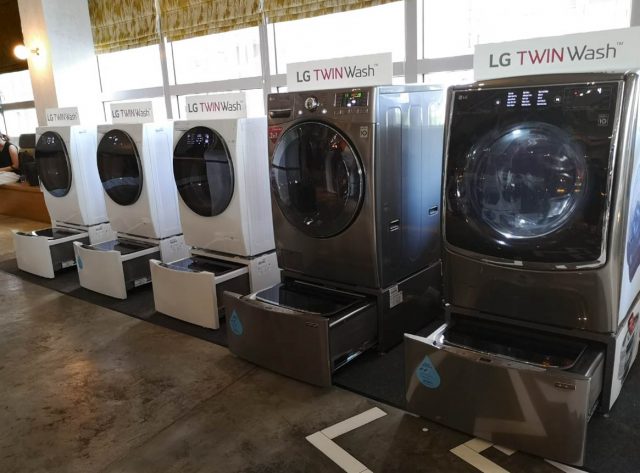 Now that smaller-capacity additions have been included, LG's TWINWash repertoire of household products seems well on the road to diversification. Prices for the entire TWINWash line may be found on the LG official website, but the specific ones mentioned above are as follows:
FG1410H3W (washer-dryer, 10/7kg) – S$2,199
FG1612H3W (washer-dryer, 12/8kg) – S$2,399
F2718RVTV (washer-dryer, 18/10kg) – S$2,999
F2721HTWV (washer-dryer, 21/12kg) – S$3,499
Meanwhile, the prices for the TD-H90SD and TD-H90WD dryers have yet to be confirmed, with the LG Styler retailing at S$3,099. Maybe one day we'll really be able to do away with ironing as well!
---

Drop a Facebook comment below!