[UPDATE 6 May 2017: Winner Announcement! Congratulations to Blaise Low! Please check your email for prize redemption details.]
Still reeling from the awesomeness of Alien Day? Well, shake it off 'cos we've got another big day coming. 2017 marks the 40th anniversary of Star Wars Episode IV: A New Hope and, if you were following the events at Star Wars Celebration, you'd know everyone is pulling out their big guns to mark this momentous era.
Likewise, Legoland Malaysia. Billed as the largest Star Wars 40th anniversary celebration of the region, Legoland Malaysia's Star Wars Days (no typo) stretches from April 28 until May 31! And the extensive list of activities includes several "firsts".
Hot Tip: Scroll to the bottom for a chance to win a pair of one-day combo tickets (including entry to the water park) to Legoland Malaysia Resort and Lego U-Wing (30496) polybags.
Star Wars Lego sets launch first in Singapore & Malaysia
In perhaps the first of its kind, Lego announced Singapore and Malaysia will lead the world in launching the new line of Star Wars sets! Starting from next week (Lego was unable to pinpoint an exact date as the sets are still rolling off the manufacturing floor), Star Wars Lego fans will be able to lay hands on the coveted re-issue Ultimate Collector Series (UCS) T-47 Snowspeeder (75144)! Retailing at S$399.90, it will be available at Lego-certified stores in Singapore and at Legoland Malaysia.
Equally anticipated are the Darth Vader Transformation (75183), Rathtar Escape (75180) and Obi Wan Kenobi's Jedi Starfighter (75191) sets. For every purchase of Star Wars sets totalling S$80 at Lego-certified stores or RM$300 at Legoland Malaysia (single receipt), you can lay hands on the coveted R2-D2 (30611) polybag. Another interesting gift-with-purchase is the U-Wing (30496), which can be yours for a minimum spend of RM$100 in a single receipt.
These sets will be available here a full month before they're launched to the world. It's nice to see some love for fans in this part of the world.
Full Lego Star Wars set list and price:
Jakku Quadjumper (75178) S$119.90
Rathar Escape (75180) S$149.90
Republic Fighter Tank (75182) S$59.90
Darth Vader Transformation (75183) S$59.90
Tracker I (75185) S$139.90
The Arrowhead (75186) S$179.90
Jedi Starfighter with Hyperdrive (75191) S$199.90
UCS Snowspeeder (75144) S$399.90
In honour of Princess Leia
While Legoland Malaysia may not have been the first to honour Carrie Fisher, it is still billing a "commemorative session" to honour the "toughest galactic princess ever". Details are under wraps for now but all will be revealed on May 13. If we're reading between the lines correctly, we think Legoland Malaysia will reveal a life-sized Lego Leia (say that quickly) mascot — the world's first — to lead the special tribute. Bring your tissues, we know we won't be able to hide our tears.
Marching orders
Fans – and non-fans alike – love the 501st Legion costumers. While Legoland Malaysia has been summoning the order to lead the procession for the last couple of Star Wars Days, this year promises to be the largest. It will be the first time 100 Star Wars characters from the Singapore and Malaysia 501st garrison as well as the Rebel Legion parade in the park. It will definitely be a spectacle to watch/film/boomerang/hyperlapse.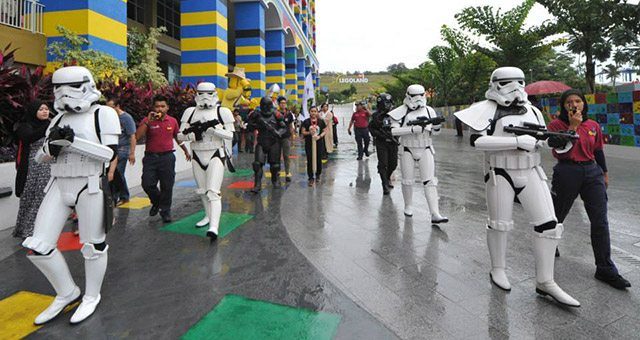 Oh, and bring your costumes, because this year the procession includes every fan. The procession happens inside the park so you will need to purchase an entry ticket to participate. The march will only take place on May 13 and 14, so book your tickets now!
Besides exciting 'firsts', Star Wars fans have many more activities to look forward to. Here are some of the other exciting events we're penciling on our calendars.
Bust a move, stormie
Dancing Stormtroopers. Did we hear that right? Yes, we did. Besides being famously bad shots, Stormtroopers will get the party so crunk you'll wish you had on your dancing shoes. These swinging Stormtroopers will make their appearances on weekends starting from April 29.
Legoland Hotel
It pays to stay at the Legoland Hotel this May. Every guest of the theme hotel gets a chance to complete a 6,000-piece Lego Star wars mural. Guests will also be treated to nightly screenings of The Phantom Menace and Attack of the Clones from 9.30pm. Cool as that sounds, we were left wondering why Episodes I and II were chosen when 2017 celebrates the 40th anniversary of A New Hope. And seeing Jar Jar again? Bleargh.
Youngest Jedi
Start your younglings early in the ways of the Force. Legoland Malaysia's Jedi Academy accepts padawans from ages 2 through 12, which is one of the youngest acceptance age as far as we know. Every padawan gets an experience of a lifetime and a Legoland Jedi Academy Certificate (how Singaporean).
Live Star Wars storytelling
If you have wondered why C-3P0 (and R2-D2) have been in every Star Wars production, it's because C-3P0 is also a chronicler. Every Star Wars episode is a tale to be told for the generations. In true storytelling fashion, guests to the Star Wars Miniland will get a vivid retelling of key scenes from Episodes I through XI – and one from the Clone Wars animated series – through live Jedi actors.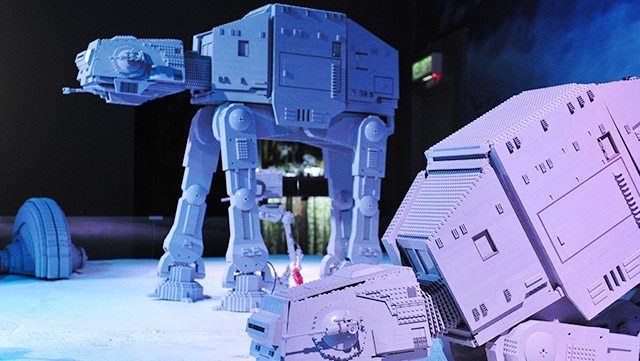 The activities listed here are definitely not exhaustive. For more activities, check out our post on Lego Star Wars Days. Legoland Malaysia is definitely celebrating 40 years of Star Wars in a big way – and we're sure you won't want to miss a single moment of it.
---
WIN TICKETS AND LEGO U-WING POLYBAGS!
As mentioned earlier, we have the following for ONE lucky Lego/Star Wars fan to win:
x2 One-day Combo tickets (including entry to the water park) to Legoland Malaysia Resort.
x2 Lego U-Wing (30496) polybag.
To stand a chance to win, simply complete these 2 simple steps:
SHARE THIS POST and TAG a friend you would like to go to Legoland Malaysia with. ->
Fill in the form below.
Give us a LIKE below if you haven't done so yet, so you won't miss out on future similar giveaways!
[GIVEAWAY HAS CLOSED]
The giveaway is open to all residents of Singapore. Contest closes on  5 May 2017 @ 23:59hrs (GMT+8). 1 lucky winner will be picked at random. The winner will be announced here and be notified via email by 6 May 2017. Good luck!