It's not that long ago, but Star Wars actually turns 40 this year, and Lucasfilm and Disney will be celebrating with an event that will be long remembered.
The Dark Lord of the Sith himself, Hayden Christensen (Anakin Skywalker aka Darth Vader) will be returning to Star Wars Celebration for the first time since 2002, along with Dave Filoni (executive producer, Star Wars Rebels), Mark Hamill (Luke Skywalker), Ian McDiarmid (Emperor Palpatine/Darth Sidious), Anthony Daniels (C-3PO), Peter Mayhew (Chewbacca), and Billy Dee Williams (Lando Calrissian).
You read that right, as never before has there been this many involved in bringing Star Wars to life — from the prequels, the original trilogy to the current sequels and even to the current Star Wars Rebels animated series — coming together in one place.
Plenty of surprises are definitely in store, so fans will not want to miss out on this year's epic celebration. Geek Culture will be attending the festivities so do check back for our event coverage and photos!
---
40th Anniversary Celebration Tribute
A very special tribute dubbed "40 Years of Star Wars" will kick start Celebration Orlando in a grand fashion on April 13. The panel, hosted by Warwick Davis, will feature Lucasfilm President Kathleen Kennedy having discussions with creators and stars from across the saga's history, highlighting the impact of the galaxy far, far away and the fandom that has propelled it forward for the last four decades. We can't wait to see what surprises are in stored for the fans during this momentous milestone!
---
Star Wars: The Last Jedi Panel
Lucasfilm President Kathleen Kennedy and Star Wars: The Last Jedi director Rian Johnson are set to appear on stage on April 14, along with various cast members of the upcoming film. There is no better time and place than Celebration to showcase the very first teaser trailer for the Episode 8, so be sure to keep your eyes peeled for our first look at the movie!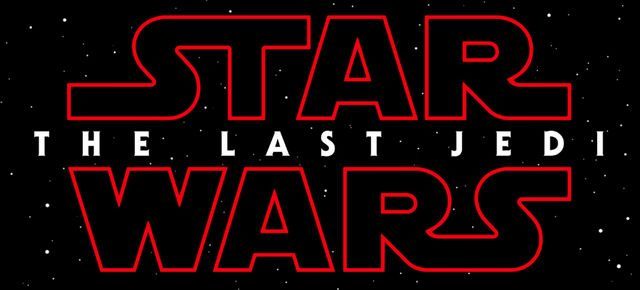 ---
Star Wars: Battlefront II Reveal
The first trailer for the upcoming Star Wars Battlefront II game will be revealed on April 15, at Star Wars Celebration. The developers from DICE, Criterion and Motive will be presenting during the "The Galaxywide Premiere of Star Wars Battlefront II" panel. Yeah, don't worry about not being to attend the showcase in person, as EA will be making it available to watch online too.

---
Star Wars Trading Pins by Derek Laufman
Pin collectors, get ready to empty your pockets this year because 40 unique character trading pins will be available for sale, designed by the legendary Derek Laufman. Each pin will represent a year of the franchise's history, in honor of its 40th anniversary.
Alas, it looks like the 6 pre-show pins comprising of C-3PO, R2-D2, Luke Skywalker, Yoda , Lando Calrissian and Admiral Ackbar are already SOLD OUT! So if you're hoping to score the remaining 34, be sure to check out this link.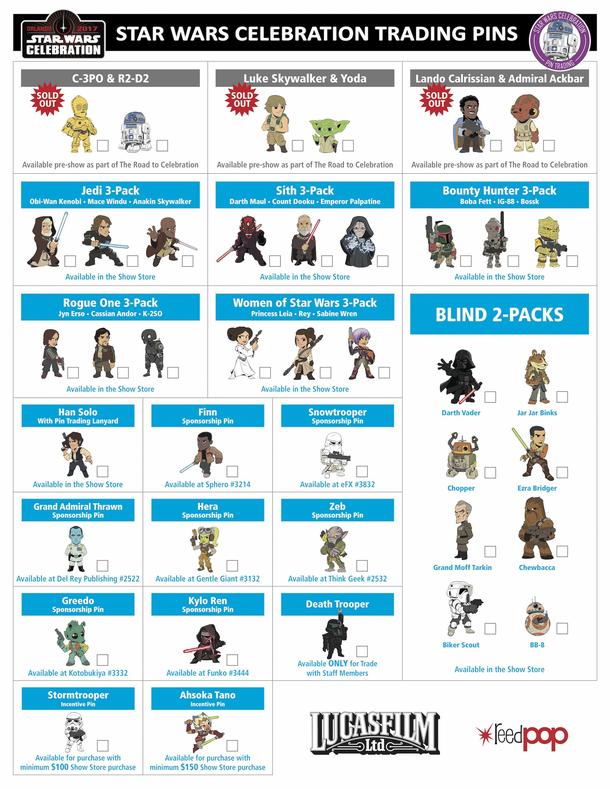 ---
Show Exclusive Merchandise
As with all Star Wars Celebrations, there are countless official merchandise available at the Celebration store. Here are a few notable picks. Check out the full range here.
---
The Last Jedi – Force for Change T-shirts
Lucasfilm and Disney continues their support for a good cause, with a line-up of items inspired by Star Wars: The Last Jedi. T-shirts for kids and adults will be sold exclusively at the event, whereby 25% of proceeds will be donated to the U.S. Fund for UNICEF in support of UNICEF Kid Power. This program uses the world's first WEARABLE-FOR-GOOD, to give kids the power to get active and save lives by earning points that unlock food packets for malnourished children around the world.
---
LEGO UCS Snowspeeder Debut & More
The all new, 1703-piece Ultimate Collector's Series LEGO Snowspeeder will make its first public appearance at the event. And yes, it's an updated and improved version of the original 10129 Rebel Snowspeeder which came out 14 years ago. The new UCS Snowspeeder will be on sale from May the 4th onwards, so attendees will only get to ogle and take photos of it at the show.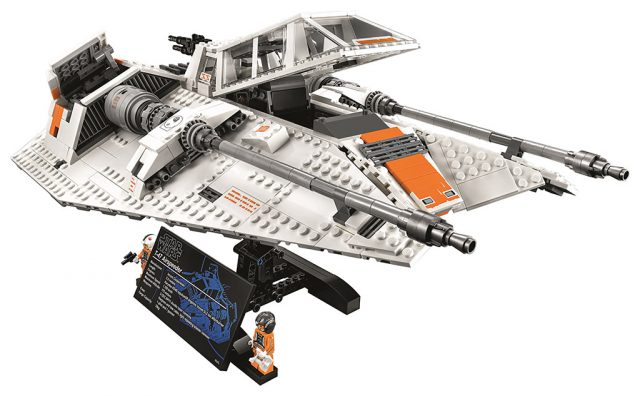 Another very probable unveiling at Celebration could be the long-rumoured re-release update of the LEGO UCS Millennium Falcon. Watch for it!
But wait, there's more! There will also be a couple of LEGO Exclusives! And here's one set that was just revealed, a 220-piece Detention Block Rescue set.
No details have been revealed yet, but our geek radar predicts it might perhaps be a Star Wars Brickheadz sets (check out our review of Series One here). In order to even get a chance to enter the LEGO booth to snag the exclusives, attendees will need to enter a lottery here too.
---
Funko Exclusives
Nowadays, no convention is complete without a slew of Funko exclusives. Funko has revealed 13 exclusives that will be available only at Funko's booth. Check out the full list of exclusives here: Part 1 | Part 2. Attendees will also need to enter a lottery for a chance to access and buy any of these items.