Want your bad romance! Set images from Joker: Folie à Deux have emerged, revealing Mother Monster Lady Gaga in her Harley Quinn costume.
In the set photos, Gaga is seen sporting a bright red blazer cinched at the waist, a black leather skirt and diamond-printed top and tights. Her eyes are also heavily lined and her lips are coated in a bright red lipstick too.
This isn't our first look at Gaga as the DC character. Earlier in February, director Todd Phillips shared a photo of the singer-actress in a Valentine's Day post. The only difference is that the earlier photo sees Gaga as Doctor Harleen Quinzel pre-Joker while the new photos see her in a costume that fans would associate with the Joker's partner in crime.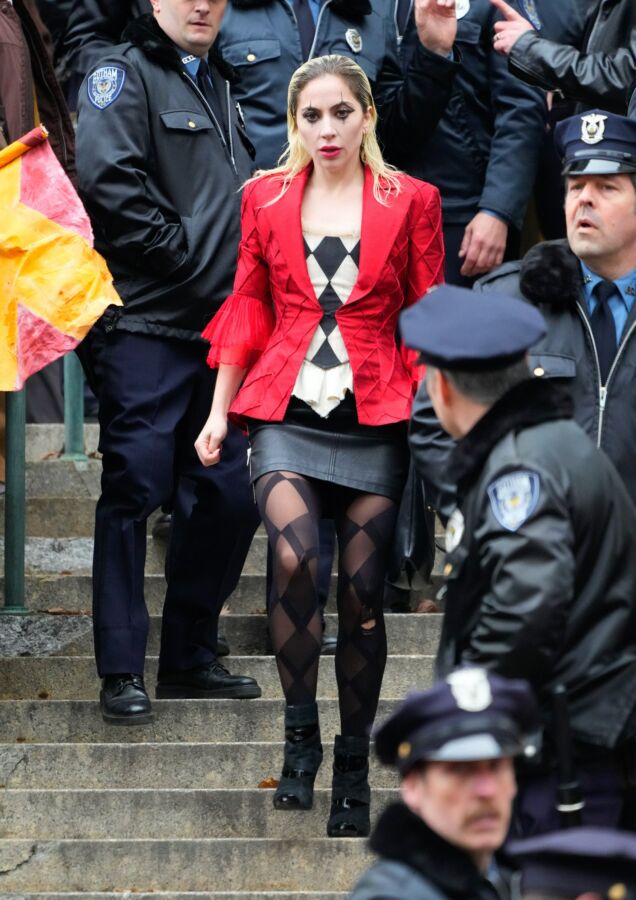 Also in the photos, Gaga's Harley is seen walking up and down the steps of a courthouse escorted by police officers. Surrounding her are a crowd of angry protestors and devoted fans, some of whom are seen wearing clown masks and wigs, and holding up signs that reads, "Marry Me".
Joker: Folie à Deux is the sequel to the Joaquin Phoenix-led Joker. Though not much else is known about the sequel, we do know that Phillips who helmed the first movie, will also be directing it. This movie will also reunite the director and Gaga after working together on A Star Is Born. Prior to Gaga's announcement as Harley Quinn in August 2022 and the movie was revealed to be a musical in June 2022.
Joker: Folie à Deux is set to release on 4 October 2024.