The absence of the annual tradition that is PlayStation Experience, or PSX for short, is certainly felt among the community, but that's hardly enough to stop new game launches. Hot on the heels of The Game Awards 2018 is the Kinda Funny Games Show, which sees the latter team's first foray into the showcase business.
With more than 60 game features in its line-up for the new year, gaming enthusiasts sure enjoyed an exciting show. There was plenty of indie gaming goodness to go around, as companies ushered in one promising title after another.
Here's an overview of every single reveal that took to the stage during the Kinda Funny Games Show, in an enjoyable morning (or early morning, where we are situated at) that celebrated the gaming spirit.
---
Judgement
Hey, @yakuzagame fans- Project Judge is now Judgment, and it's coming west this summer! #KFGShowcase pic.twitter.com/URs2cldPiq

— Kinda Funny (@KindaFunnyVids) December 8, 2018
Previously known as Project Judge, the Sega title now sports an official name of Judgement, as well as a new trailer to boot. Fronted by popular Japanese personality Takuya Kimura, it features a blend of the mystery genre with the familiar elements of the Yakuza series, alongside the promise of fighting action aplenty. It's Kiryu meets Phoenix Wright – in Summer 2019 for the Western PS4 market.
The Walking Dead: The Final Season
The Walking Dead: The Final Season Episode 3 arrives 1/15/19. @SkyboundGames #KFGShowcase #StillNotBitten pic.twitter.com/LODpnqbEqT

— Kinda Funny (@KindaFunnyVids) December 8, 2018
The long-awaited chapter of Clementine's story is finally ready. Melancholic, despairing, yet hopeful, the legacy of The Walking Dead: A Telltale Series draws to an end on January 12, 2019, so expect tons of zombie ass-kicking, tough choices, and tears – lots and lots of them.
Aftercharge
Invisibility is the name of the game in this three-versus-three shooter. Sneak around as invisible robots and destroy energy extractors, or take on the role of a Defender to guard these installations – the mayhem begins January 10, 2019.
At Sundown
We loved our Party Mode with @SundownGame, and today, we've got the release date for you! #KFGShowcase pic.twitter.com/nC0roGZkI1

— Kinda Funny (@KindaFunnyVids) December 8, 2018
A hide-and-seek shooter in the dark, At Sundown promises great fun with 17 weapons, 18 maps, nine game modes. Oh, and don't forget the power-ups – the game's already available on Discord, but will be "available everywhere" on January 17, 2019.
Super Meatboy Forever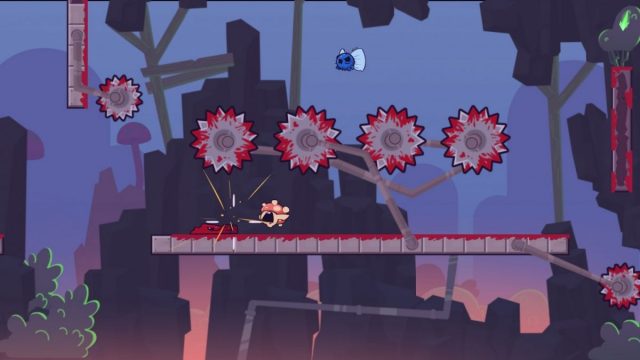 Tanks, gears, and dilapidated backdrops set against a sea of pixels, Super Meatboy Forever exudes fun platformer vibes, and comes decked out in a quirky, adorable art style. Get ready to shoot, jump, and dash through stage levels when it releases April 2019.
YIIK, A Mostmodern RPG
Reality and video games are hardly a complementary pair, but in YIIK, reality is the game. A turn-based RPG that's reminiscent of The Sims, it sports the familiar real-life elements, such as bad decision-making, the drain of energy over time, and the hardships of adulting, while having a narrative focus. The surreal '90s title will be heading over to PS4, Nintendo Switch and Steam on January 17, 2019, so gear up for a ridiculously fun time in store.
ToeJam & Earl: Back into the Groove
The iconic duo of the classic ToeJam & Earl console game returns, this time in the form of a rouge-like adventure. Expect more secret locations, hidden presents, and new friends, as well as a touch of funky nostalgia when it hits Steam on March 1, 2019.
Quarantine Circular
From the creator of Thomas Was Alone comes Quarantine Circular, a choice- and dialogue-based title that boasts heavy undertones of melancholy and helplessness at the inevitable. An interesting game to look out for, this Switch-exclusive is slated for release NOW!
Adams Ascending
Drama, futuristic, and exploration-based, Adams Ascending is an adventure in itself. The Kickstarter project takes on the intriguing premise of discovering life within the deep dimension of the soul, which has certainly caught our interest.
Moving Out
Remember the chaotic mayhem that is Overcooked? Well, Moving Out is fairly similar, except that it deals with moving objects, such as having players outrun rolling boulders or setting up furniture in a new space. It's all rather ridiculous, but in the spirit of great fun – making it the choice multiplayer game for unwinding sessions. Or not, seeing as to how Overcooked co-op sessions can be extremely intense.
Operencia: The Stolen Sun
Dipped in gorgeous visuals, this turn-based RPG features many familiar elements of the fantasy genre, from the undead and spirits to dragons. Accompanied by puzzle-solving mechanics, Operencia: The Stolen Sun will see a 2019 release for Steam.
Golf Blitz
Golf, golf, and more golf. Need us say more?
Motor Ball
Exuding Wii Sports-esque vibes, Motor Ball would be a great couch game for fans of football.
Conan Unconquered
Crush your enemies, fortify your strongholds, and prepare to dominate, for Conan Unconquered is revisiting the real-time strategy genre on PC in 2019.
Lapis x Labyrinth
JRPG's answer to MapleStory, Lapis x Labyrinth features different party classes and over 100 monsters to battle, as players collect treasure along the way. Stack, raid, and get paid is the objective of the game, and confident PS4 and Switch owners can pit their skills against the system come 2019.
When Ski Lifts Go Wrong
I feel like we're going to be good at getting our skiers to the end of levels in #WhenSkiLiftsGoWrong, but I also feel like there will be a lot of grizzly deaths along the way. #KFGShowcase pic.twitter.com/eAa0Bjvty6

— Kinda Funny (@KindaFunnyVids) December 8, 2018
Skiing is cool (hah), but what's even cooler is being able to build your own skiing ground. In When Ski Lifts Go Wrong, the mountain is the player's playground, where customised races and ski routes are created, with the sandbox mode bringing a further touch of creative fun. 2019 is the date for interested parties to hit the slope.
Rival Megagun
Uh, Rival Megagun looks awesome, and by following us and retweeting this post, you're entered to win the game and a Switch from the developer, @DegicaGames! #KFGShowcase pic.twitter.com/hxUHdPtjLK

— Kinda Funny (@KindaFunnyVids) December 8, 2018
Rival Megagun is very similar to retro masterpieces Galaga and Space Invaders, except with the added touch of transformation. Dish out that K.O in 2019 across all platforms – just choose the correct pilot, and proceed to decimate the opponent in PvP mode. GGEZ.
Mineko's Night Market
Cats, cats, and more cats. Mineko's Night Market is a cute, relaxing title fit for the little ones, who apart from petting cats, can also make friends and make crafts. It's full-on adorable, and will arrive on the Switch and PC in 2019.
The Occupation
Perfect for fans of the investigative thriller genre, The Occupation is narrative-driven, suspenseful and exhilarating, while delving into the areas of ethics, morals, and decision-making. It'd be wise to consider the best course of action when the game drops on February 5, 2019, for there are always consequences…
Disco Elysium
Interrogate suspects, chase down leads, or explore the beautiful, isometric world of Revachol – that's all in a day's work for the resident detective, whose role is assumed by the player. Expect plenty of thrills and mystery-solving action during its launch in the first half of 2019.
Slay the Spire
Card games in a roguelike? Slay the Spire increases the fun factor through the unique combination of these two well-worn genres, and it's certainly shaping up to be an impressive title worthy of residence on both the Switch and PC.
Fae Tactics
Taking its influence from the Final Fantasy Tactics series, the game is set in a quasi-post-apocalyptic world where conflict between man and fae, a magical entity, is on the rise. The situation isn't quite as severe as it sounds though, with gameplay featuring adorable in-game sprites. 2019 is the date to look out for PC gamers.
Ikenfell
Houston, we've got a problem: Ikenfell's most famous student has gone missing! Featuring nostalgic 8-bit art and troublesome magic students as the main stars of the game, Ikenfell is one quirky RPG to take note of, planned for a 2019 release on PC.
Long Gone Days
Long Gone Days (@lgdays) has a stunning art style, RPG hooks, and a release date! #KFGShowcase pic.twitter.com/mSSbQLACSl

— Kinda Funny (@KindaFunnyVids) December 8, 2018
A turn-based game set in the military – or so it seems –, Long Gone Days features the player character as a sniper, with a much-welcomed contrasting art style between the actual game and its narrative cutscenes. It's coming to Steam in April 2019, but the more eager individuals may opt for Early Access, which is available now.
Away: Journey to the Unexpected
Looking for a feel good FPS? Look at @AWAY_TheGame and it's new release date! #KFGShowcase pic.twitter.com/cws2IyHBsG

— Kinda Funny (@KindaFunnyVids) December 8, 2018
This collaboration effort between Japan and France sees the inclusion of an anime opening, and follows the story of a kid who's useless in most aspects – except making friends. Running on the theme of friendship, Away: Journey to the Unexpected resonates of warmth and innocence, and will be coming to all platforms in February 2019.
Vane
A PS4-exclusive title that impresses with a pretty contrast of dark and light colours, Vane is due for arrival on January 15, 2019.
Bury Me, My Love
Bury Me My Love (@BMMLgame) casts you as a Syrian refugee fleeing her country and trying to stay in touch with her husband. It looks incredible, and today, it has a release date. #KFGShowcase pic.twitter.com/RWCFbkBxwc

— Kinda Funny (@KindaFunnyVids) December 8, 2018
A platform to reflect harsher realities, Bury Me, My Love is a heavily riddled with references to the affairs of the real world, from the plight of refugees to the issue of self-identity. It takes on a choice-based approach, and is set for release on January 10, 2019 for the Switch.
The Wild Eight
Conquer the wilderness in @TheWildEight. Here's a glimpse and when you can play it. #KFGShowcase pic.twitter.com/wvnTLSyjgT

— Kinda Funny (@KindaFunnyVids) December 8, 2018
The Wild Eight's polygonal art style certainly lends the game its identity, which seems to be a blend of the survival and co-op genres. Heading first to Steam in March 2019, the game will subsequently make its way to consoles five months later (August 2019).
Slime-san: Creator
As the name suggests, Slime-san: Creator gives players room to create their own slime-sludged stage levels with more than 100 tools at their disposal, and is now available on Steam.
Sumo
A party game that also doubles up as an action-packed brawl, Sumo promises more couch fun and chaotic mayhem in store, now that it has already launched on Steam.
Notmycar
Never would anyone have guessed that battle royale and vehicles could actually be a thing. Notmycar is essentially Rocket League mixed into PlayerUnknown's Battlegrounds, and looks set to deliver more shots of adrenaline to driving enthusiasts at an unknown date.
Colour
Sleek and minimalistic, Colour features skill-based gameplay with a heavy-handed focus on puzzle mechanics. It's not as easy as it looks, and its release in Q4 2019 on PC, Mac, and Linux will be proof of that.
Reading Rush
Scrabble in block mode, that's Reading Rush in a nutshell. Spot and match words as quickly as possible before the blocks gather to block off the empty spaces. The perfect type of adrenaline for the resident bookworm, Grammar Nazi, and the like, it'll arrive with havoc in tow come December 2018.
Collapsus
Defying the law of physics sees Collapsus having many different kinds of puzzles – more specifically, those that can turn at random moments and be flipped upside down. Puzzling confusion will kick in full-force as it releases on all platforms in 2019, including mobile phones.
Triwave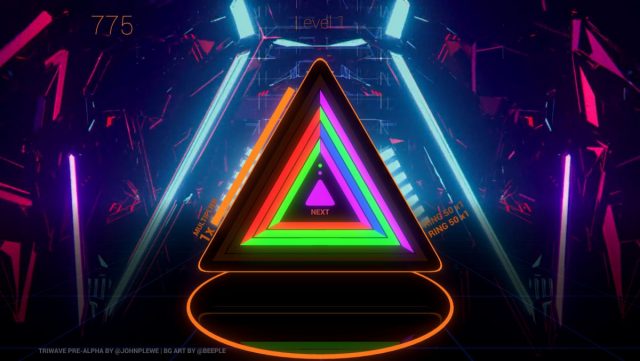 Interestingly built into a triangular structure, Triwave is touted to be an arcade game with a focus seemingly on rhythm and music. More information should be unveiled nearer to its launch date of 2019 on Steam.
Dawnthorn
The 8-bit prequel to indie surprise Hazelnut Bastille, Dawnthorn strikes back with familiar faces and items all around, decked out in pixels belonging to the glory days of the NES generation. Prepare for yet another adventure when Spring 2019 swings around!
Anew: The Distant Light
Ah, aliens, the ever reliable go-to source for trouble. In Anew: The Distant Light, exploration, open-world action, storytelling, and combat meld together to bring players into unknown territory – one that's as beautiful as it's dangerous.
Double Cross
It's Phoenix Wright meets Mega-Man as players take on the role of Zahra, an agent of a peacekeeping organisation, and uses special gear to sling, swing, and fight through dimensions, all while investigating the cause behind the attack of said organisation. A rather interesting premise, indeed.
Devil Engine
Bullets will rain in Q1 2019, as Devil Engine heads to PC, PS4, and the Switch. Borrowing elements from shoot-'em-up arcade shooters, the game seems intent on making players' lives difficult, where plenty of lasers, boss battles, and grouped attacks await.
Reverie: Sweet As Edition
Explore, fight, and solve puzzles in this dungeon-fighting title – much like Pokémon in a sense, but not quite. There are some Zelda vibes as well, alongside the sense of nostalgia, that players can relive when Reverie: Sweet As Edition drops sometime in 2019 for the Switch.
Virgo vs the Zodiac
The idea of having Virgo fight the other Zodiacs is absurd, but sometimes, all we need is that silly dose of fun. In Virgo vs the Zodiac, individuals are tasked to purge Heretics, dethrone the Zodiacs, and revive the Golden Age, but with a slight twist to the traditional turn-based combat system.
Boyfriend Dungeon
Dating simulators have truly evolved over the years, and this time, fangirls (or boys, we don't judge) can look forward to having personified weapons as their significant other, with crazy dating madness set to dawn upon Steam in 2019.
KnifeBoy
The art of Knife Boy is, simply put, rather unique. Decked out in a blend of roguelike and RPG elements, the journey of titular character KnifeBoy returns again in Q2 2019 as he embarks on the quest for vengeance against the one who sent him to Hell.
Vulpine
Unlike the usual fight of human asserting dominance over animals, Vulpine puts players in the shoes (paws) of the former for a change to pit them against other fierce beasts of the wild. This should prove to be interesting, especially since there's only so much PvP that we can take.
Rym 9000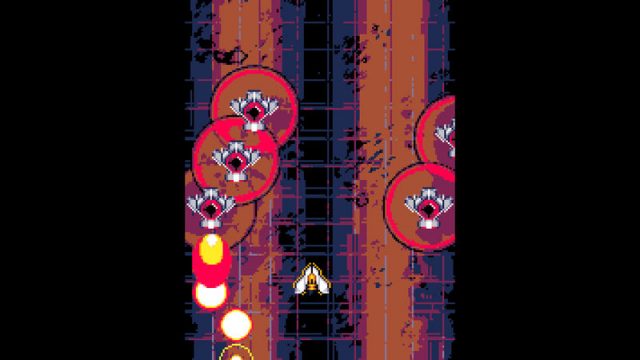 Treasure hunting in space? Count us in. With five unique levels in store, Rym 9000 should be quite the blast – or a trippy journey, to be more specific. It is due to arrive on the PS4 in three months' time, which places the launch date around March 2019.
Log Jammers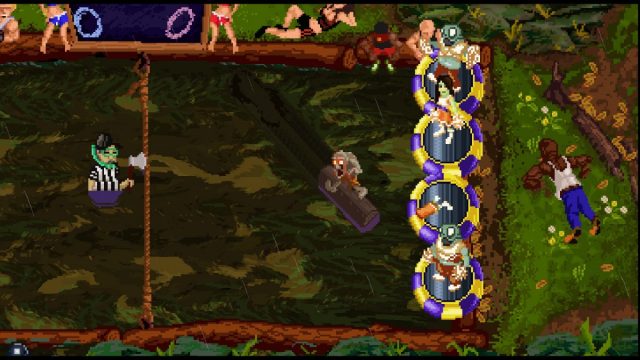 There's Windjammers, and now there's Log Jammers – but here's where their similarities stop. Instead of a disc, players now throw axes, and competition is made more intense and witty with trash-talking, because some executions are just simply worth the brag.
Thunder Rally
https://youtu.be/N7aMgK3lz04
Get ready for some driving shenanigans on the road! Thunder Rally is a more insane version of Mario Kart, where explosions and crazy physics reside. It seems like a hell lot of fun – and frustration too – and is planned for a 2019 release on PC.
Ape Out
.@gabecuzzillo's Ape Out FINALLY has a release date, and we have a brand new trailer for it. #KFGShowcase pic.twitter.com/gVjGPJoMqi

— Kinda Funny (@KindaFunnyVids) December 8, 2018
In Ape Out, players go on a rampage as a monkey. Smash the target in the head, throw people down buildings, use their weapons to kill another approaching party – the primal rage sets in February 7 on the Switch and PC. Go wild, troopers.
Fight Knight
There's a "Slapshot Samurai" in @Sorcerobe's Fight Knight. What else do you need to know? #KFGShowcase pic.twitter.com/rY23esjglM

— Kinda Funny (@KindaFunnyVids) December 8, 2018
The title is as literal as it can get, for there are no weapons in Fight Knight apart from your fists. Instead, players will have to mix up their combo moves, swapping out straight jabs for uppercuts, or crosses with a right hook. All the boxing action is reserved for Spring 2019, when the game heads to Steam, PS4, and the Switch.
Tunche
When Greg Tweeted out about #KFGShowcase for the first time, @HypeTrainD's Tunche was the first game to sign on for a trailer. You owe it to them to watch it! pic.twitter.com/qtBE9PoOoU

— Kinda Funny (@KindaFunnyVids) December 8, 2018
Set in the beautiful depths of a forest, Tunche is fronted by an atypical, unassuming protagonist, which is sufficient to capture attention. Armed with a blend of rogue-like and RPG elements, it allows for the selection of abilities, and will be coming to all platforms on January 14, 2019.
It Lurks Below
.@DavidBrevik created Diablo 2, and now, he's making It Lurks Below. Take a look! #KFGShowcase pic.twitter.com/FEudQw8KKw

— Kinda Funny (@KindaFunnyVids) December 8, 2018
Currently available on Steam as an Early Access title, It Lurks Below boasts a host of classes, ranging from the bard, to the necromancer and enchanter. With the inclusion of multiple modes, dungeon exploration offers more challenge to veterans of the RPG genre, where building, looting, and battling is the name of the game.
Hardcore
#ProjectHardcore almost came out on the SEGA Genesis in 1994. It didn't. Now, it's coming to PS4 and Vita in 2019. #KFGShowcase pic.twitter.com/9kClPNtwW2

— Kinda Funny (@KindaFunnyVids) December 8, 2018
Coming to the PS4 and PS Vita in 2019 is Hardcore, a 2D shooter that's perhaps best described as Metroid on steroids. Originally designed for SEGA, this is certainly not to be missed out by retro enthusiasts.
Supermarket Shriek
Who doesn't want to ride in a shopping cart with a goat? #SupermarketShriek #KFGShowcase pic.twitter.com/FDDJlZEzH3

— Kinda Funny (@KindaFunnyVids) December 8, 2018
Probably the most amusing game on the list, Supermarket Shriek has players sitting in trolleys and shouting loudly in the supermarket. It's extremely ridiculous, but most certainly big mood, and is planned for a 2019 release.
The Church in the Darkness
.@churchdarkness is equal parts Metal Gear and Far Cry 5. #KFGShowcase pic.twitter.com/4AS1seO3EJ

— Kinda Funny (@KindaFunnyVids) December 8, 2018
Reminiscent of Far Cry 5, The Church in the Darkness ticks all the checkboxes of a dystopian title, and its cultist undertones does a good job in conveying uneasiness. With a launch set for 2019, the game will be coming to all platforms.
A Fold Apart
Uh, @AFoldApart is a GORGEOUS game about long distance relationships. If that doesn't interest you, I don't know if we can be friends. #KFGShowcase pic.twitter.com/uxzO2UuJyx

— Kinda Funny (@KindaFunnyVids) December 8, 2018
Ah, the perfect love story for the romantic. There's no angst, misunderstandings, or sadness here, just pure, plain sweetness. Aww.
Falcon Age
Hey, PSVR fans, #FalconAge looks dope. #KFGShowcase pic.twitter.com/ywjq92r2qA

— Kinda Funny (@KindaFunnyVids) December 8, 2018
Falcons probably take centerstage in this PSVR title, so it certainly comes as pleasant news that players can raise one of these majestic birds in-game. Apart from nurturing birds, there are also elements of hunting and crafting, which are mainstays of the suvival genre. Falcon Age is geared up for a release in 2019.
Jenny LeClue
.@JennyLeClue has had our attention since we first saw it at PAX. Now, we get to announce it's coming to Switch! #KFGShowcase pic.twitter.com/0RtsFH6gad

— Kinda Funny (@KindaFunnyVids) December 8, 2018
Deceptively pretty with undertones of darkness and danger, Jenny LeClue is a choice-based narrative that follows the uncovering of a truth behind a mystery. Drenched in shades of vibrant colours, it's quite the visual beauty, with a 2018 release date for PC, Mac, Linux, and PS4.
Desert Child
WARNING: This #DesertChild trailer is AWESOME. #KFGShowcase pic.twitter.com/XenBYu0gxW

— Kinda Funny (@KindaFunnyVids) December 8, 2018
Earth is exploding, so it's up to a young hoverbike racer to get to Mars and win the Grand Prix. Desert Child takes on a gritty tone softened by witty in-game dialogue, and is set for taking off on December 11, 2018.
Stormdivers
Arcade is dead? @Housemarque says so, and they're inviting Kinda Funny fans to join the closed beta for #Stormdivers! Sign-up right now at https://t.co/jCIoaxRau8. #KFGShowcase pic.twitter.com/awdWwSxhmJ

— Kinda Funny (@KindaFunnyVids) December 8, 2018
Another battle royale contender has entered the fray. Stormdivers, while undeniably gorgeous-looking, bears heavy resemblance to Destiny and Anthem – or whatever we've seen of the Bioware game thus far – so it'd be interesting to see how the title places itself apart from the existing ones in the market.
---
Accompanying the above new releases are some announcements about existing titles on the market, such as:
The Danganronpa Trilogy heading over to PS4
A Switch port for Windjammers on December 21, 2018, which includes the first-ever online versus mode
Indie masterpiece Celeste making its way to the PS4 and Switch on January 1, 2019 as a physical edition courtesy Limited Run Games
The release of three DLCs – The Messenger: Picnic Panic, Human Fall Flat Dark, and Guacamelee 2
---
The Kinda Funny Games Showcase promised on 60 titles, and the team certainly delivered. It has been a blast, and the addition of some big-name announcements was truly a pleasant surprise. With so many indie titles primed for the new year ahead, it seems 2019 would be a good year for newcomers to explore beyond the AAA market, for that's where secret gems lie.