When we start talking about the esteemed game developers, BioWare, story and narrative is never too far off from what the studio does best.
Most of their universally acclaimed titles are single-player, narrative-driven adventures that take players on a ride throughout, but with their latest IP, Anthem, there has been plenty of doubts if the developers will be able to hit the high bar they are known for.
In a press briefing and the subsequent reveal of a new trailer at The Game Awards 2018, the message is clear – BioWare wants you to know that Anthem's story is integral to the game, and they will be sticking to their guns, even in a new genre.
Mike Gamble (Lead Producer) and Jonathan Warner (Game Director) is helping adapt the formula to "more suit the playstyle of what we expect from Anthem, and not overly "focusing on choices and consequences." Rather, the team wants "players to understand the characters and the relationships, and that's the deepest things that Anthem is focused on."
That said, a coherent and overarching story is still integral, and Warner stressed that the team "wants people to think of our story with two lenses. One is the story of the struggle against the Monitor and the Dominion, which has a beginning, middle, and end. And then there's the story of the world conflict." This will hopefully give players an incentive to partake in both the main storyline as well as the plethora of side activities that is expected of a game as a service.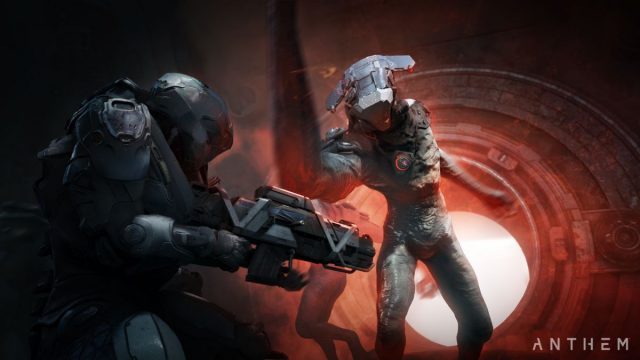 As for keeping things fresh, Gamble also teased that there are "plans for how we switch and morph the context of the game after launch," and keep the gameplay loop as addictive and enjoyable as possible. BioWare is also expecting to push out content regularly to expand not just the gameplay, but the narrative as well for Anthem.
The lore and story of Anthem appears to run deep, and there are plenty of supporting characters to help flesh that out, right off the bat. Critical to the player's progression, characters like Haluk, Owen, and more will push the storytelling further. We even got a glimpse of the big bad leading The Dominion, the ominously named Monitor.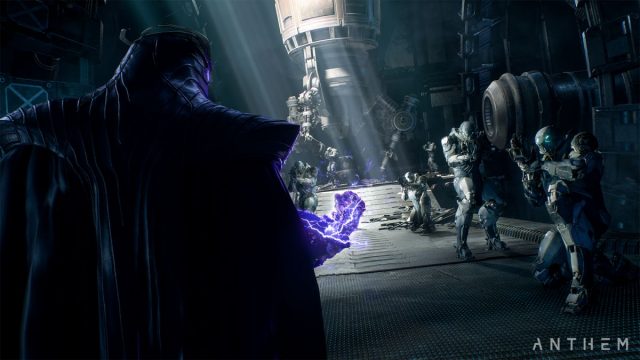 As the leader of the militaristic group, he is hellbent on utilising the Anthem of Creation to create a vision of peace with their own Javelins and armaments.
"They believe the way to keep people safe is to keep them well-heeled, keep everyone on a short leash. That's their objective—they want to bring peace through force. They are well-armed and well-equipped, which puts them apart from the Scars and some of the other enemies in the world."

Jonathan Warner, Game Director
At the heart of it all is the aforementioned Anthem of Creation, a sort of energy that has permeated throughout the world, occasionally creating problematic situations which the Freelancers, mercenaries like yourself, will have to handle. Of course, it does not stop with The Dominion, there are plenty of threats outside of Fort Tarsis, and players will have the freedom to explore the world, gather resources, and take part in World Events in Free Play.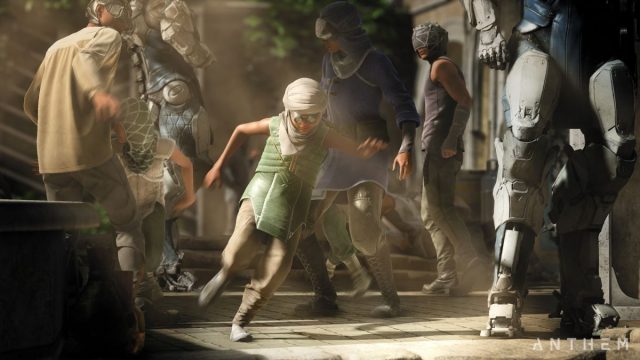 Players are welcome to head into the world alone or as part of a crew. "At it's core, you are not going to be the singular hero that saves the day, you are doing that as part of a larger team. That allows us the ability to scale that team based on your friends or as a team of one," and you will all be supported by "the same squad of Haluk, Owen, Faye and more, it's just how many more Freelancers or none that will be there."
Unlike many of BioWare's previous games, Anthem adds in a whole new layer of verticality with the Javelin suits. For the developers, this meant "thinking of the gameplay area as more of a volume of space rather than a flat surface with bumps on it, a more 3D way that involves going up, down, and into environments, it really is a game-changer."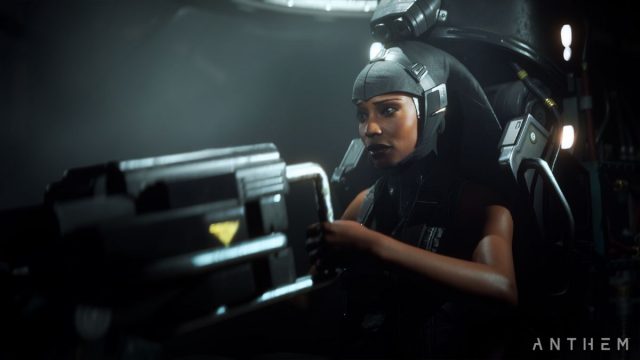 Part of that world is the hub world of Fort Tarsis, the frontier town that you will start out in Anthem. While you will hear tales of the many areas that form this new world, the spotlight falls on Fort Tarsis for the foreseeable future.
For those worried about microtransactions, the team has assured us that there will be "no tricks, blind draws, or lootboxes." It will be limited to cosmetics and best of all, "all the same items can be obtained by paid currency or earned currency, there are no exclusives locked away."
As February 22 draws near, the team is still hard at work trying to perfect what could easily be the next blockbuster. Creating something new is always daunting, and for the studio, it is all worth it.
"After we finished up Knights of The Old Republic and brought Mass Effect and Dragon Age out, it's a good thing, a challenging thing. Creating a new IP is one of the hardest things to do and also, most rewarding. And like any developers, we are nervous because it has been our baby for so long, and we are just waiting to see what everyone else thinks about it. But we are also extremely proud of it!"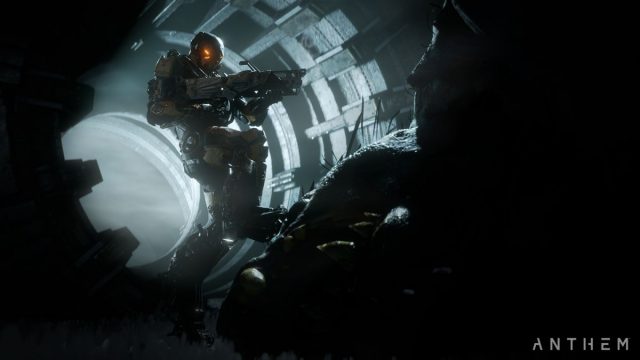 We will all find out when Anthem releases on February 22, 2019 for PlayStation 4, Xbox One, and PC.