Nearly two years after the release of The Last Jedi, actor John Boyega has finally spoken up about the film, admitting that there were a number of choices, made by director Rian Johnson, that he did not agree with.
Incredibly divisive when it was released, some felt that the deconstructive take Rian Johnson took with the movie was a much-needed step in the right direction to keep the series fresh while others felt that Johnson had gone so far as to 'ruin' the Star Wars series. Some fans hated The Last Jedi so much that petitions were made to either have The Last Jedi remade, or have it struck off the Star Wars canon, with the latter receiving more than 116 thousand signatures. 
In fact, The Last Jedi was so divisive that even those involved with the production of the film had strong opinions about it. Such as Mark Hamill infamously making headlines for his comment on how he took issue with how Johnson handled the character of Luke Skywalker.
I said to Rian, 'Jedis don't give up.' I mean, even if he had a problem, he would maybe take a year to try and regroup. But if he made a mistake, he would try and right that wrong. So, right there we had a fundamental difference, but it's not my story anymore. It's somebody else's story – and Rian needed me to be a certain way to make the ending effective. …That's the crux of my problem. Luke would never say that. I'm sorry. Well, in this version, see I'm talking about the George Lucas Star Wars. This is the next generation of Star Wars, so I almost had to think of Luke as another character. Maybe he's Jake Skywalker. He's not my Luke Skywalker, but I had to do what Rian wanted me to do because it serves the story well.

Mark Hamill
Well, it seems like he was not the only person who disagreed with Johnson's take on The Last Jedi.
In an interview with Hypebeast, Boyega talked about his thoughts on The Last Jedi, and they seem to concur with some of what Hamill said.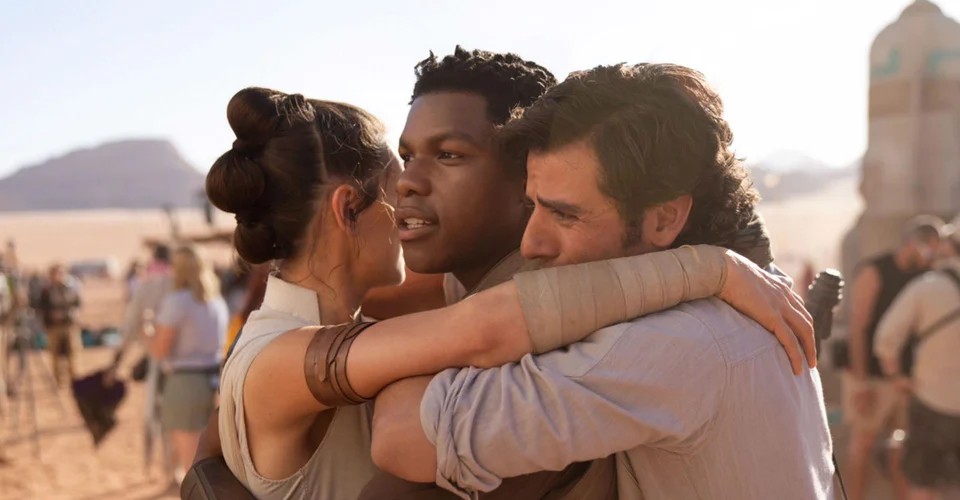 "The Force Awakens I think was the beginning of something quite solid, The Last Jedi, if I'm being honest, I'd say that was feeling a bit iffy for me," said Boyega in the interview. "I didn't necessarily agree with a lot of the choices in that and that's something that spoke to Mark [Hamill] a lot about and we had conversations about it. And it was hard for all of us, because we were separated."
While he didn't specify any choices made in The Last Jedi that he disagreed with, it seems Boyega was more interested in the sequel trio of Rey, Finn, and Poe working as a team much like in the original trilogy as compared to them being spread out in The Last Jedi.
I guess the original Star Wars films there was much more of a trio feel where it was essentially about Luke's journey, but Han and Leia there was a strong dynamic, which I think, I don't know how quickly we're going to be able to establish that longterm dynamic with IX. But if it's exploring that dynamic, then that would be cool.

John Boyega
Some fans on Twitter have posted in response to Boyega's interview, sympathising with how Boyega and Finn were treated as well as agreeing with both Boyega and Hamill's sentiments.
With all that said, it will be interesting to what J.J. Abrams has done with the sequel to The Last Jedi, and we can only wait till December 19, 2019, to see how it all pans out with Star Wars: The Rise of Skywalker.
---

Drop a Facebook comment below!