It's that time of the year again, where the Singaporean gamer community comes together for GameStart 2017. This weekend's event is going to be an exciting one. Over a dozen of our home-grown talents will be putting their creations on display at GameStart, this weekend under the Singapore Games Pavilion. If you're hoping to break into the industry, you'd probably already know some of the games or their developers off the top of your head.
The venture is organised by the International Game Developers Association of Singapore (IGDA) and the Infocomm Media Development Authority (IMDA), both of which have been instrumental in elevating the local indie development scene. You might've caught their booths in the recent Good Game Experience (GGXP) area at the Singapore Toys, Games and Comics Convention (STGCC).
While the land has never been more fertile for growth, aspiring indie game developers might find themselves daunted by the competitive environment they're looking to jump headlong into. It's still a jungle out there, but never fear – the IGDA is here.
The folks over at the IGDA are all about personal growth and developing individuals. If you're looking to hone your craft and make your mark, then they'd help you get started on your journey. On top of the skills you'll pick up, you'll get many opportunities to build your network with industry insiders. If you're a student, that will be a definite head start in securing internships and transitioning straight into the industry after graduation.
The support for indie studios is looking up, and here are a few titles that you should check out this weekend.
---
BattleSky Brigade by BattleBrew Productions
We've reported on these guys before and now it's time for you to get your hands on the latest build fresh from Tokyo Game Show.
If you're wondering why it looks like the more popular mobile titles out there, you're not entirely wrong. In my brief preview of the title, it's looking as if BattleSky Brigade will be leading strongly into guilds and getting all your friends in one place to both attack and repel opponents. With a multitude of resources to juggle, each player will be stretched forcing them to specialize and seek the help of others to complement their own strengths.
To top it all off, the game is surprisingly watchable as well so hopefully we'll see plenty of streams of the game in the future.
---
Songbird Symphony by Joysteak Studios
Whoa, it looks like the name of the game is cute these days. If your game is aesthetically pleasing you've got a chance amongst the sea of indie titles out there. The folks at Joysteak Studios seem to have taken notes.
At first glance it looks like an average platformer but here's hoping it turns into a Metroidvania. Songbird Symphony certainly has the potential for that.
---
Buglords by Ratloop Studios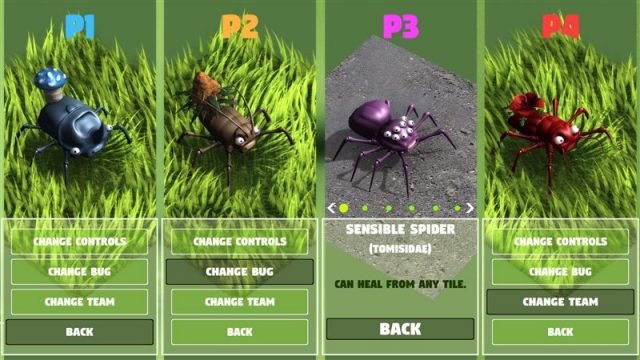 Why this game only has a character select screen at this point of time is a mystery. Because if we are to base it on just this screen alone, folks won't know that Buglords is all sorts of AWESOME!
Seriously guys, get a trailer together soon.
If you only have time for one game, make a beeline for this title. 4 player local multiplayer battle arena, twin joystick shooter action with powerups. There's only so much text can help describe this title, you have to try it for yourself.
---
Rounding it all up we'll also be seeing mainstays such as Masquerada and Stifled which we've covered to some extent thus far. These guys are the perfect case study how to get out of endless development plus hit the market and get noticed.
Make sure to grab your tickets to GameStart 2017 now!