We've covered Lenovo's Star Wars: Jedi Challenges earlier last month with an exclusive first hands-on session at the IFA 2017. In case you didn't know, it's a new augmented reality Star Wars device that features a smartphone-powered (iPhones & Android phones) Lenovo Mirage AR headset, Tracking Beacon, Lightsaber controller, and hours of Star Wars augmented holographic gaming via three game modes.
Looks like we won't have to wait too long to get our hands on the device. Star Wars: Jedi Challenges will be available from 4 November onwards at S$379 from the following authorized dealers in Singapore: Addon (Lenovo Exclusive Store), Challenger, Courts, Harvey Norman, Newstead (Lenovo Exclusive Store), PLAYe, TOG (Toy or Game), Toys"R"Us
Players will hone their Jedi talents across a variety of augmented reality-based experiences, such as Lightsaber Battles, Strategic Combat (Tower Defense style) and Holochess (yes, Chewie's favourite chess game on the Millenium Falcon).
---
Lightsaber Battles
Players get to hone their lightsaber prowess and train against legendary dark side villains like Kylo Ren, Darth Maul and Darth Vader.
Strategic Combat
Players marshal the forces of the Republic, Rebel Alliance, and Resistance against the might of the Separatists, Empire, and First Order in epic battles across their living room floors. Skills in strategy and tactics are put to the test as they engage in tower defense-style battles.
Holochess
Perhaps one of the most iconic board games brought to film, Holochess has now been brought to life in Jedi Challenges. Fans can direct their holographic alien pieces across the board, wrestling for territory and control.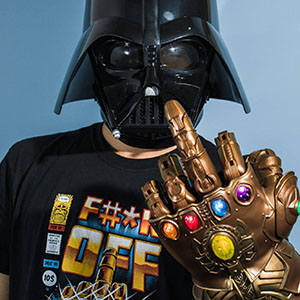 Yonk is a geek who is fortunate enough to have an equally geeky Star Wars fan for a wife, who owns a LEGO Millennium Falcon encased in a glass coffee table as their home's centre-piece.
---

Drop a Facebook comment below!
---