Ah, the smell of gunpowder in the air. We're talking gunpowder in the most metaphorical sense, with the cannons and guns being these classic, 16-bit mini consoles. There's the upcoming Sega Mega Drive / Genesis Mini, then the Capcom Home Arcade, and lastly Konami's TurboGrafx-16 Mini, all of which are gearing up for war.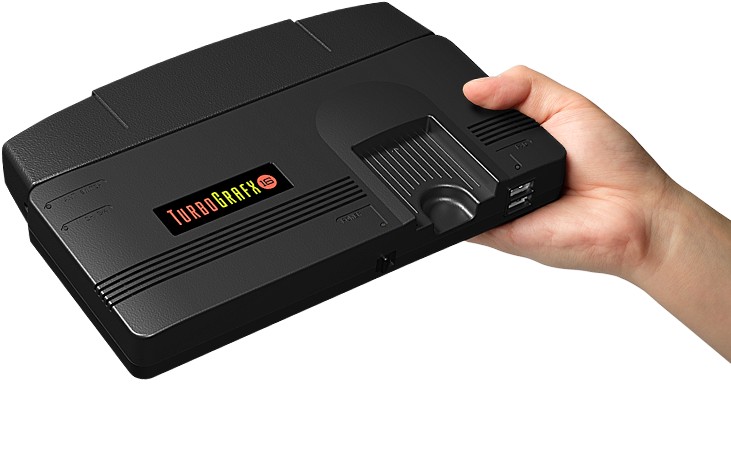 First announced at E3 2019, the throwback system is the last of the trifecta to welcome the retro renaissance, with a newly-announced March 19, 2020 launch date. It will include about 50 titles that range from popular fan favourites to Japanese exclusives, and is set to arrive in three versions. Where the US is privy to the original TurboGrafx design above, Japan will receive the PC Engine-modelled build, while Europe's iteration borrows the revised style of CoreGrafx.
Konami has confirmed that the sale of its TurboGrafx-16 Mini will be made exclusively on Amazon, with pre-orders going live on July 15, 2019 – just in time for Amazon Prime Day deals. A price has yet to be announced for the US model, though the Japanese version will retail at 10,500 yen.
Despite the differences in build design, all three systems are tailored to boast a similar game library, which totals up to 24 localised titles and 26 Japanese ones.
The full game list for the TurboGrafx-16 Mini is as follows:
American Titles
Air Zonk
Alien Crush
Blazing Lazers
Bomberman '93
Bonk's Revenge
Cadash
Chew-Man-Fu
Dungeon Explorer
J.J. & Jeff
Lords Of Thunder
Military Madness (Nectaris)
Moto Roader
Neutopia
Neutopia II
New Adventure Island
Ninja Spirit
Parasol Stars
Power Golf
Psychosis
R-Type
Soldier Blade
Space Harrier
Victory Run
Ys Book I&II
Japanese PC Engine Games
Akumajō Dracula X Chi No Rondo (Castlevania: Rondo Of Blood)
Aldynes (SuperGrafx game)
Appare! Gateball
Bomberman '94
Bomberman Panic Bomber
Chō Aniki
Daimakaimura (Ghouls 'N' Ghosts – SuperGrafx game)
Dungeon Explorer
Fantasy Zone
Ginga Fukei Densetsu Sapphire
Gradius (Nemesis)
Gradius II – Gofer No Yabō (Nemesis II)
Jaseiken Necromancer
Nectaris (Military Madness)
Neutopia
Neutopia II
Ninja Ryūkenden (Ninja Gaiden)
PC-Genjin (Bonk)
Salamander
Snatcher
Star Parodier (Fantasy Star Soldier)
Super Darius
Super Momotarō Dentetsu II
Super Star Soldier
The Kung Fu (China Warrior)
Ys I&II
Now, that's one whole list of games to look forward to. Sure, there's a little overlap between the two line-ups, but the inclusion of CD-ROM titles and extremely rare members should make for a rich, apt retro gaming experience.