Razer has already established itself as an industry giant in the gaming world, with a host of various peripherals that runs the gamut from gaming mice to laptops. Last year, the team ventured into the mobile phone market with the Razer Phone, and it seems nothing can stop them from exploring new fronts.
And what's a gaming company, without its own digital game store?
From today, players can purchase the latest PC game titles from Razer's newly-launched digital store. As a form of celebration, selected Ubisoft games are being sold at a discounted price of up to 75%, and titles include, but are not limited to, Assassin's Creed: Origins, Watch Dogs 2, Tom Clancy's Rainbow Six: Siege, and Far Cry 4. 
Get Games. Get Rewarded.Discover the new Razer Game Store now – http://rzr.to/RGS

Posted by Razer on Thursday, April 5, 2018
For those who are a fan of games from other publishers, there's plenty of that to go around too. A quick search reveals the likes of favourites such as Dishonored 2: Death of the Outsider, Cuphead, and Fallout 4, so worries regarding the variety can be put to rest.
Unlike EA Origin or Ubisoft UPlay, which sell games under on brand, the Razer Game Store is a one-stop shop, in that it sells games for Steam and Uplay, and runs more like Humble Bundle, where all purchases come in the form of Steam or Uplay product keys.
To reward users, Razer has implemented a loyalty programme. Staying true to its motto of "Get Games, Get Rewarded", each purchase – including credit card transactions – will grant players Razer's very own zSilver credits, and entitle them to exclusive offers, in-store vouchers, and discounted rates on its gaming peripherals. Sweet.
As the ultimate icing on the cake, customers of the digital store will be presented with a new selection of exclusives and rewards every week. Four games are to go on sale of up to 50% on a rotational basis, but here's the catch: the purchase of each of these games garners customers a Razer game voucher (up to US$15), double zSilver awards, and a US$10 voucher on Razer peripherals.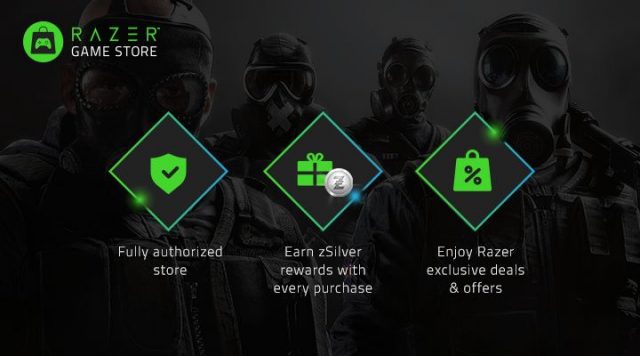 Unfortunately for the Asian market, the Razer Store is slated to go live first in the US, UK, Germany, and France, with localised content, prices, payment methods, and customer support. For other countries, a global storefront is available, but prices will be in US dollars.
Here's to hoping that it launches in Singapore soon!
---

Drop a Facebook comment below!