Few tech companies have been able to successfully launch a debut device, and even fewer have done so by challenging the incumbents in a highly competitive marketplace, but Singapore-based Razer has done both and more, with its Razer Phone.
It might seem rather foolish to launch yet another Android smartphone to an oversaturated market, but Razer, who has made its name among the gaming community with high-end peripherals and accessories, has two things going for them – credibility among the core youth audience, that it is designing something durable and packed with features, as well as Nextbit.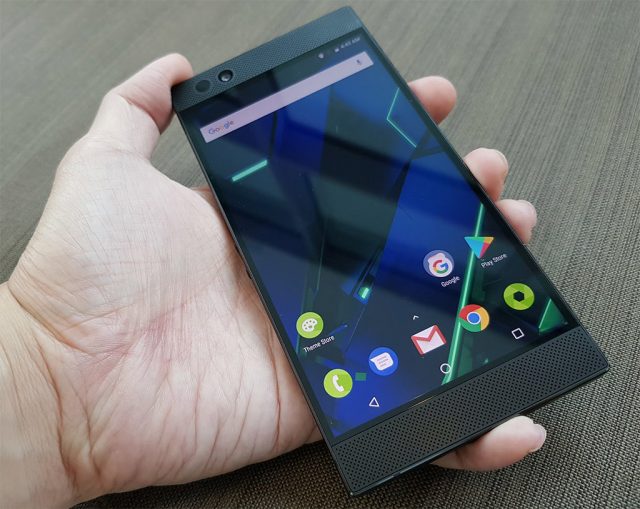 A start-up founded by formers members of Google's Android team, Nextbit was gunning for an Android device powered by the cloud. While its Robin phone didn't make as big a splash as expected, it caught the eye of Razer, which acquired Nextbit. And that union has resulted in the Razer Phone.
And it is with that pedigree that has brought about the gaming-oriented device that Razer has crafted. The company could easily have gone for broke, and packed in a bunch of features to make it comparable to likes of the Samsung Galaxy Note 8, iPhone X or Huawei Mate 10, but instead of aiming for flashy showmanship, like it does with some of its gaming accessories, Razer went for the more subtle approach.
On the surface, the 5.7-inch device checks off a list with all the industry-leading features. There's the quad high definition (QHD) display, 12MP dual rear cameras, 8MP front camera, Corning Gorilla Glass 3, Android Nougat operating system, Qualcomm Snapdragon 835 processor, and a fingerprint sensor.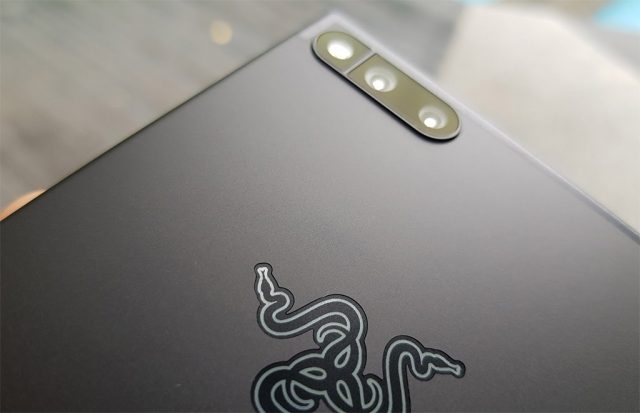 But the company has also tweaked the little things, to strengthen its gaming creds. The first is the 8GB of RAM, to ensure that mobile games will run smoothly on the phone. There there is the 120 Hz LED screen, which delivers buttery smooth graphics, for that uninterrupted gaming experience (most phones max out at 60Hz). Lastly, there are the dual front-firing speakers that create an immersive environment, even if you're not caught up in the latest mobile gaming experience.
If you're somewhat of a smartphone aficionado, then you would be rolling your eyes right now, because no matter the claims, audio on portable devices, be it tablets or even laptops, can never cut it. The hollow echo it produces only serves as a jarring reminder that you're listening to an echo of the real thing.
But Razer has done something incredible here, in that it has managed to redefine the audio that a smartphone can deliver, and to establish a new audio standard that other smartphone makers will want to beat from now on.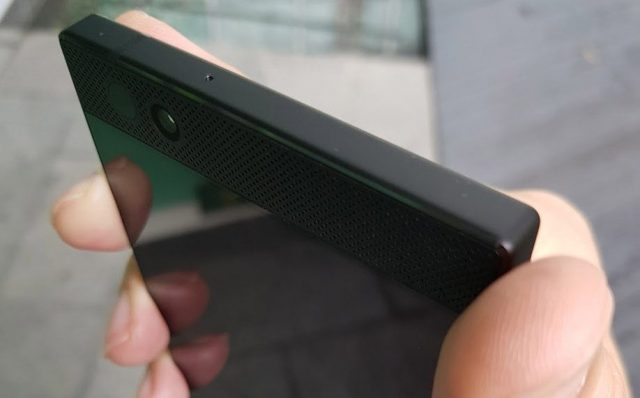 Despite its claims, the Razer Phone is not the first mobile device to boast a 120Hz display, but there are now powerful enough games that will take advantage of the screen, thereby elevating Razer as a forward-thinking industry leader.
And because it is Razer, it has already established agreements with leading mobile game developers, to make use of the display. Popular games such as Final Fantasy XV Pocket Edition, Tekken, Titanfall: Assault and World of Tanks Blitz already make use of the screen, promising smoother gameplay out of the box, though not all of them hit the full 120Hz refresh rate.
Of course, there are also some missing features, such as a lack of wireless charging, a headphone jack or waterproofing, but those aren't necessarily what its audience wants. The lack of an AMOLED display is countered by the high refresh display that only an LCD screen can provide, so it's one or the other, and why bother with Amoled, when it is now only one of two or three smartphone makers, such as Sharp, to have a 120 Hz screen? One thing to note is that the IPS screen is on the dim side, and while you can raise the brightness indoors, the screen is barely legible outdoors, under direct sunlight.
Given the company's recent bluster into contactless payments, one would even have expected the company to roll out its own payment solution ala Samsung, Apple or Huawei Pay, but there's no sign of it anywhere on the device. If the company's game plan for Singapore is to streamline the many contactless payment services here, the mobile phone gives it the best avenue to do so, and many will be watching this space.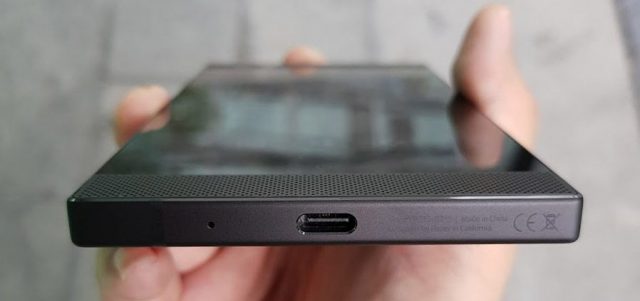 Its new competitors will also be watching the company very closely, to see what's next. Design wise, the Razer Phone shares many similarities with the Robin, including its angular, blocky chassis that many manufacturers have since discarded. If you've seen Sony's Xperia series of phones, then you get a sense of what the phone is like. Yet, with it's all aluminum frame and large logo on the back, the company has orchestrated a mobile identity that is now uniquely theirs.
Instead of figuring out where to place the fingerprint sensor, in the rear or front, Razer has opted for the side, and this makes sense not because placement of the sensor only works in this manner, but because it fits the phone. A front placement of the sensor, usually at the bottom of the phone, only makes sense for smaller devices, and not a 5.7-inch giant. But given the 7.77cm wide frame, placement in the rear doesn't make sense either, as the phone is too unwieldy to hold in a comfortable, one-handed position, to unlock the device.
By positioning it on the right edge, the phone can be unlocked by a right-handed user using a thumb, or a left-handed user using the middle finger. In both scenarios, the fingerprint sensor, which also serves as the Power button, was extremely responsive, and was able to register my presence immediately. The Volume buttons on the other edge rounds up the physical buttons on the device.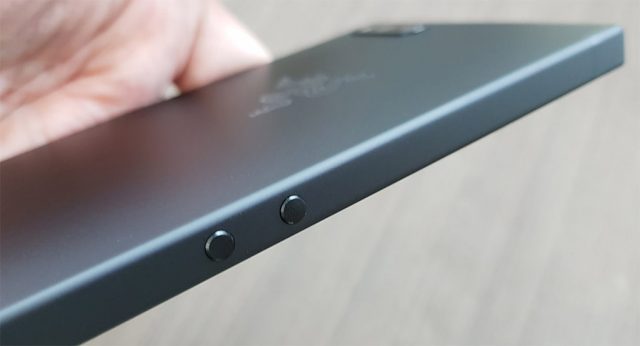 If you're one of those who misses having a headphone jack, that's too bad because more manufacturers are ditching it. Unlike Apple or Samsung, who are using this opportunity to tout their own wireless earphones, Razer is only going halfway, by a wired Hammerhead earphone that comes with a USB-C connector.
Given that this is still Razer's first phone, there are some features and options that it has glossed over, most likely because it knows it lacks the expertise. One thing that Android users dislike, is the need for many companies to create its own interface, or skin, on top of the stock Android OS, but Razer has opted to just preinstall Nova Launcher, one of the leading user interface in the market, on their phone. This offer plenty of customisable options for users, which should help device owners.
The other feature that could use some attention though, is the camera. Hardware wise, the camera is better than some, producing decent images and details, but only if you put some care into using it correctly. There's no saving its low light shots though, and they come out grainy and filled with artifacts. The problem is with the software. The default camera app is a rather barebones one, with limited features. And unless you were adept in using smartphone cameras across the different brands, you would not be aware that there are many more features in current top of the line phone cameras, and a lot of it is dependent on the app.
A recent update added some new elements to the camera app, including a faster response time for the camera whenever users punch the shutter button, but to make full use of the hardware, it will be better to download third-party camera apps, such as A Better Camera, or Open Camera.
Lastly, be careful with the battery. On a normal day to day use, the phone lasted more than a day with my extensive use, which is great. But if you end up playing games and opting for a 120 Hz display, it will drain the battery.
GEEK REVIEW SCORE
Summary
At a very competitive price of S$1,068, the Razer Phone mixes some great elements, and carves its own way in others. With an impressive debut, there is no doubt that the company is on the right track to something great.
Aesthetics -

9/10

Build Quality -

9/10

Performance -

8/10

Value -

9/10

Geek Satisfaction -

9/10
---

Drop a Facebook comment below!