The Singaporean fascination with Mala knows no limits. There is the original stir-fry, also known as Mala Xiang Guo, where a mix of meats and vegetables are stir-fried with dried chilli, peppercorns and spices, and you get to pick the level of spiciness of the dish. The dish is available at restaurants, cafes, coffee shops and hawker centres, and there are even halal versions, and concoctions that swap the stir-fry for a soup, to make it more of a spicy bowl of soup, not unlike Tom Yam or even laksa.
Well, get ready for something new and different, because the more things change, the more they stay the same. Famed Chinese eatery, Yang Guo Fu, known for its Mala Tang or mala soup, has entered Singapore, offering a new spin on a time-honored classic.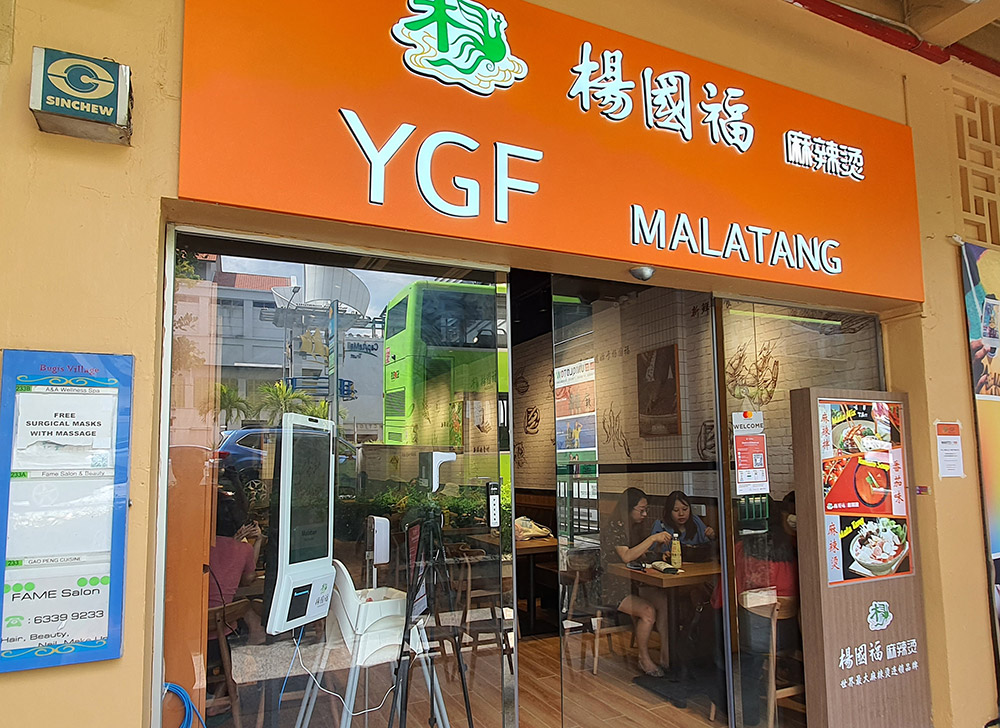 Or is that bringing in the original spin on a modern Chinese staple, since the dish in question originated from China anyway? Opened at both Singpost Centre and at Bugis Village, Yang Guo Fu, or YGF, is offering two options of its award-winning mala tang soup dish – spicy mala beef and tomato.
For those of us who love spice but aren't really keen on biting on small pieces of dried red chilli, or pieces of peppercorn in traditional mala xiang guo, then YGF will be a treat to the mouth. Instead of whole pieces of cut dried chilli, YGF uses chilli flakes and instead of whole peppercorns, you will only find peppercorn oil.
Yes, the numbing sensation is still available at YGF, but it comes in the form of oil, much like sesame or canola. What the chain does is fry the peppercorn in oil, strains it and voila – what remains is an oil that offers the same numbing experience as peppercorn, but without the excruciating bitter aftertaste that few can tolerate.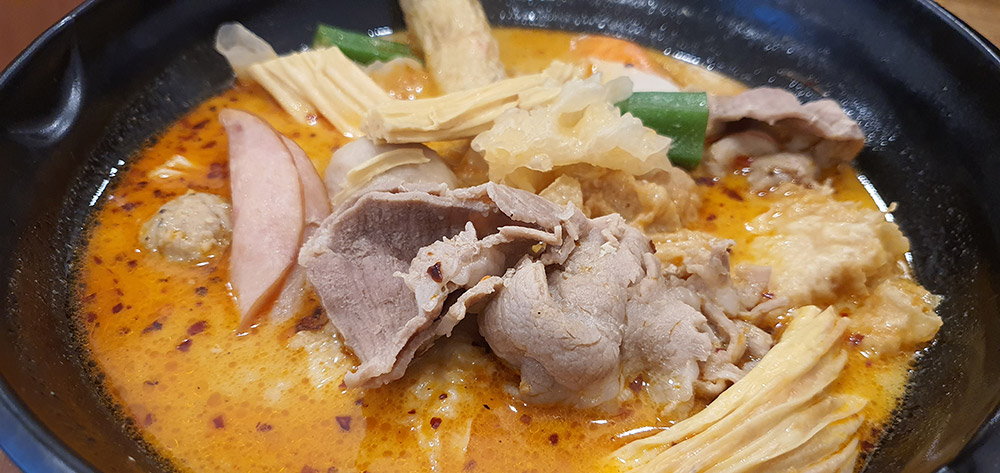 With the beef broth, customers can opt for three types of spice level – light, medium and spicy. The bowl comes filled to the brim with a spicy orange broth that looks like a cross between Tom Yam and laksa. Now fans of mala tang would find this rather different from other mala tang recipes here.
Many places simply add water or stock to mala xiang guo, to deliver a soupy version of the Szechuan dish, but what YGF does is to build upon a beef broth, so that the flavour isn't just focused on spice. It's not the first time an eatery has banked on this – Gong Yuan Mala Tang has been offering this dish at Kovan's Heartland Mall for almost four years now, though it has remained rather low key in its efforts.
The long queues in China has led to an extended interest in this dish and on the day of the invited media tasting, the public flocked the Victoria Street outlet during lunch time, keen on paying S$2.88 per 100g of the almost five dozen food topping options here.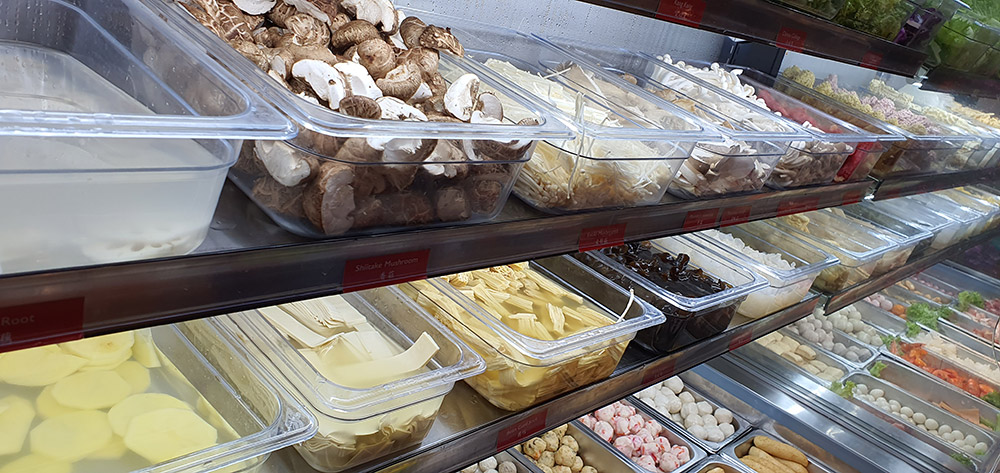 One of the grander things about mala cooking is that consumers get to pick what they want from a chiller shelf stocked with food, from vegetables, mushrooms, seafood, meats, processed foods to an assortment of noodles. The same happens here and at the end, your bowl of food, minus the bowl's weight, is measured and customers pay for what they selected. Ostensibly, you can pick 500g of chicken, pork, beef, shrimp and other meats and pay $14.40 for a hot piping bowl of mala tang fit for a carnivore, or 500g of leafy greens, mushrooms and noodles at the same price – the choice is yours.
What's new here is that a smaller selection of items available at YGF are sourced from China, or made locally. Currently, the white and black fungus are shipped in from China, and pretty soon, some noodle options will also be identical to the locally made ones available in China. The soft beancurd, or tau kwa, offered is not sourced locally or imported, but made to order here using a recipe that YGF has been using in China. Slightly softer than local tau kwa, but a lot firmer than tofu, the beancurd here is firm yet soft to the bite. But as beancurd goes, the flavour comes from the soup it is prepared in.
The most curious offering though, is a half portion of you tiao. Found locally in breakfast spots that serve congee or at rojak stalls, the local favourite is not something you would think of adding to mala especially since in China, the locals there prefer to soak it in their soup but that makes it a rather soggy mess, like dipping a slice of bread in your Milo drink. Instead, the Singapore YGF toasts it, and places it at the top of your bowl, for you to have it your way.
Wait, so what about Mala Xiang Guo itself? Does YGF offer a dried version? Yes, and no. If what you expect comes in the form of ingredients boiled and then stir-fried in a mix of chill and spices, the dried version here is remarkably different, such that you can call it something else entirely – think the different between local laksa and assam laksa.
The ingredients are first boiled in a special stock, presented in a bowl and garnished with peanuts. Instead of tossing the ingredients in a mala paste, a side dish of spicy sauce is presented with the bowl and patrons toss the sauce with their ingredients, based on their preference.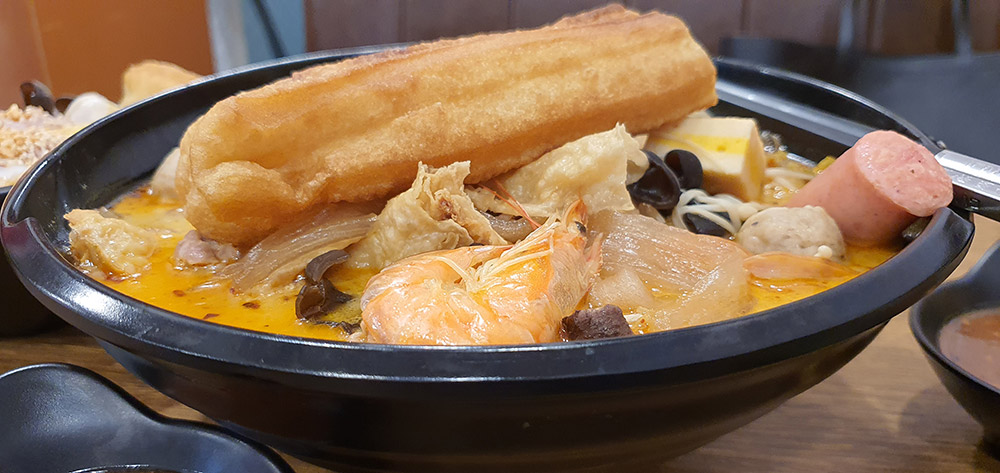 The catch is that this sauce, which is heavy on a peanut base, taste nothing like the mala spice that many know and love. In fact, it's more of a satay sauce infused with chilli and the entire offering is more akin to yong tau fu, where patrons douse a bowl of ingredients with a mix of sweet and chilli sauce. Imagine that – YGF serving a version of YTF… it's kind of WTF in a surprisingly kind of way.
This paste works well if you're in the restaurants, as the heat of the food, when tossing the sauce, helps to thin the rather thick sauce. Flavour wise, there are hints of mala buried in there, but the peanut overpowers everything. The problem is when you order take-out – if the ingredients, which can include noodless, are at room temperature, everything clumps up together, making it very difficult to evenly toss everything together well. 
The soup is clearly the go-to option here, and the tomato soup, rich in flavour and bursting in fresh tomato sweetness is the other choice. Surprisingly, YGF doesn't brew its own stock. In order to maintain consistency in flavour across all of its 6,000 outlets, the soup is prepared and rendered in powdered form before being sent across to all its outlets, to ensure that a bowl of mala tang served here tastes the same as one served in China.
Another thing that YGF is tweaking, is the level of spice. Generally, medium spice is what many Singaporeans prefer, and big spice is what few would go for. Here, medium spice is very light on the heat and big spice is, well, a moderated medium spice. If you try the soup version, it is recommended that you toss the ingredients evenly, as the spice is applied in the bowl and not in the soup, so you might end up having a bowl that might get spicier as you eat it, since the spice is seated at the base of the bowl. Even then, the big spice mala tang here was only moderately spicier than the medium version.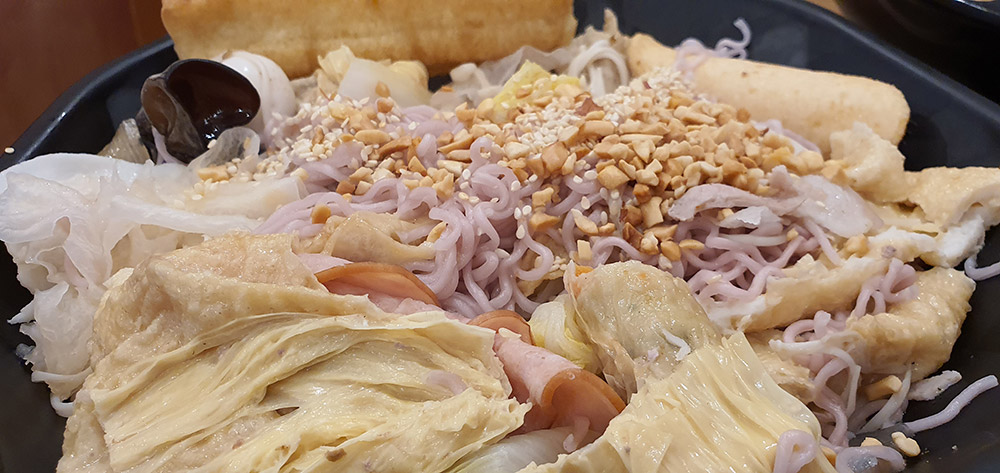 Each time you pick up your order, a server will also dish out a small dish of spicy condiment for you. A mix of chilli spice, red cut chilli and scallions on a bed of sesame sauce, you have an option of asking for a spicer mix. Here is also where you will find a container of oil but don't be fooled – this is the numbing peppercorn oil and adding too much will bring the same numbing sensation, just without the actual bitter tasting peppercorn bits. 
Price wise, YGF is not any more expensive or cheaper than what is currently available. The air-conditioned restaurants, located in busy hubs, means anyone can enjoy mala tang in cool comfort. The biggest win here, aside from the beef broth, is the way they manage their spices, or having small pieces of chill and no peppercorns in their cooking to cater to the majority of folks who don't eat the dried red chilli and hate to bite into the peppercorns.
If you order takeaway, it comes in a plastic container and YGF will separate the soup from the ingredients, making it easier for you to reheat things and not having ingredients such as noodles soak in the soup. If you cannot finish your mala tang at the restaurant, you can pack up the rest as well and YGF will pack a new container of soup for you, to ensure that things remain fresh. It's a pity about that you tiao though, as it will be packed together with the other ingredients and even if it's placed on top of the container, the residual heat will cause it to go soggy.
Yang Guo Fu Mala Tang is located at Singpost Centre, 10 Eunos Rd 8, #01-150, Singapore 408600 and 233 Victoria St, Singapore 188026.
---

Drop a Facebook comment below!