With the increase in popularity of streaming, the question is not just about what to watch, but where you can catch the latest movie or TV series.
From smart TVs to the Apple HomePod and Google Chromecast, almost every device is made to enhance the streaming experience and if you're looking for something to recreate the big screen experience yet remain inconspicuous enough to place in your limited home space, a projector might just be the thing you need.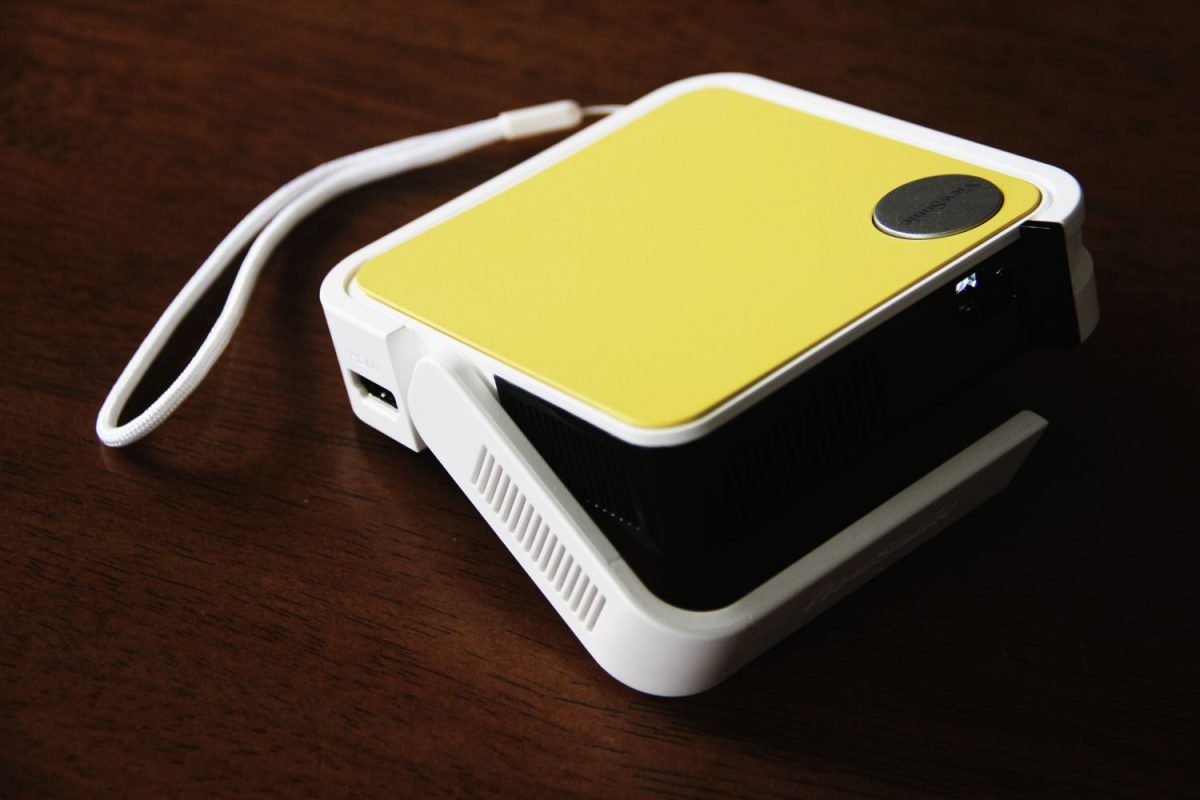 Among the countless number of projector available in the market today, such as the BenQ GS2 and the LUMOS AURO, the ViewSonic M1 Mini Plus Projector stands out with its pocket-sized build. The projector has a small squarish form factor with curved edges for a smooth sleek finish. As a bonus, it has a customisable design due to the interchangeable top plates which come in three colours, teal, yellow and grey.
Weighing just 280g, and measuring 10.5cm x 10.5cm x 3cm (4.1″ x 4.1" x 1.1″) the M1 Mini Plus fits neatly in most pockets. Its portability is enhanced by the built-in rechargeable battery with power bank compatibility. You will require a USB Type-C cable to charge the device. When not in use, you can easily tuck it away on any spare shelf or desk space you have without the hassle of having to clear a permanent spot to position it.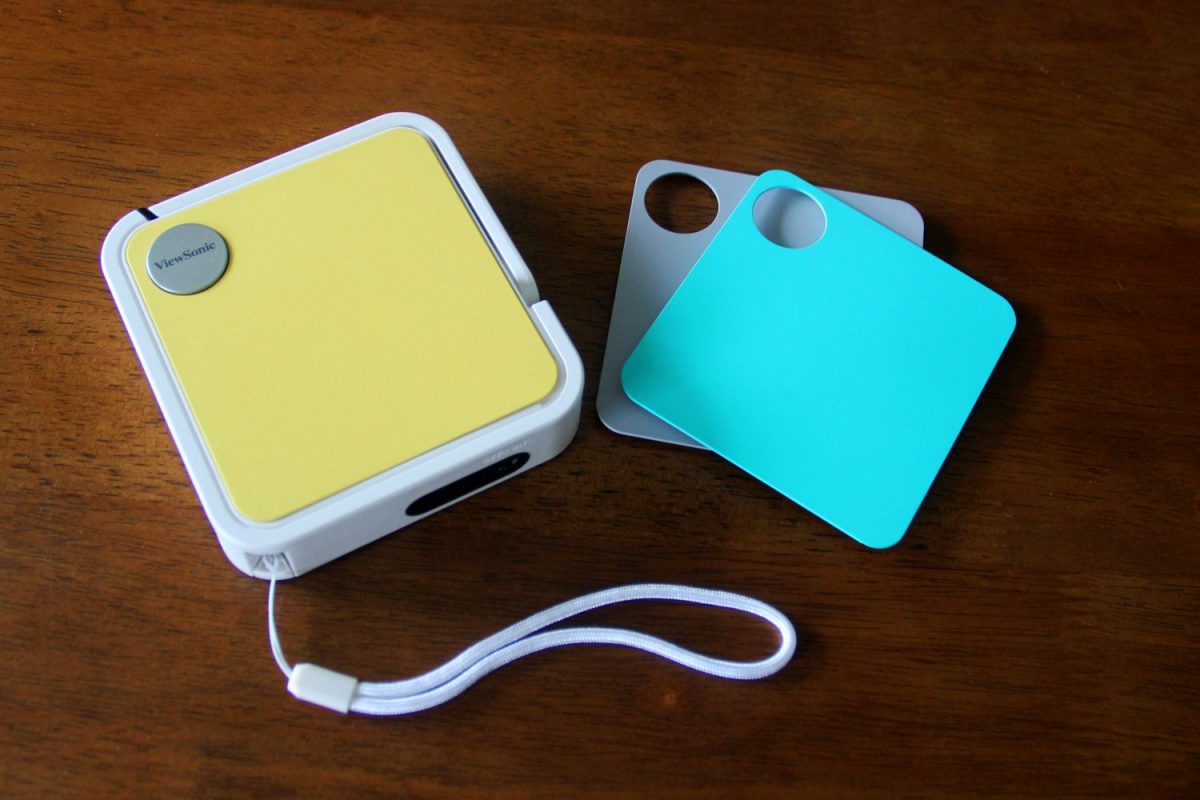 A downside is a fact that the projector only has mere two-hour battery life. With movies and even series episodes such as Enola Holmes extending to at least 2 hours nowadays, this means you'd barely be able to screen a complete show before needing a recharge. And although you can charge and project at the same time, it also takes almost 2 hours to fully charge the battery even when it is completely switched off.
But for a projector of its size, the M1 Mini Plus delivers a powerful performance in terms of both image and sound quality. The device is a lamp-free projector with an LED light source and a 0.2-inch DLP chip. This means that the device has a longer usage lifespan (stated up to 30,000 hours), faster power-up times and reduced rainbow effect. It's even more eco-friendly than lamp projectors as it doesn't use mercury.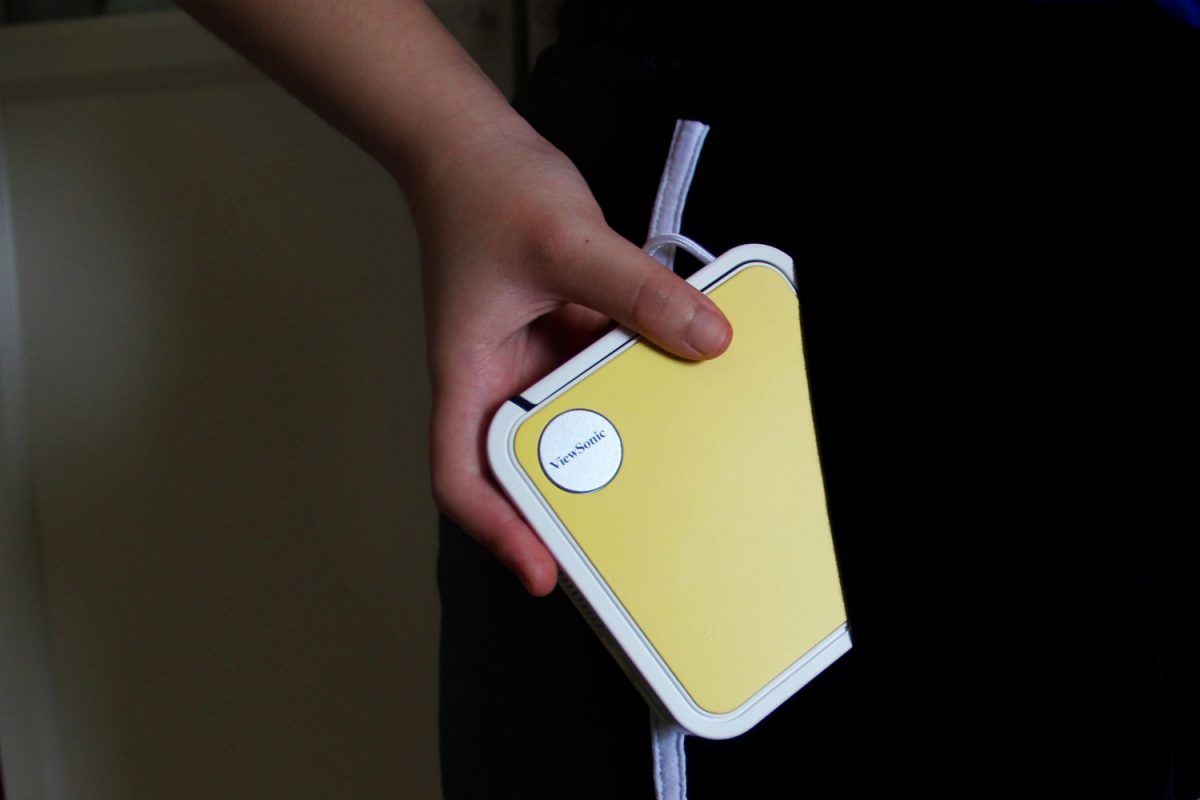 The LED light source also allows for improved luminous efficiency and colour saturation. For its brightness, the M1 Mini Plus has 50 ANSI Lumens and 120 LED Lumens with Rec 709 Colours. This means that despite its 480p native resolution, the image quality of large-format videos still remains relatively clear and sharp.
Speaking of its resolution, the projector has a native 854 x 480 FWVGA resolution with a 16:9 widescreen aspect ratio, allowing the device to screen videos on multiple formats ranging from VGA 640x480p to Full HD 1920 x 1080p comfortably. And despite the projector downscaling the high-res content to fit into its inherent resolution, the viewing experience was hardly affected as the image quality remained. The only limitation in terms of viewing will be the fact that the projector won't function well in a lit space and requires low-lit or completely dark environments.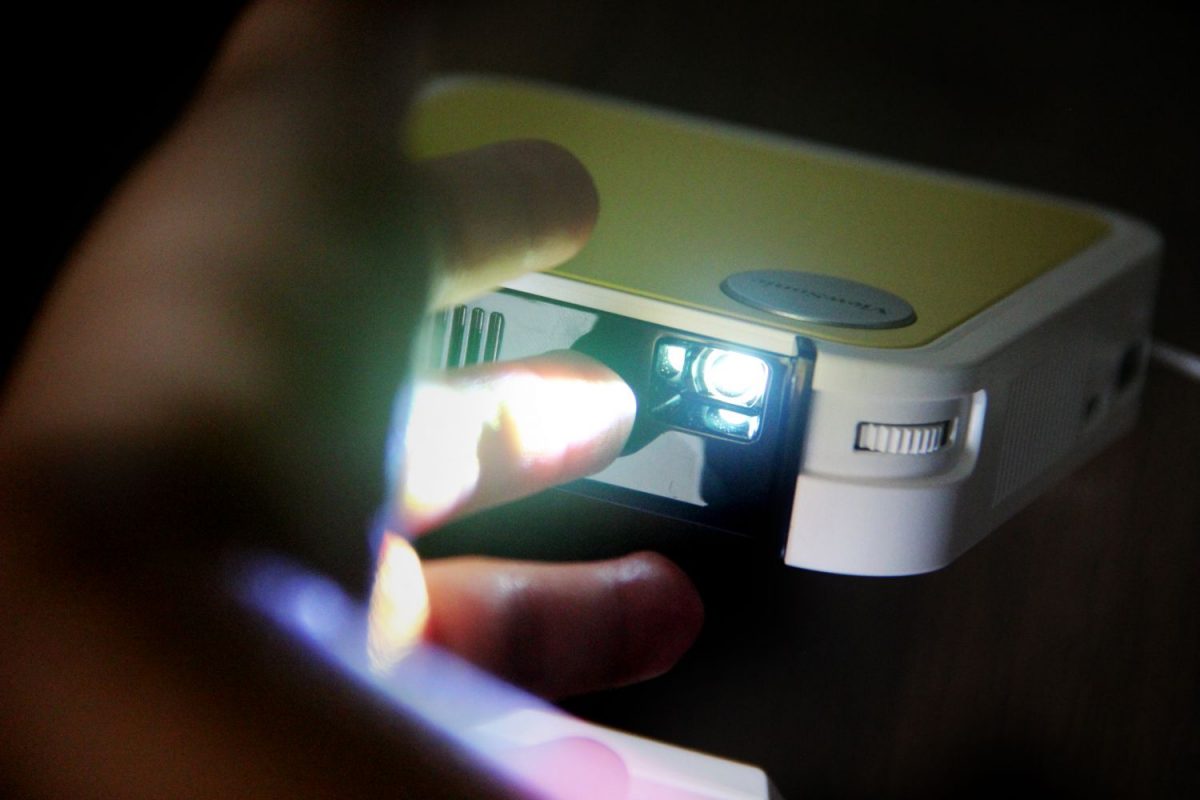 The projector has a throw distance of 0.6m to 2.7m. For the clearest comfortable viewing experience, the best projection distance will be at 2.19m with a 1.94m (~76 inches) image size (measured diagonally). Naturally, the bigger the image, the darker the room should be, to enjoy the details in the video.
One thing that stands out for the M1 Mini Plus is the sound quality. For something so tiny, the built-in JBL speaker gives an impressive sound output. The sound quality is clear without any weird crackles. Even when used on Netflix videos, which are known for having volumes softer than most streamers, you only have to go up halfway in the volume for a decent aural experience if you are sitting near the projector. Coupled with its Bluetooth capabilities, the projector functions as a pretty satisfactory and compact portable speaker.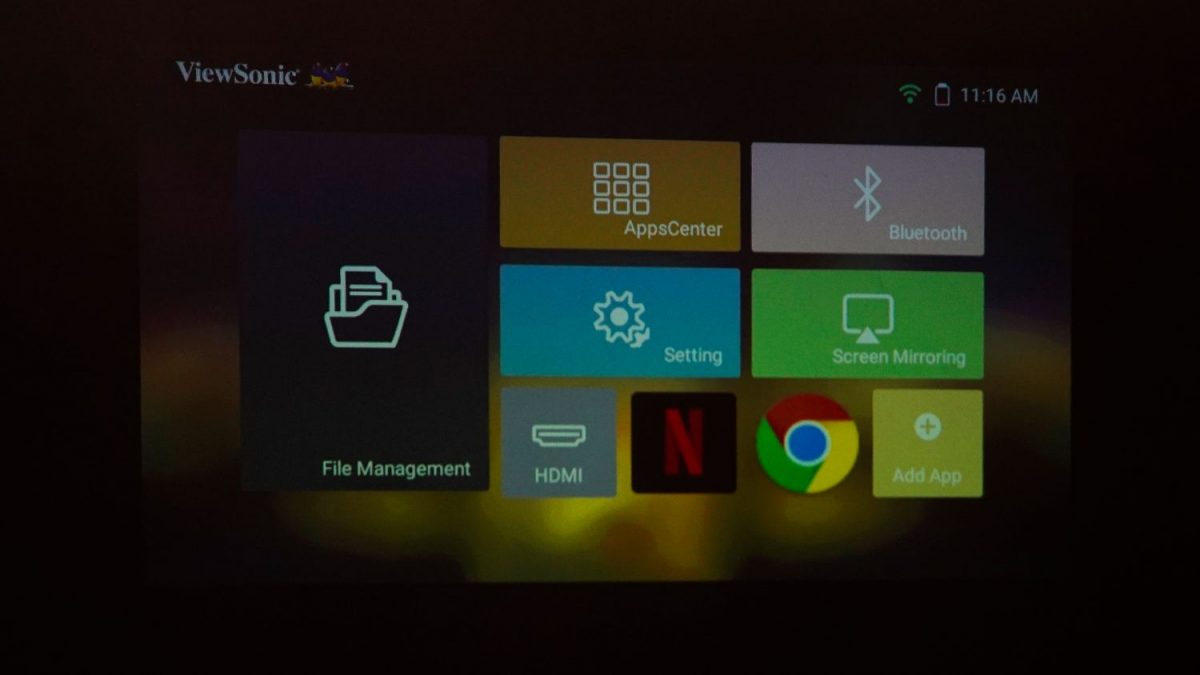 For a complete viewing experience, the device allows you to download apps like Netflix, niconico, Spotify, and Google Chrome for Android. The apps work well and barely have any issues though it may be a little hard to toggle through videos without play or pause buttons available on the remote controller. There also seems to be no way to select specific episodes to play on Netflix when using the in-device app and you just have to skip through the episodes from the very start in order to get to the part you want.
Alternatively, you can also use Screen Mirroring or Miracast from your smartphones to play videos or mobile games. There is, however, a small lag between the phone and image projection when used. And even though streaming services like Youtube being cast on to the projector works fine, Netflix videos seem to be unable to work when played through the phone. It may also be a disjunct when trying to connect the iPhone via screen mirroring, as the phones don't seem to be able to pick up signals from the M1 Mini Plus easily.
Despite it being primarily intended as a wire-free device, the projector will still require wired connection such as an HDMI cable when used with laptops. The small battery also means that the device has to be constantly plugged into a power source for long-term viewing. This significantly lowers the convenience of having a portable device.
Despite some flaws, the M1 Mini Plus does perform well as a projector. It even produces low-level machine sounds from the cooling vents, allowing for a less distracting listening experience. And despite the need for cables, the projector makes it easy to find a wire with a good fit through its variety of ports, the HDMI 1.4, USB 2.0 Type-A, and USB Type-C.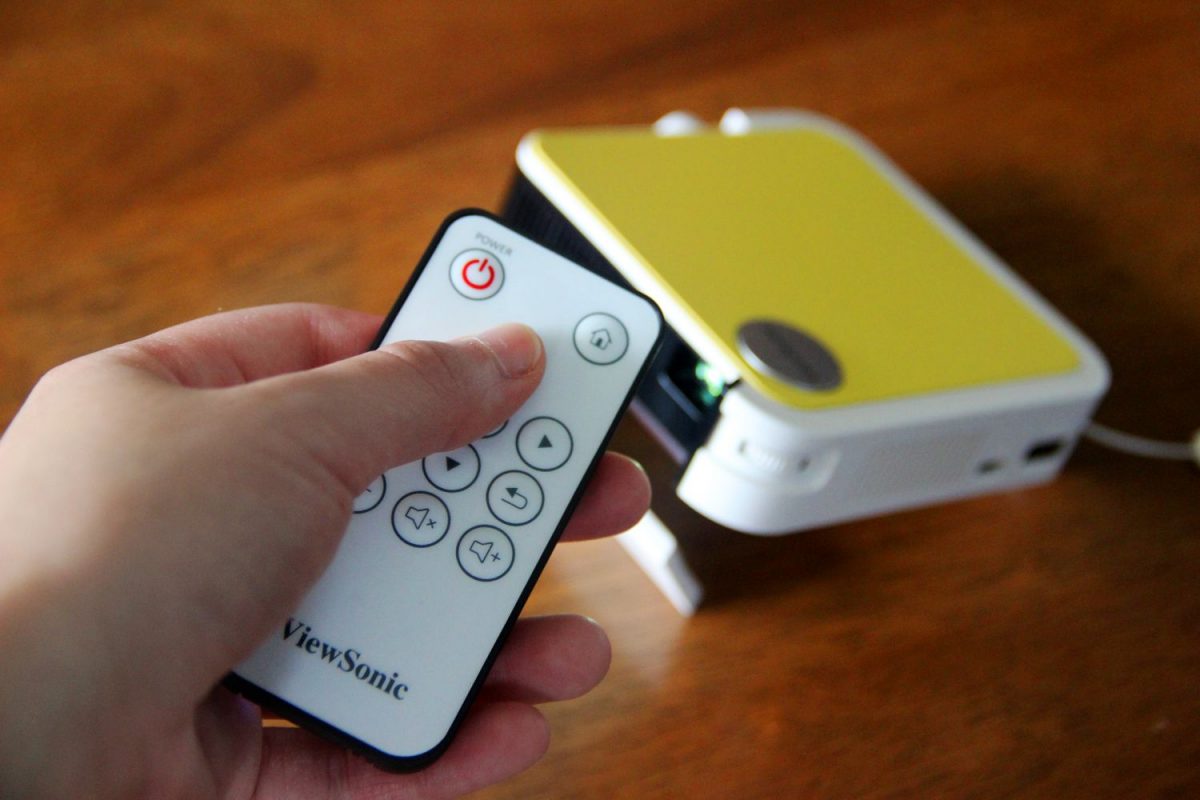 The device also boasts a simple stand is stable, well-balanced and easy to adjust to get a good projection angle. However, there are notably no controls on the projector except for a focus wheel. The device has to be controlled via a small remote controller which is convenient to carry around. The remote is remarkably sensitive and can control the projector even from across the room as long as it is pointed towards the device. But, if the remote is lost, you won't have any means by which to control the projector.

For just S$359 the projector serves its purpose and if you lack a TV in your room, this is an option to have.
GEEK REVIEW SCORE:
Summary
The ViewSonic M1 Mini Plus Projector is a pocket-sized personal theatre device that delivers a surprisingly powerful viewing and sound experience despites its small form-factor. 
Aesthetics -

9/10

Build Quality -

8/10

Performance -

8/10

Value -

8/10

Geek Satisfaction -

8.5/10