Violinist. Seven per cent solution. 221B. You might even be aware that he never wore a deerstalker in the books, but everyone knows of the world's greatest detective Sherlock Holmes. Scholar, chemist, expert marksman, swordsman, Moriarty, Adler, Watson, Mycroft, singlestick, deductive thinker… and the list goes on. But have you ever heard of Enola Holmes? 

Don't worry if you have not. She wasn't created by Holmes creator, Sir Arthur Conan Doyle, but by American author Nancy Springer in a series of young adult novels, Enola Holmes Mysteries, that depicts the adventures of the younger sister of the great detective, and now adapted in a Netflix movie that is both a pastiche and an attempt to elevate the career of Stranger Things' breakout star, Millie Bobby Brown.
Set in 1900s England, Enola was raised by her mother Eudoria (Helena Bonham Carter, Harry Potter) whilst her siblings Sherlock (Henry Cavill,The Witcher) and Mycroft (Sam Clafin, The Hunger Games) make a living in the city of London. Enola Holmes is a witty and suspenseful adaptation of the series,and a surprise in its execution, though it suffers the same problem from many modern day adaptations of Holmes – there's nothing here you haven't seen before.
Enola had a rather different childhood than most English women at her time and received education from a feminist lens. She wakes up one day to find that her mother is missing and sets out to find her. Along the way, she meets with Lord Tewskbury (Louis Partridge) who's being hunted by an unknown enemy. Throughout this adventure of finding her mother, running from her brothers, and saving Lord Tewskbury, Enola picks up new skills and shows off the ones she already has like solving word puzzles, street smart wits and her jiu jitsu moves.
Make no mistake – Millie Bobby Brown is a delight to watch. The British actress rose to fame with the character Eleven in Netflix's Stranger Things, and Enola Holmes gives audiences a peek into what else the actress is capable of. With her script often breaking the fourth wall (not the first in an adaptation of Holmes), Brown is playful and inviting. It's a tough skill to match, but hey she's not giving us Dora The Explorer and that's worth commending.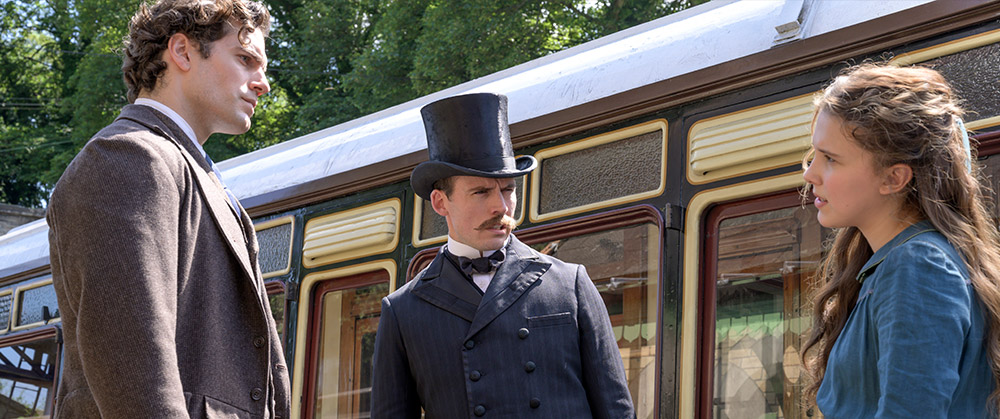 The young actress is believable as the youngest Holmes for the character's values personally align with her own. Like Enola, Brown is a young and growing feminist, often taking to Instagram to share her thoughts and partaking in Unicef campaigns focused on empowering and aiding young females like herself. Brown reminds us of Harry Potter's Emma Watson in her early years and holds a lot of promise.
As a period film, the movie mimics old England but in a modern manner. The costumes are beautiful and the hair and makeup are well suited. Sam Clafin is almost unrecognizable as Mycroft Holmes and Helena Bonham Carter is thinkable and lovable as mother figure when she's not busy cackling in all black. Cavill switches out his Superman Clarke Kent spectacles for a smoke pipe and makes our hearts flutter with a curly hairdo. Is there anything Cavill can't do?

Cavill's Sherlock Holmes is yet another new take of the brilliant detective and whilst he's not terrible as Holmes, there aren't enough scenes of him to give us a good estimate of where he stands when compared to Benedict Cumberbatch (Doctor Strange) and Robert Downey Jr. (Iron Man), or even Jonny Lee Miller from TV's Elementary.
As an action-adventure focused on a teen-detective, Enola Holmes has all the typical elements. A fight scene on a train, jumping off a moving vehicle and outsmarting villains whilst in combat checks the list. The action and crime-solving is pretty tame compared to other films in the same genre. This comes as no surprise especially since Enola Holmes is a film that's focusing on a teen girl after all.
That said, Enola Holmes may not be at the top of your list if you're big on detective films, as the mystery unfolds in a predictable manner if you grew up with a healthy dose of TV's CSI, Miami Vice and True Detective. It is however a good introduction to films of the same genre to a young audience, particularly the young female audience. Many teen films with a leading female character fall under the typical trope of romantic comedy of 'boy meets girl'. Enola Holmes on the other hand is a 'girl meets world' and educates young women to not be afraid to fight back and to stand up for what they believe in.
Circling back to Brown's script, the movie tells the story of Enola Holmes in a different way from what most would expect and succeeds as a young adult series. The audience almost immediately get the first response from Enola before she responds to the characters in the story. The story is also told in a series of parts, making it feel like we're reading Nancy Springer's novel chapter by chapter.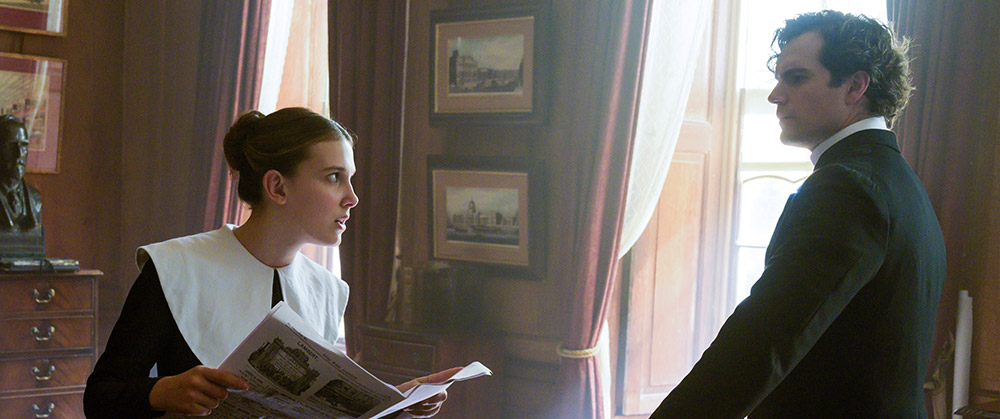 In addition, the story is told through the mix of what is currently happening in Enola's travels and flashbacks from her childhood. The memories of her learning with Eudoria and partaking in different science experiments gives us insight into how she's become the way she is and provides a visual explanation to questions one might have when watching the film, but again, this method of storytelling is not new to Holmes. It's also a delight to solve word puzzles with Enola herself, as the puzzles appear on screen for viewers to ponder about as Enola thinks along as well. However, this can get quite repetitive and annoying for some viewers.
As a standalone film, Enola Holmes is an enjoyable watch with some interesting techniques to keep younger viewers engaged but unfortunately, may not be everyone's cup of tea. Unlike Cumberbatch's Sherlock, there's never a reason to want more as seasoned detective film fanatics will find Enola Holmes something of child's play. The film isn't something you'd find yourself eager to rewatch anytime soon too. The biggest commendation goes to Millie Bobby Brown for her portrayal of the young Holmes, and the underlying feminist tone in future films is definitely something we'd like to stay.
Enola Holmes is coming to Netflix 23 September 2020.
GEEK REVIEW SCORE
Summary
Enola Holmes is a fun watch that targets a younger demographic, but it fails to live to the rich reputation that has kept the world's greatest detective such a popular icon.
Story -

7/10

Direction -

7/10

Characterisation -

7/10

Geek Satisfaction -

7/10