When thinking of immersive big-screen experiences, most people will immediately think of the cinema, but that's not the safest during COVID-19. Imagine not having to jostle with strangers in a crowd and being able to recreate your favourite movie experience wherever you go. Whether you are indoors for a sleepover or outdoors attending a BBQ with your family, you can watch your shows anywhere with the new BenQ GS2 Projector.
Measuring 14x14x14 cm and weighing only 1.6kg, this compact cube is lightweight and perfect for bringing out anytime, anywhere. Surprisingly, the projector does not heat up much too after long usage, so you can even keep by your side on the bed if that's more comfortable for you. Increasing its portability is the nylon soft pouch that comes along with it, allowing owners to easily pop everything in, with the remote and charger, and transport the set around.
One interesting feature which seems out of place is that BenQ made the GS2 splash and drop resistant, which means they expect it to be taken on campaign trips or by the pool? Still, its durability makes the projector great for kids to use as they wish, though parents still must have the last say in how much TV-time they have of course.
Another safety feature that the BenQ GS2 projector has is a magnetic power charger, which means the power cord will easily disconnect from the back of the projector if anyone stumbles over the cable, to prevent risk of tripping over the projector.
Adjustments wise, the GS2 has a built-in female receptacle so that the projector may be mounted onto a tripod head. The projector itself also won't require a large projecting space; it can function from a minimum distance of 0.9m which will give us a comfortable image viewing size of around 75cm diagonally across. The projector is also able to stand on its own with a convenient 15° tilt hinge.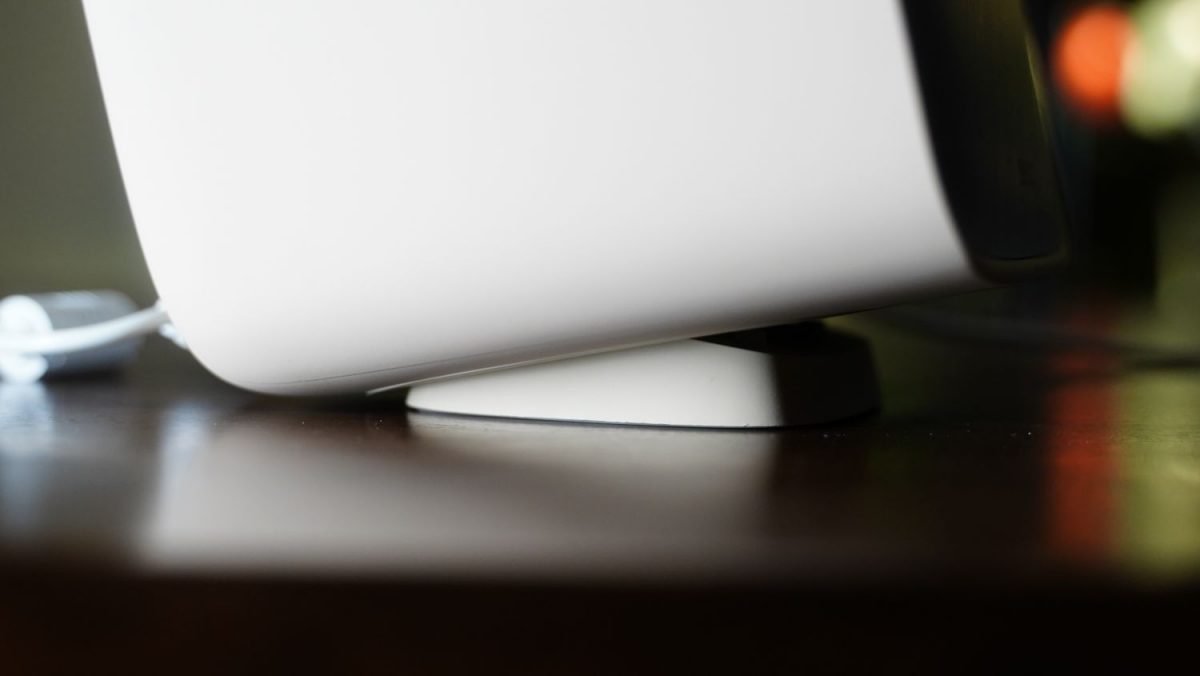 Moreover, the device is equipped with sensors in the front which help it to automatically realign the image so that the projection remains parallel to your wall even as you shift it about. It does create some limitations though as the sensors get confused if you attempt to align it to a slanted ceiling with beams.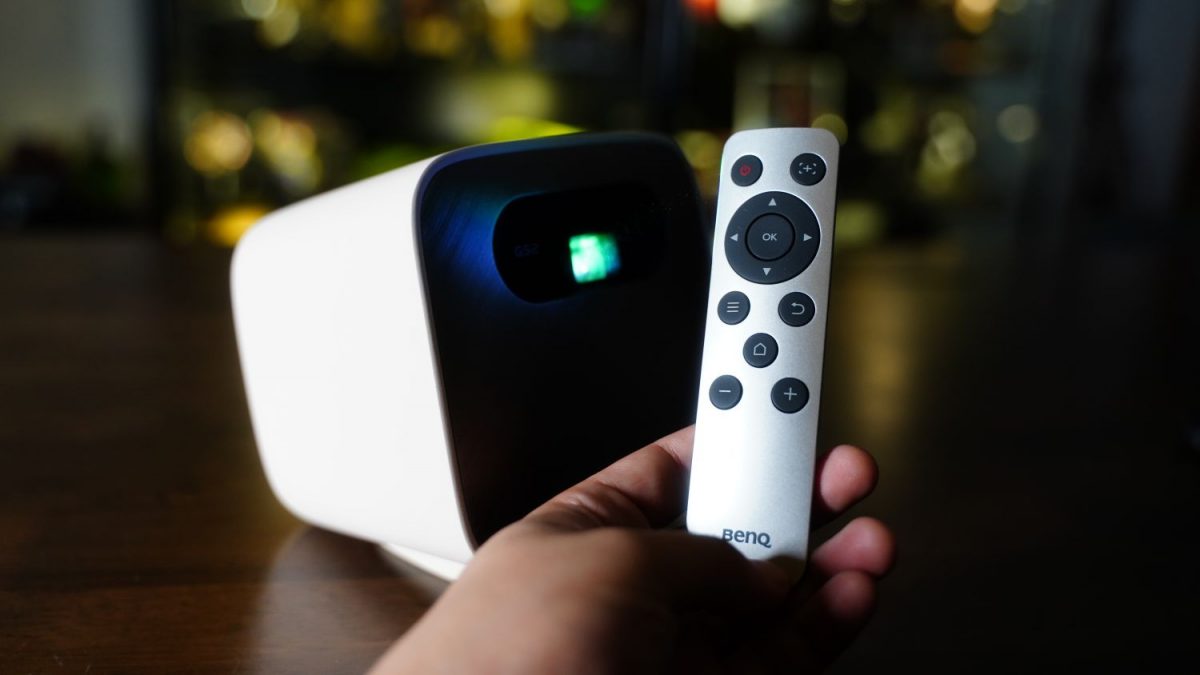 That being said, the sensors function superbly as they are sensitive to changes even if the wall is far away. The autofocus also works well, adjusting itself as we move the projector back and forth to test its image size in relation to the distance of the projector lens from the wall. The remote itself is sensitive and you won't even have to turn away from your projection to toggle through the projector. This means that, even when pointing the remote to the wall that the projection is on, you can flip through channels without having to turn back to face the projector.
Another win is the 16:9 aspect ratio which matches the common aspect ratio most films are shot in. This allows for a full-scale viewing experience without the distracting black bars on the top and bottom of the video. Moreover, you can always ensure to have a maximised video playback experience no matter the format with the huge range of video modes available, with a max of HD 1280×720 resolution. And while 720p is the projector's native resolution, it supports up to 1080p resolution.
Despite not having Full HD resolution, the GS2 is powered by Digital Light Processing, a technology used in 90% of the world's cinemas. It helps the projector to deliver long lasting DLP picture quality with precise colours and razor sharp clarity. With these powerful capabilities, it's no wonder the price point for this is slightly higher at S$849.
We decided to test out a few video apps to see how the projector fared with them. Miracasting our iPhone with the projector is a painless process. YouTube streaming and hopping from one video to another runs seamlessly with little to no lag. Besides the iPhone, your PC can also be connected wirelessly to the projector for different types of productivity experience as the GS2 is compatible with Mac/iOS, Android, and PC.
Streaming apps such as Netflix can be downloaded via the Aptoide TV Market pre-installed in the Android interface of the projector. Other apps include Disney+, HBO Max, Spotify and even VLC Media Player for Android, you can also download shopping, games, educational and health apps on the projector.
Running the videos on the projector, you will notice that the projector functions well in both bright and dark conditions, allowing you to enjoy your movie time all day, thanks to the 500 ANSI lumens rating which allows for a huge amount of light output from the projector.
The ANSI rating certifies that the projector will deliver it best performance such as allowing for a less noticeable diminishing of brightness even as you move the GS2 projector further away to get a larger image. But of course, the projector won't be able to deliver its optimal performance under direct sunlight so it's still best to use it for family movie nights after sundown or in rooms with indirect sunlight.
You will be treated to vivid colours and a dynamic viewing experience too as the GS2 boasts a contrast of 1000,000:1 and 10-bit colour processing. The colour saturation remains even as the brightness changes.
The projector even comes with a LumiExpert function, which senses ambient light and adjusts the brightness accordingly. (A little like the auto brightness function on your phones!) We did notice that when the LumiExpert was switched on against a brightly lit room, the optimisation of brightness did cause the colours to look duller. Another way to brighten your image would be to plug in the power as the projector runs on a lower brightness when placed on battery mode.
The projector also boasts eye protection sensors which will automatically shut off light to protect your child's eyes if they decide to run in front of the projector and stare at it (for some reason adults won't be able to comprehend). To keep things fresh, the system goes through frequent updates too but the installation process is usually quick with no hiccups.
The biggest gripe is the sound quality that the BenQ GS2 projector provides. The GS2 is marketed as a projector with 4 watt Bluetooth Speaker capabilities but the audio feels underwhelming and flat. It may suit the taste of those who like the tunes of that old crackly radio from the past but it won't make for an immersive movie audio experience.
Audio levels can be rather soft as the maximum volume output is 30. This means that in order to hear a clear sound, the lowest volume you can switch to is the halfway mark at volume 15. This will be a problem for those who wish to use the projector in a noisy outdoor setting so it's best for use indoors. As for movies you may want to add on an external Bluetooth speaker for that extra oomph.
Another strange feature will be the need for an external USB Dongle for Wi-Fi. The Dongle will come with the projector but you have to attach it into the projector manually for it to work. And once the dongle is inside the projector, you will be unable to remove it unless you have a tool to pry it out from its deep slot, which begs the question – why do this? Why not simply have built in Wi-Fi in the projector in the first place.
Beyond that, the Wireless casting abilities of the BenQ GS2 projector allow for hassle free connection to phones and PCs for a big screen gaming experience. And for those that prefer to game from their Nintendo Switch, the USB Type-C ports are available for you to connect your console to. The projector even features HDMI and USB Type-A ports for other types of multi-connectivity. And if you don't have a Bluetooth Speaker, there's a Audio Out: mini jack for you to connect your speakers to.
Battery life wise, the GS2 projector states that it only comes with three hours of projection. But when we conducted a battery drain test, the projector was able to stream from Netflix for four and a half continuous hours at full brightness and audio level 20.
The BenQ GS2 Projector is a family friendly device built for any kind of plans you may have both in and outdoors. As long as you have a movie marathon planned , you can easily pop in into its bag and bring it with you with little to no hassle to enjoy the immersive big screen viewing experience anywhere.
GEEK REVIEW SCORE
Summary
The BenQ GS2 Projector is the perfect entertainment device for when parents wish to spend some quality family time with their children. With its durability, the projector is even up for any kind of activity you have planned for your friends and family, be it outdoors or indoors. 
Aesthetics -

8.5/10

Build Quality -

9/10

Performance -

9/10

Value -

7.5/10

Geek Satisfaction -

9.5/10
---

Drop a Facebook comment below!