Are you a film buff who enjoys the theatre experience, yet too lazy or uncertain about leaving your house during this period of time? You can now bring your own cinema home with the LUMOS AURO Home Cinema Short Throw Projector.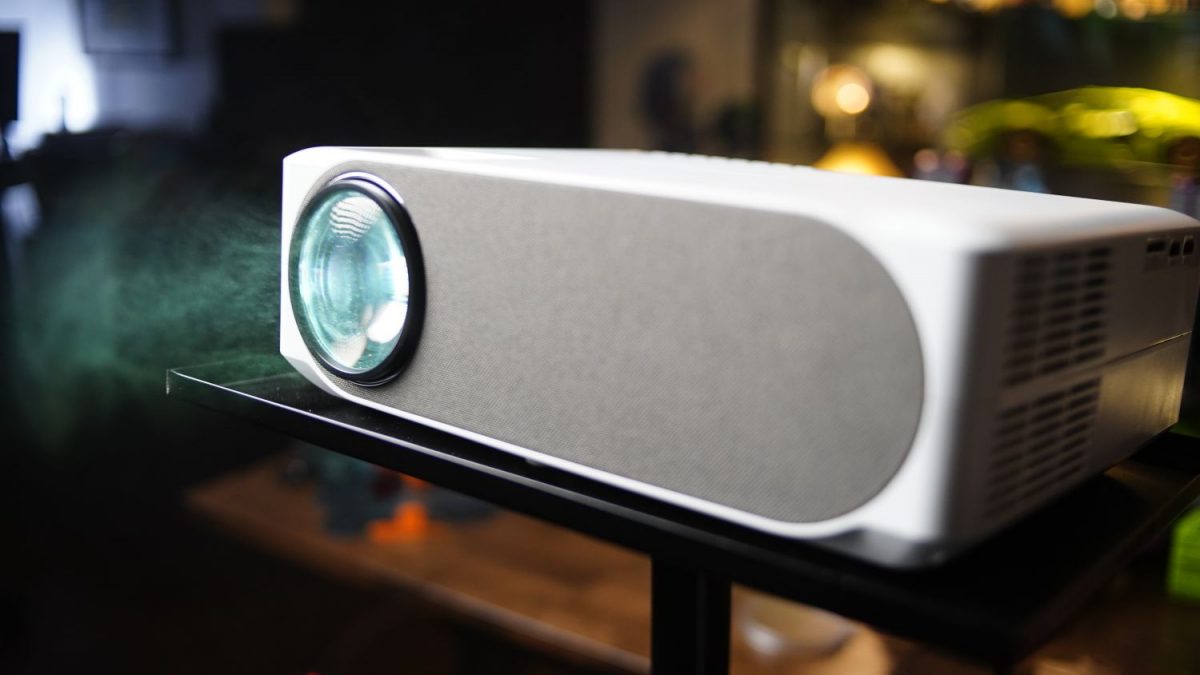 We know what you're thinking, but gone are the days of grainy washed out projections with these handheld projectors. Measuring 31.3cm by 23.2cm by 10.4cm, and weighing just 3kg, the AURO is a mini projector with a huge display and anyone would be impressed by how clear the images turned out on the wall. (The projection can even go up to 300 inches!)
Moreover, even with the lights on and used during the daytime, the projector's performance is barely affected and the rich colours of the show and games still turned up well. This is probably thanks to the 1080p native resolution and 6000 lumens display which allows the projector to work in spaces with a lot of surrounding light. It's a great feature to have considering how a better part of our waking hours is spent in the daylight. But of course, like all projectors, the LUMOS AURO still performs best in the dark.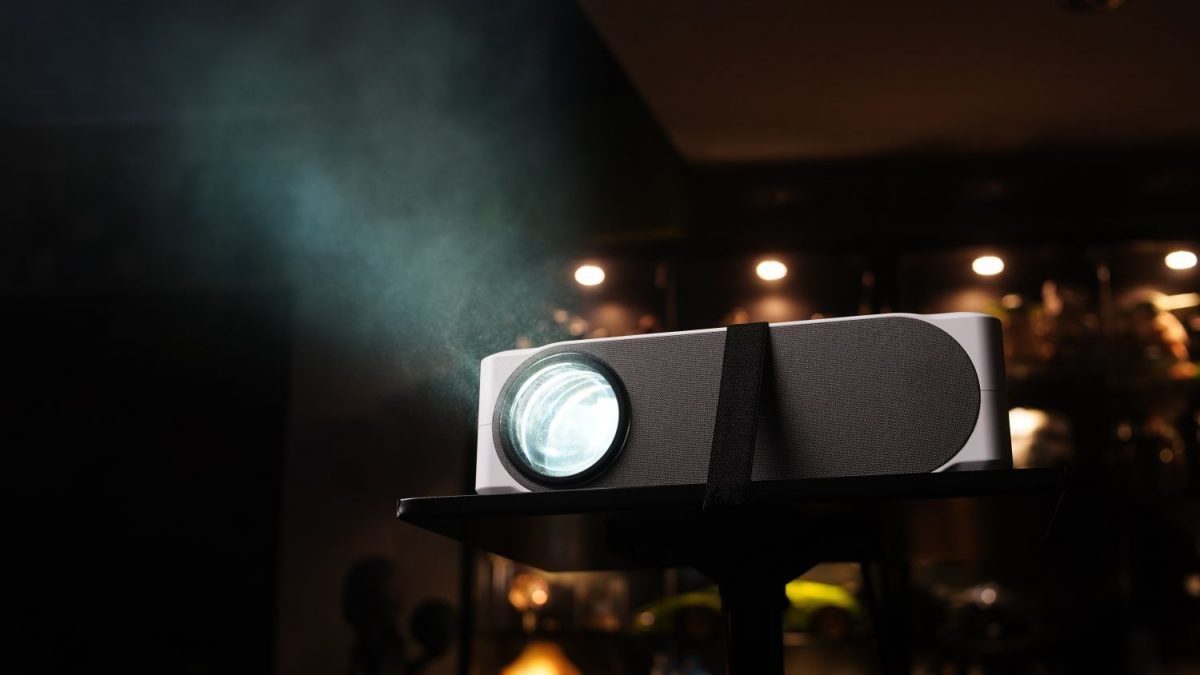 With houses getting smaller these days, furniture arrangement can become a game of Tetris. And in such limited space, finding a suitable wall with enough distance from it to throw a projection on will pose a challenge but in this case, it is not an issue as the LUMOS AURO as it is a short-throw projector, meaning it can project from a small distance.
We tested out this claim by positioning the projector close to the wall, around a 1 to 2 meters distance to see how wide the projection would be. And as promised, the projector did deliver, giving us about a 100" (around 2.5m) display. You can now enjoy a huge display from within the comfort of your bedroom.
Moreover, we found that the AURO is more than a simple mini home projector as it can also be as our own streaming device or an "alternative console gaming" setup. If you get the smart version as we did, the projector will come with built-in Netflix and YouTube apps. We could instantly watch all our favourite shows without the hassle of connecting an external device.
If you are tired of squinting at your smartphone screens while mobile gaming, the smart version of the projector will allow for wireless casting with your smartphones. This means that whether you are an iPhone or Android user, your screen can be seamlessly mirrored on the projector via AirScreen or MiraCast apps that have already been pre-loaded inside.
Mobile gaming on a 150" screen really sounds like a dream. You won't even have to worry about sorting through tangled cables. However, do note that for the regular version of the projector, a cable will be required for casting. When we tested out our iPhone with the casting, the resolution of the screen remained surprisingly clear instead of becoming pixelated.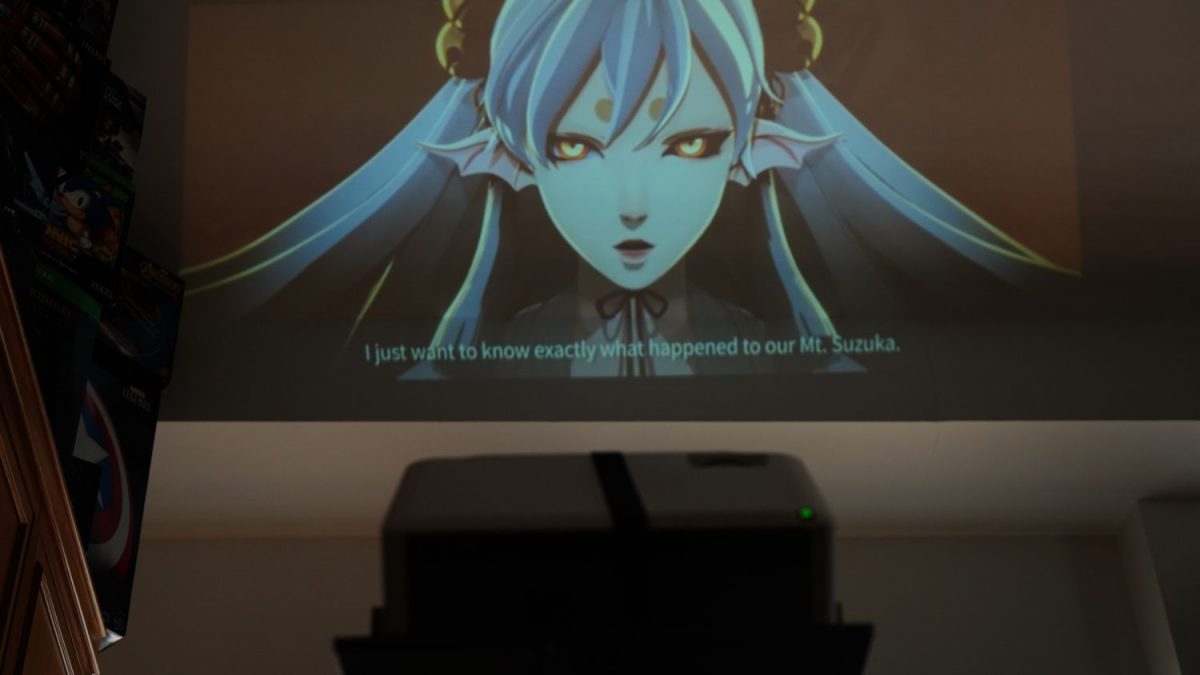 We also tested out a mobile game Onmyoji, by casting our iPhone with the projector. The wireless connection via the LUMOS AURO's AirScreen and iPhone's screen mirroring was seamless. There was barely any lag between the graphics of the actual gameplay on the phone and what is projected.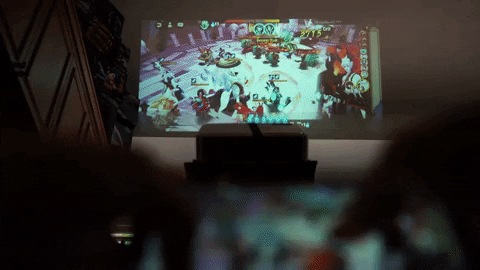 And if these features aren't cool enough, imagine seeing your personal island from Animal Crossing on a big screen. The projector can be connected to game consoles such as Nintendo Switch, PlayStation 4 and Xbox. Simply plug in your console and you will have a huge display, perfect for multiplayer games like Overcooked or simply admiring the in-game visuals.
We decided to test out our Nintendo Switch with the projector by playing SuperEpic: The Entertainment War. It was really fun to see the game on a huge display. And with a bigger display, it became easier to pass some hard levels as it was easier to estimate the jumping distance with a bigger view. In order to connect the Switch, you would have to use its dock to connect the HDMI cables, no wireless connections here!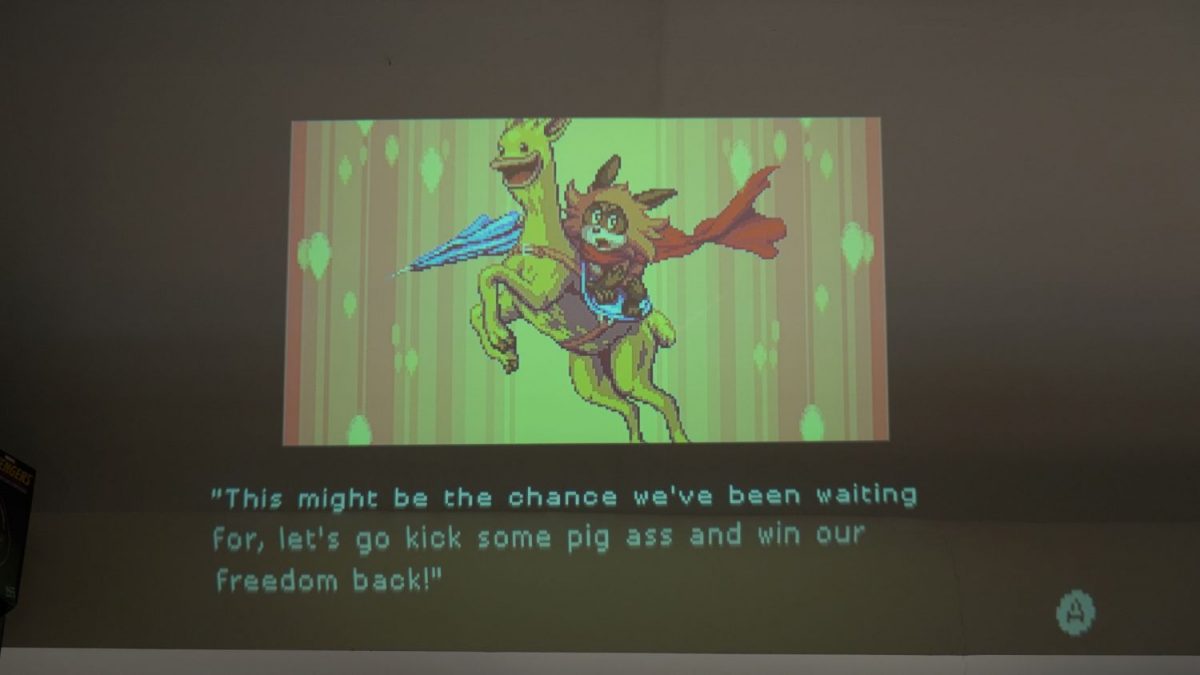 The only setback is that although the phone is easier to connect to than the Nintendo Switch, the mobile games still have to be played from the phone screen itself. Hence, you would still be spending half the time looking at your phone screen.
For both the Nintendo Switch and even the phone, it was surprising that the quality of the in-game graphics did not drop despite being displayed on a significantly larger display. Everything remained sharp and smooth throughout the gameplays.
The smart version even comes with a built-in Android OS interface and Wi-Fi. This means you essentially have a mini-computer inside your projector which allows you to download more apps for streaming or a Web Browser to visit sites like Crunchyroll or KissAsian for your favourite anime and dramas. There's even a Google Play Store app already loaded inside for you to download more stuff.
The interface isn't a touch screen but can be navigated using the remote control that comes with the projector. It's also pretty easy to navigate around with the various apps right there on the home screen.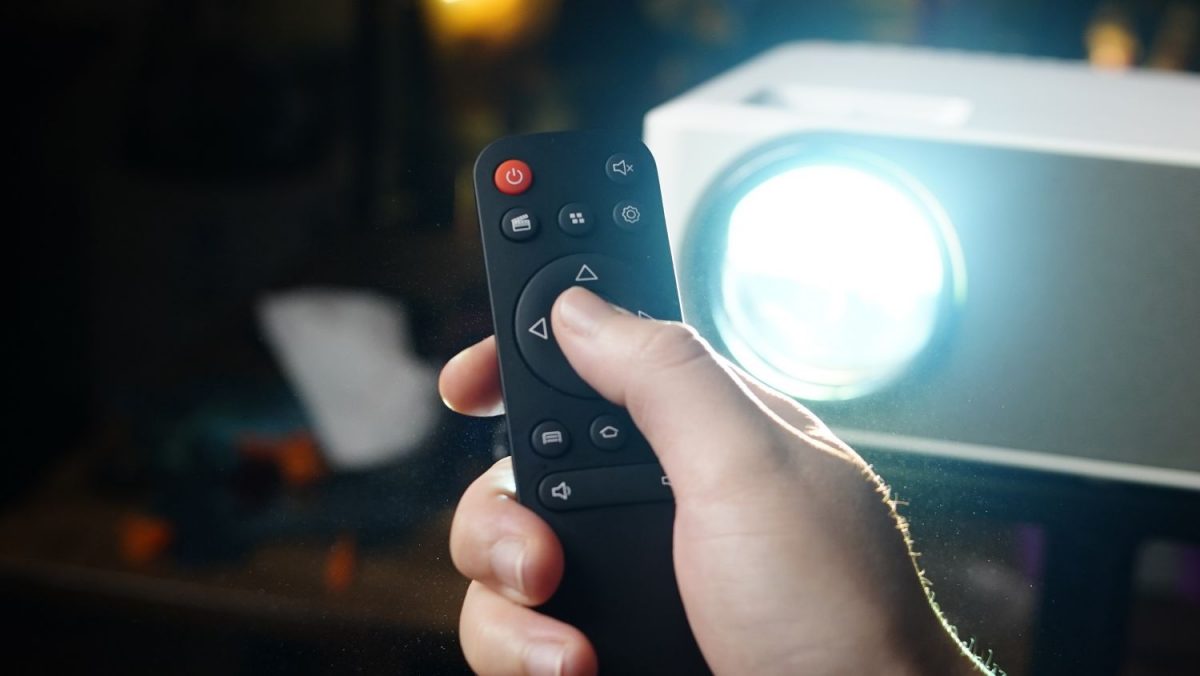 While the device supports Dolby Audio AC-3, the projector attempts to match its sound with its visual quality but physical limitations mean it can only do so much. While there is generally clear audio via the AURO's built-in speakers projected, it didn't quite deliver the promised surround sound experience. Even then, the sound was rich enough to allow for enjoyment while watching our favourite flick Back To The Future II on Netflix.
We did notice that for Netflix shows, the audio tends to be softer, hence we had to dial it up to volume 80. However, for the mobile phone and Switch games, we could easily hear the audio around volume 30.
With Keystone Correction of up to +-50 degrees, the projector can also adapt to various placement positions. This means that even when we placed the projector at an off-angle, the projector can be adjusted to project a flat image parallel to your wall. The smart version also comes with a Digital Zoom, allowing you to alter the display with a remote control instead of forcing you to do in-room acrobatics just for some minor adjustments.
If you prefer not to permanently scar your ceiling, the LUMOS AURO can also be bundled with a RIZE Adjustable Stand. The AURO can be shifted up and down to your preferred viewing height and saves the hassles of having to dig for a space to position it among your shelves.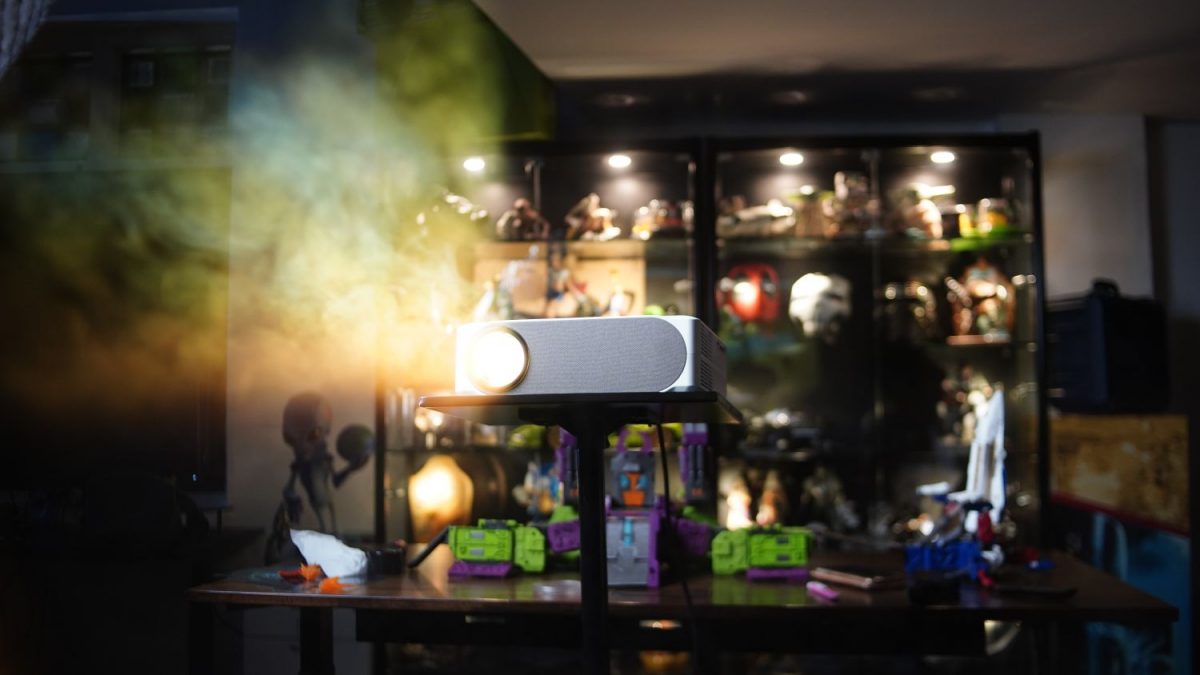 The tripod also comes with an elastic band to strap the projector down.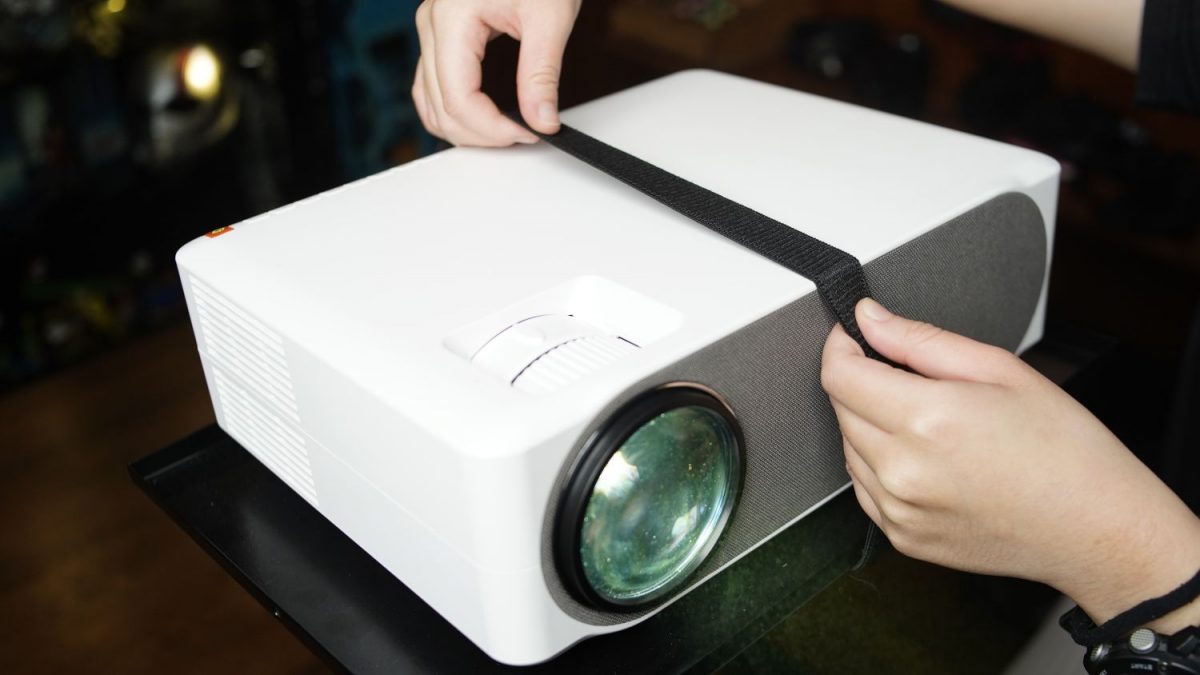 For its price point, the LUMOS AURO Home Cinema Short Throw Projector performs really well. All its perks come at the price of S$299 for the regular version or S$398 for the smart version. It's quite a steal as compared to $800 – $1k projectors out there. LUMOS is also a homegrown brand in Singapore, promising quality at affordable prices and even guaranteeing up to a full 1-year local warranty.
GEEK REVIW SCORE
Summary
The LUMOS AURO Home Cinema Short Throw Projector is the perfect addition to your homes. With its unobtrusive size and ability to project a huge clear display from a minimal distance, bringing the cinematic experience home is more accessible and affordable than before.
Aesthetics -

7.5/10

Build Quality -

8/10

Performance -

8/10

Value -

9/10

Geek Satisfaction -

8/10