Disney will soon be running out of animated movies to remake, and maybe that's not a bad thing. In the 10 years since 2010, when it started churning out live-action remakes of animated movies, starting with Tim Burton's Alice in Wonderland based on the 1951 animated film of the same name, the company has made 11 such films, including Maleficent (2014), Beauty and the Beast (2017) and The Lion King (2019).
Some were straight-up adaptations, while others were told from different perspectives. Since 2020 though, Disney has already made five such films, and it has come to a point where it has even announced a live-action version of 2016's Moana. Audiences have also come to see varying qualities of such remakes and nothing has stirred up controversy quite like its latest, The Little Mermaid.
What makes this title unique is how important the original animated film is to modern audiences. Released in 1989, The Little Mermaid is recognised for reinvigorating the then-lost art of Disney animated feature films, as it brought about a renaissance to the fame studio's animation division.
To say that this movie stands out as being highly regarded and well-loved among Disney's treasure trove of titles is an understatement, and yet, the remake has been linked to one major change that has made it a target of controversy. Though it isn't this change that the film should be judged on, because even with haters flipping their fins, fans should swim to cinemas as The Little Mermaid remake stands as one of the better live-action Disney remakes out there.
Rob Marshall's (Into the Woods, Mary Poppins Returns) deftly recreates a faithful, albeit modernised, adaptation of the original film, which, ironically, itself wasn't a faithful adaptation of the fairytale by Danish author, Hans Christian Andersen. This film follows a beautiful and exuberant mermaid princess who craves freedom from her patriarchal, underwater mer-society, and yearns for a world apart from her own, one where she can be free from the limits of her rigid and conservative family. Her desire to join the human world is later intensified after she saves the human Prince Eric from drowning, leading her into direct conflict with her father, and subsequently turning to the dark arts for salvation. 
Ultimately, it is a tale of a young girl who sacrifices herself to get what she wants, even if it comes with a cost she was not prepared for but accepts.
African-American singer-songwriter and actress Halle Bailey, better known for being one half of the musical duo, Chloe x Halle, plays the redheaded mer-princess, and regardless of what folks have to say about her race or appearance, Bailey is the perfect Ariel. She's just not the white character that was supposedly written about by the Dutch author, even though race had no bearing in the function or direction of the fairytale.
For starters, Bailey is a talented singer. Tackling Part of Your World is no easy feat and after hearing Bailey reach the same high pitches as original voice singer Jodi Benson when she performed the classic song for the animated movie, any and all doubts should be immediately lifted. Any viewer who watched (and re-watched) The Little Mermaid growing up will find Bailey's performance emotionally moving and chilling.
And before you start harping on race again, Ariel has several sisters here, and each sister is played by an actress of a different race and complexion, including British actress Lorena Andrea as Perla; British-Indian Simone Ashley as Indira; Swedish actress Kajsa Mohammar as Karina; British actress Nathalie Sorrell as Caspia; British actress of Asian heritage Karolina Conchet as Mala; and British actress of Bajan and Grenadian heritage, Sienna King as Tamika.
Maybe we're unfamiliar with the mating habits of undersea creatures, but it looks like King Triton (Javier Bardem) does get into some fun across the seven seas that he rules. In fact, the only slightly racist aspect here is calling the only Asian sister Mala, which is a Chinese term for a spicy and numbing seasoning made from Sichuan peppercorn and chilli. If there was a Mexican sister, would we call her Tajin?
Bailey's Ariel is less feisty though, as the original Ariel was perhaps more stubborn but Bailey replaces that stubbornness with a dreamy outlook and naivety. She's still as kind-hearted and determined to find the best in humanity, but there is a certain ferocity that is lacking in Bailey's performance as Ariel. However, her genuine curiosity and gentleness make it easy for audiences to empathise with her when she loses her voice and is manipulated by aunt and villain Ursula (Melissa McCarthy), who wants to get back at her brother for banishing her. A stubborn teenager gets what she deserves (no matter how bad the outcome is) but an innocent young woman is wronged and we're immediately rooting for her.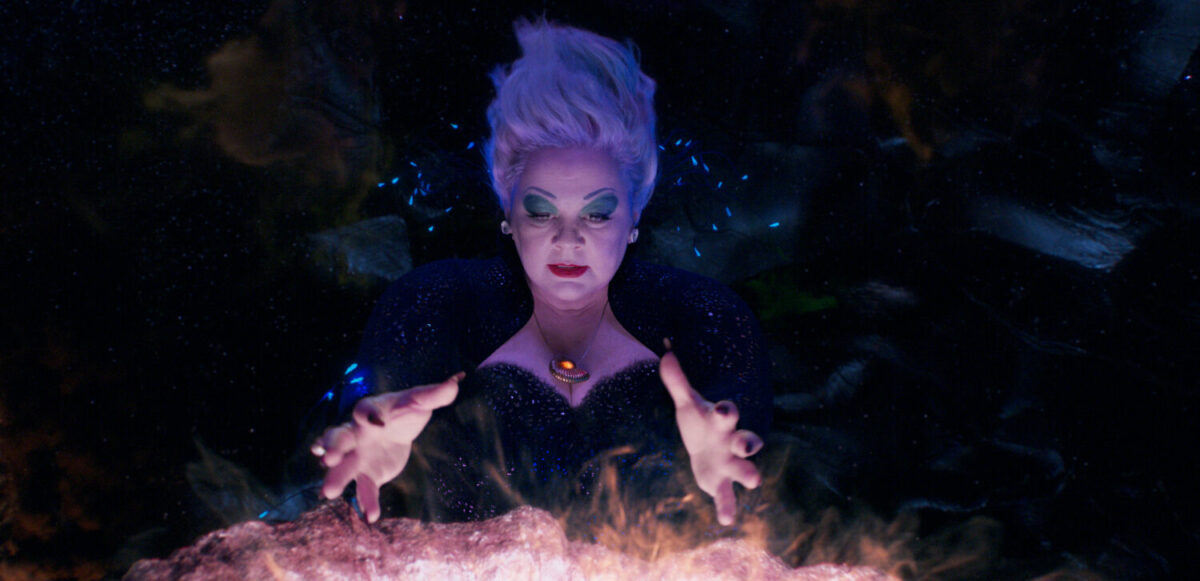 That said, McCarthy's casting as Ursula is spot on, as the famed comedian is dramatic, sassy and full of dark humour. Since she's banished, the actress has plenty of solo scenes and each of them is as enjoyable as the next. If these live-action remakes get anything right, it's the casting of their villains. The enigmatic Angelina Jolie is Maleficient, just as the shy Jude Law is Captain Hook, as is the introverted Luke Evans as the loud-mouthed Gaston, and even the lovely Emma Stone as future puppy-killer Cruella. Each and every one of them ended up more beloved than the protagonist, at times even overshadowing our heroine, and McCarthy joins that exclusive club. Even young British actress Jessica Alexander, who plays Ursula's human alter-ego Vanessa, made an impression despite only appearing for a quick five minutes throughout the entire movie.
The Little Mermaid is Bailey and McCarthy's movie, and that's the slightly unfortunate part because if you cannot believe that Eric could fall for Ariel in just three days in the 1989 version, be prepared to question their relationship here. Even though Bailey's Ariel and Jonah Hauer-King's Prince Eric are the main protagonists of the film, the couple lacks a certain spark, energy or chemistry. Some parts of Eric's character have been rewritten here, and maybe it's because he's not as heroic, or that Ursula's magic is too powerful, but this Prince is pretty much an afterthought.
That's not to say Hauer-King did not do a good job though, as we can now have a closer peek at Eric's life (did you know he was adopted, which explains why his mother, Queen Selina, is played by South African-British actress, Noma Dumezweni), instead of simply being an object of desire before. The Little Mermaid humanises Eric somewhat and we get to see his little quirks and personality. He even gets a little solo number this time, though it's nowhere nearly as memorable as Naomi Scott's original song, Speechless, for the live-action remake of Aladdin.
Supporting characters Sebastian (Daveed Diggs), Scuttle (Awkwafina) and Flounder (Jacob Tremblay) also make their live-action, or should we say, CGI debut here but the catch is that you need to look past the strange CGI adopted because Sebastian and Flounder look a little bit too real, such that it becomes distracting because like Bailey's hair, Sebastian is not as red, and Flounder is not as bright yellow or memorable to look at. Each time Flounder appears, we can't help but think of a seafood dish, even if Tremblay's performance grew on us.
We also can't get over how Diggs' portrayal of Sebastian is a close homage to Samuel E. Wright's crustacean. As enjoyable as it was, our one hope is that Diggs could have dropped his fake Jamaican accent, or perhaps try harder to sound more natural with it.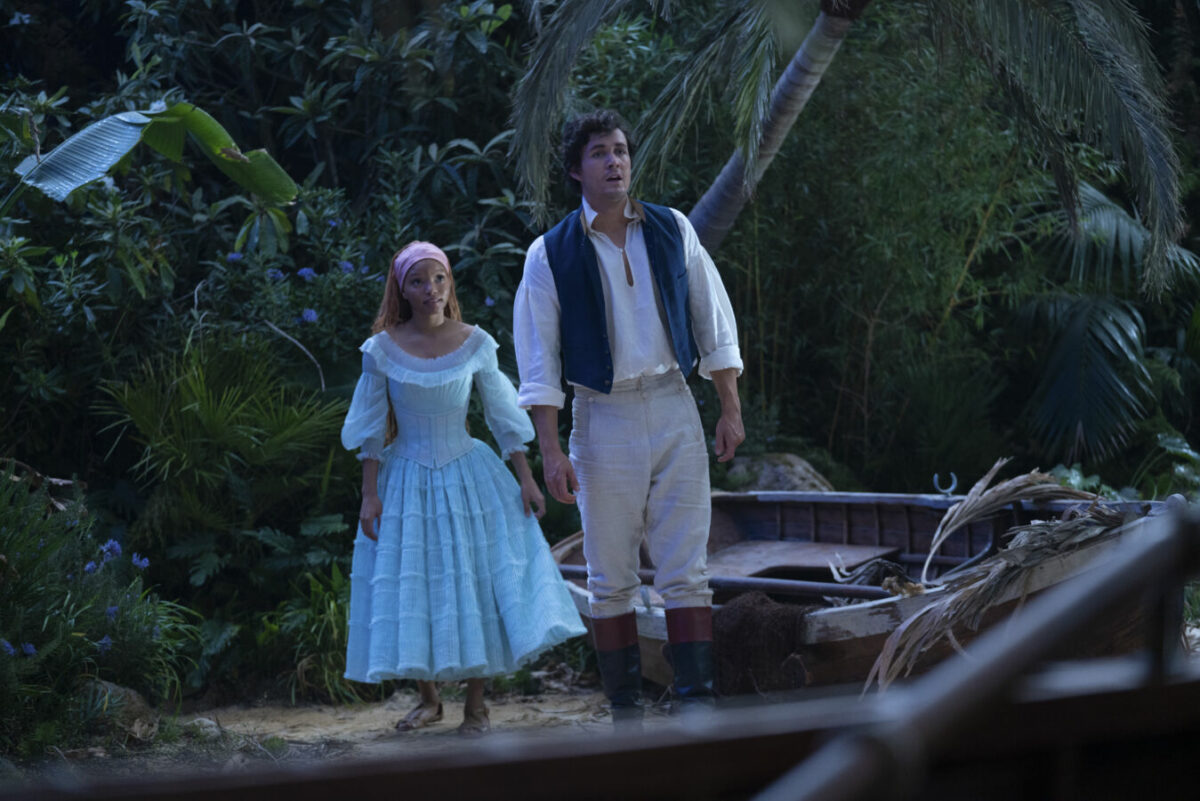 Still, what sells the film are the classic musical numbers that many of us know by heart. Accompanied by bright and colourful scenes of vibrant underwater life rendered by CGI, the performances of Kiss The Girl and Under The Sea are absolutely magical and enjoyable, and will reignite your inner child because of how faithful it was to the original. Part of Your World caused us to shed a tear, and Poor Unfortunate Souls inspired us to attend a real drag show. Recreating iconic songs to such an effect is something that previous remakes, including Beauty and The Beast and Aladdin attempted but didn't quite succeed in achieving, so The Little Mermaid deserves all the praise in the music department.
Does this live-action remake live up to the original animated though? We can't fully say so and that's because the issue with remaking classic, iconic tales that have embedded themselves into the consciousness and personalities of impressionable children is something you can't fully recreate in the same audience that has now grown up. There are also the small narrative changes that Marshall has made that don't quite line up, including a less active role for Eric in the final act, and we have to ask – where is Chef Louis?
The French-accented chef was a minor character in the 1989 film, but he is Sebastian's arch-enemy who tried many times – unsuccessfully – to cook the crab and he has been removed from the film entirely. His absence might have something to do with the slight change in ending that makes Ariel less of a damsel in distress and while this doesn't negate the spectacle and magic that The Little Mermaid does bring, lightning does not strike twice. The Little Mermaid is one of the best live-action remakes to come out of the studio, but it is still unable to escape the rich legacy of the original film.
GEEK REVIEW SCORE
Summary
The Little Mermaid may not be able to escape the legacy of the original, but the modern stylings make this one of Disney's better live-action remakes. Halle Bailey IS Ariel and long-time fans may want to prepare some tissues when the iconic songs we all know and love come on the screen once more. 
Story -

8/10

Direction -

8/10

Characterisation -

8/10

Geek Satisfaction -

7.5/10