Zhang Yimou's The Great Wall has received quite a bit of attention these past few months, but they all have to do with that one casting of a white actor in a movie that takes place in historical China, filled with Chinese played by Chinese actors.
The issue of whitewashing, of casting white actors in non-white roles, has been given much attention this year, due to the trifecta of Doctor Strange, Ghost In The Shell and The Great Wall.
Tilda Swinton's casting as The Ancient One, previously depicted as being Asian, did not go well with many. Meanwhile, Scarlett Johansson's take on Major Motoko Kusanagi, from the acclaimed Japanese manga and anime, Ghost In The Shell, has been deemed an unnecessary travesty.
And a movie about the origins of The Great Wall of China, led by a white hero? Folks were upset with a film that they barely knew the story to (as opposed to Doctor Strange and Ghost In The Shell), so I walked in the cinema with my eyes wide opened and I was pleasantly surprised.
Matt Damon's character, William Garin, is not the hero. Not exactly. Poor Matt Damon is really in the movie, to link the East and the West. I doubt many would expect any more of the Ocean's Eleven actor, so why take a piss on him when he's in another ensemble movie on the other side of the world? In fact, it is the classic case of movie making.
Just as how American movies such as Iron Man 3, Rogue One: A Star Wars Story and X-Men: Days of Future Past have cast Chinese actors in secondary roles to appeal to the Chinese market, the reverse is true here with Damon.
Sure, he's not a bit actor, but I reckon his inclusion here is more for the American audience, who cannot seem to overlook the fact that movies starring non-white actors will always be deemed as "foreign films". If I had to fund a US$150 million blockbuster, I would make sure it had a star that American audiences would want to see.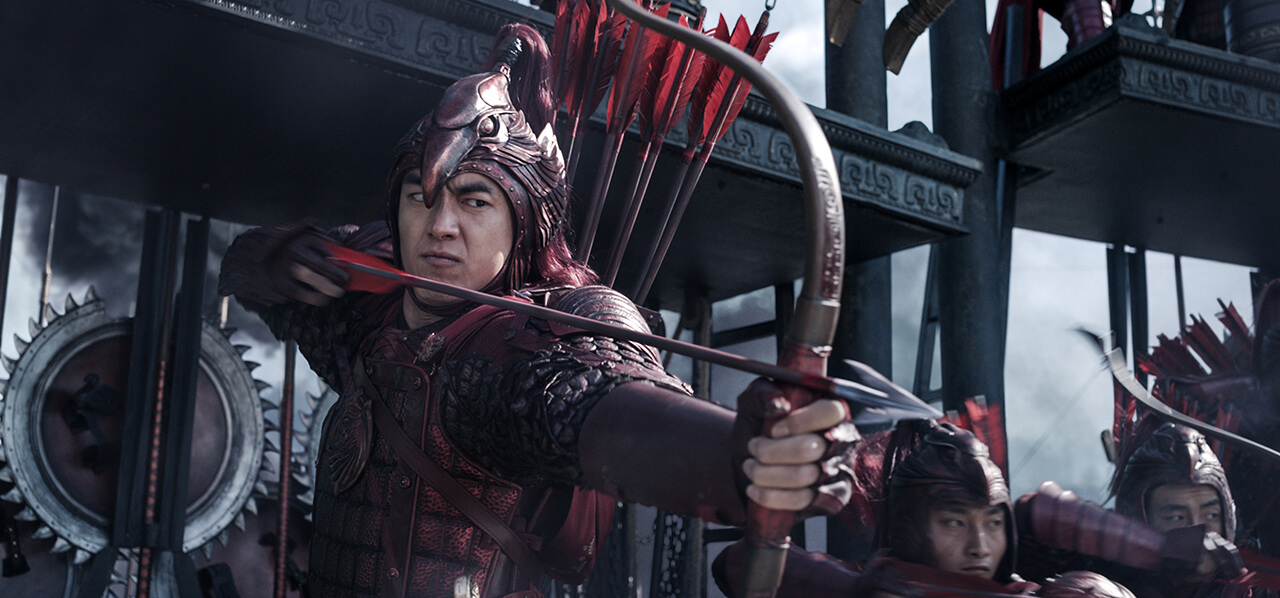 For the Asian audience, there is Andy Lau, Eddie Peng and Jing Tian. For the rest of the world, Matty is here to save the flick from being regarded as a Chinese or International movie.
While it seems that the flick has stirred up a hornet's nest with its casting, the core of this film is a straightforward monster movie that cast no allusions to it ever taking home a Golden Horse or Oscar.
Director Zhang Yimou and the rest of his production crew have packed The Great Wall with a checklist of what it takes to be an international blockbuster. Or at least the hallmarks of one.
Starting with the cast, we're seeing a line-up that has the star power to attract possibly every demographic in the world. Aside from Matty, character actor Willem Dafoe plays a role as well. But, like with all ensemble line-ups, there are many sacrifices to be made when the movie is only 100 minutes long.
Despite his relatively short screen time, Strategist Wang (Andy Lau) commands the scene whenever he is called forth. It's been awhile since I've watched Lau in action, but his screen presence serves as a masterclass to his aspiring castmates who wish to hit the same leagues as this Hong Kong cinematic veteran.
Most of the screen time is dominated by Commander Lin Mei (Tian Jing), who thankfully does not evolve into a token damsel in distress, or pathetic love interest. Throughout the movie, I was actually anticipating for that to happen but my fears were unfounded. In fact, her character does go from strength to strength, as she steps up to become the eventual Commander of the Nameless Order, in a scene that is oddly reminiscent of the 1986 Transformers animated movie.
Till All Are One and all that jazz.
One glaring concern of The Great Wall would be the use, or lack thereof, of all the commanders from the Nameless Order (Zhang Hanyu, Lin Gengxin, Eddie Peng, Huang Xuan), who seem to have been shelved aside in favour of Tian Jing. Historically, Zhang Yimou has shown a great love for female leads, especially with Gong Li, so maybe it shouldn't be that much of a surprise for folks who know his work, and his predilection for female characters.
Or, perhaps it has to do with English language ability of the male cast (the film is 30% in Chinese, and 70% in English). But it seems to be a great pity that while each of these commanders are distinguished from the start as the leaders of their own specialised force, nothing more is expected of them. If Zhang Yimou made some effort to give them a different colour to represent their role in battle, something could have also have been done to give them more relevance.
It would have added a much needed dimension to the movie, by providing these guys some form of a backstory, instead of treating them as random foot soldiers with just a few spoken lines. Commanders of different colours should eventually be able to call upon fearsome robots of their own, but The Great Wall is not using their powerful skilled rangers correctly.
Hence, it all falls upon Tian Jing to carry the plot because she is able to communicate with Damon fluently in English. And remember about the point that Matty doesn't play the hero? This isn't Avatar and he doesn't swoop in during the final moments to save the day.
If you've watched the movie's trailers, we do have to thank the wizards at Industrial Light & Magic for really cleaning things up. The movie's titular villain, Taotie (饕餮), a beast of great greed from ancient Chinese mythology, looks much better in the final product. I wouldn't go as far as to call the creature particularly menacing, but the swarm of minions do their job well enough to cause a great amount of pain for the poor soldiers manning the wall. If you've played Starcraft, you'd find these guys vaguely familiar to how the Zerg behave.
ALSO READ: The Great Wall Rebuttal: Even us fellow Geeks cannot agree
Politics aside, think of The Great Wall as that guilty pleasure over a weekend, once you're done with Rogue One. It's not the greatest movie that we've seen from this part of the world, but it should serve as a good case study for the Chinese-owned Legendary Pictures to flex some soft power in the movie world.
GEEK REVIEW SCORE
Summary
Next time, go with something in giant robots or Romance of the Three Kingdoms. Oh wait, why not both?
Story -

6.5/10

Direction -

7.5/10

Characterisation -

6.5/10

Geek Satisfaction -

7.5/10
Gerald currently straddles between his love of video games and board gaming. There's nothing that interests him more than trying out the newest and fanciest gadget in town as well. He dreams of publishing a board game sometime in the future!