It's rare these days with the multitude of devices that everyone carries around, there is a possibility that a device might invoke the feeling of surprise or amazement when you whip one out. Sony's new mobile projector, the MP-CL1, was able to pull that off. It is quite refreshing to see a piece of shrunken old-school tech excite my group of friends, in the presence of a new toy.
Sony's mobile projector is about the size of a regular smartphone and thinner than a regular post-it pad. The MP-CL1 has a good feel in hand, stores away nicely and made "to go". The mobile projector is an entertainment device you can bring to any party to create an instant cinema, karaoke room or gaming console den.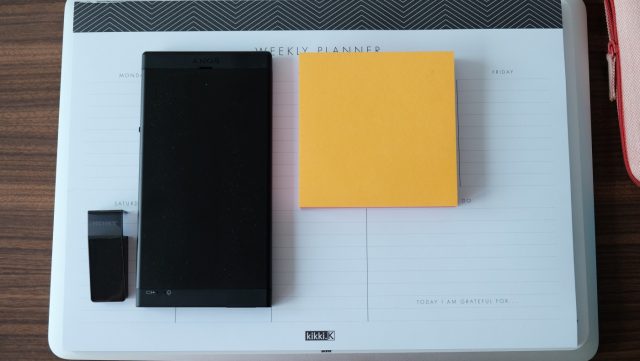 Imagine the possibilities when the abundant content available on your smartphone or laptop can all be easily projected through this nifty device. For home office owners, easily turn your homes into meeting room spaces with the projection of a presentation or creative brainstorm.
In a real life test run at a party, my group of friends were able to enjoy karaoke, projecting YouTube videos of Mandopop singer Huang Xiaohu and watched Disney's Inside Out trailer from a new perspective – lying down on the floor. If the content on the Internet was not enough, the mobile projector allows for Wi-Fi Direct, a screen mirroring feature. This enabled us to share photos and videos from our phones – a nice bonding moment for family and friends to check out what was happening in each other's lives and reminisce the past.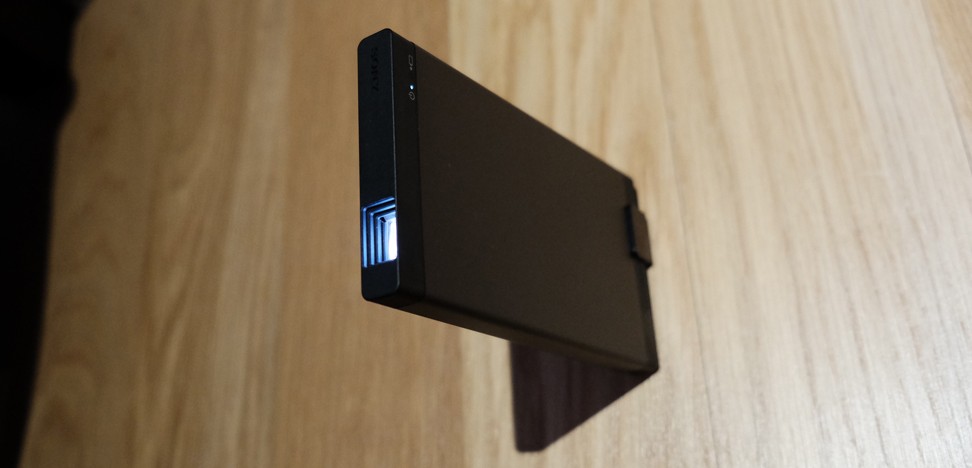 Despite the MP-CL1's minute size, the projector itself packs fairly decent audio output. In comparison, I'd say it is definitely louder than one usually expects from the speakers of their mobile phones. The projector is quick to autofocus and does well when swapping between content to content. Remember how you had to adjust a regular projector's manual focus until it worked for the distance to the wall? No need for that anymore. It works great in a darkened room but a big audience might find it straining to see what's being projected in a fully illuminated environment.
The MP-CL1 projector takes about an hour or so to charge for approximately two hours of use. That's long enough to watch a full length movie but to ensure longevity, it'll be better to have it plugged into the mains, just in case. As with projection technology, the device heats up a fair bit in continuous usage mode and with its metallic exterior, it can become rather hot to the touch especially after extended periods of use.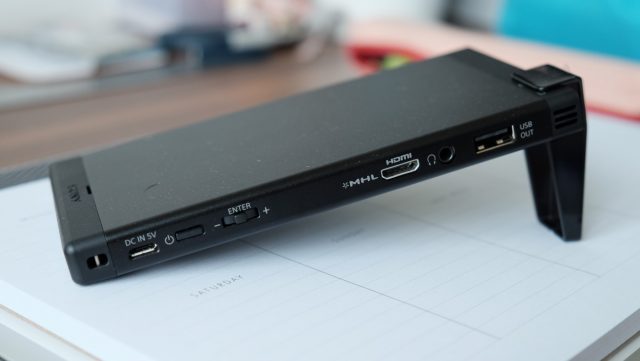 The sleek black design of the mobile projector is what we've come to expect of quality from Sony, the packaging of a premium product. All the ports are aligned on one side of the device with nice curved edges. For the price tag of S$549 (MSRP US$349), truth be told I was expecting a better "plug and play" user experience in terms of accessories. It would be better if the projector came with a HDMI to Mini HDMI cable instead of just an adaptor. The start up guide should also have highlighted the need for connecting devices to be equipped with Miracast for full functionality.
Sony's new mobile projector claims to turn any surface into a HD Theatre, and to a certain extent that is true. With the limited space in apartments today, it depends on how many blank walls you have for projection. We projected onto the the living room, hallway, and ceiling – and loved how it turns space unexplored in homes these days into new entertainment spaces.
GEEK REVIEW SCORE
Summary
The MP-CL1 might be priced out of many a Geek's budget but such pretty things do have a cost. This projector is a guaranteed conversation starter at any event.
Aesthetics -

9/10

Build Quality -

9/10

Performance -

8.5/10

Value -

6.5/10

Geek Satisfaction -

9/10
Gerald currently straddles between his love of video games and board gaming. There's nothing that interests him more than trying out the newest and fanciest gadget in town as well. He dreams of publishing a board game sometime in the future!
---

Drop a Facebook comment below!