Screen envy is a real phenomenon. I was apprehensive in reviewing Dell's UltraSharp 27 UP2716D monitor, knowing that it would be miles ahead of my current U2414H.
For the uninitiated, the Ultrasharp 27 UP2716D has a display resolution of 2560 x 1440 pixel resolution. In comparison, mine has a measly resolution of 1920 x 1080. While both monitors come from the same range, the difference in quality is immense.
And after just a few weeks of use, my fears were confirmed. I would very much like to go back in time and convince my past self to cough up more cash, for the UP2716D.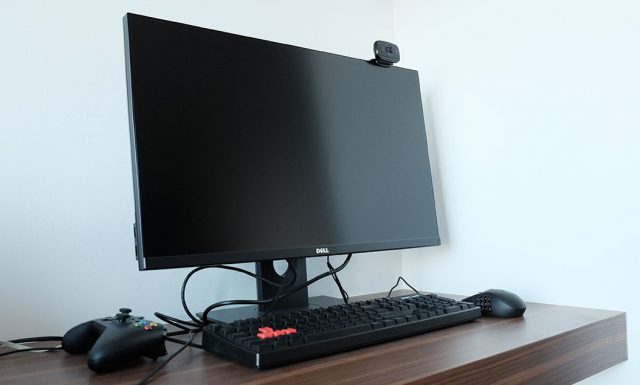 Unlike my previous experience with a QHD screen, the UP2716D offers better synergy with my new PC rig, which was built to handle QHD resolution gaming with little effort.
Sporting a 60Hz refresh rate, Dell's new ultrasharp is a testament that bigger numbers can be better.
The fast refresh rates helps when it came to reducing the motion blur one might encounter when playing fast paced First Person Shooters (FPS), such as Overwatch or Team Fortress 2. Plus I found staring at this screen felt less tiring. Longer gaming sessions are a go!
Sporting a matte screen, the UP2716D is great if you are working by the window most of the time, as it reduces the reflection and glare from external sources considerably.
Details, details, details
Dell's UltraSharp range has been nothing but quality, and the UP2716D is proof of that. The included stand allows for an almost full range of motion, from tilt, swivel, pivot and height adjustability, to fit pretty much every desktop type out there. While this detail might seem rather frivolous, you'd be surprised at how many high end monitors actually leave out such basic yet important features.
It's great to be able to have multiple use scenarios, and Dell seems pretty confident some folks might actually splurge on two or more units, to stack them up in a portrait config.
The one feature that was particularly impressive was the colour reproduction on the UP2716D, which also touts Dell's PremierColor and CustomColor software customisation. This grants users access to custom colour modifications but there really is no need to fiddle much with the monitor out of the box. The monitor looks to be factory calibrated to near perfection.
Jumping between my own U2414H as a comparison, one could easily tell the difference. Every piece of content I consumed on the UP2716D had great vibrant colours which popped out. I actually tried to match the calibration settings on my old monitor to the one here,  but I got nowhere close to the same level of quality.
It would be a bad judgement on my part to simply make visual comparisons on individual screens. Hence, I tried editing the same image on both screens. The end result was that the images I edited on both screens did have a significant variation when viewed on another, independent device, such as my mobile phone.
In several instances, the images edited on the UP2716D were closer to what I had in mind, and they also looked better on the Apple iPhone 6s and Samsung Galaxy Note 5.
The ability for any monitor to produce such a distinct level of vibrancy would be well appreciated and design professionals might want to consider this machine, instead of the more expensive Apple Cinema Display alternative.
It you're looking to get a monitor for the purposes of gaming, you might be caught deliberating between a 1080p or 4K display.  My take is that the UP2716D enters at a very sweet spot for budget and medium to  high-end rig owners like myself.
Having played Transformers Devastation on the monitor, it felt as if my childhood dreams have come true, as I was finally able to see Optimus Prime G1 take on gun Megatron in crisp QHD quality.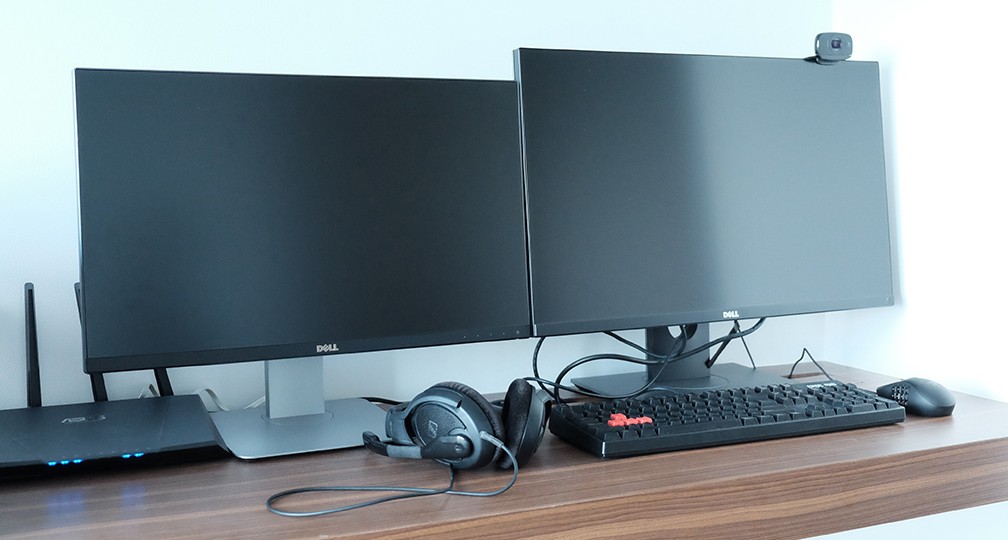 When placed side by side, both my old monitor (on the left) and new one do not look that much different, but anyone who has seen both in operation would eventually have issues adapting to the smaller, budget model.
Under the Hood
A larger screen affords more space to squeeze in additional ports and the UP2716D has this pretty well covered.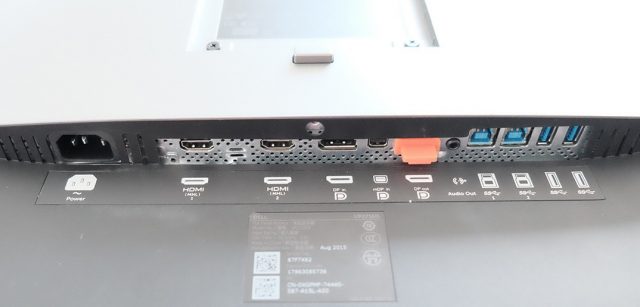 In terms of connectivity, almost every port imaginable is afforded on the monitor, with the exception of DVI, which seems to be a dying standard these days.
What's interesting is the monitor allows for two simultaneous inputs from two separate devices at the same time. While I'm not entirely convinced of its practical use, having the option always opens up possibilities. If you're looking to start streaming as a full time career or a big-time E-sports producer, the port would be a good welcome for real time monitoring and broadcasting onto a bigger display.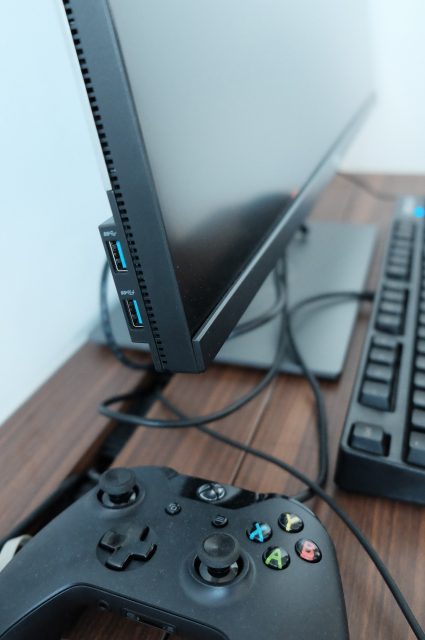 Dell has also followed the new design standard, of placing USB ports at the side of the screen, and not just on the rear of the monitor.
Penny Foolish, Pound Wise
While the sticker price might throw some folks off, I believe the Dell UltraSharp 27 UP2716D is worth every cent per screen inch, per colour reproduction at SGD$1279. It is with great regret the price was a big determinant in me avoiding this monitor the first time round.
If you're in the midst of obtaining a whole new computer setup and are hampered by budgetary constraints, this monitor is an affordable top end pick. With so many bottlenecks and factors surrounding PC performance, I'm convinced that the UP2716D would satisfy any type of user.
While 4K is a big lure which might convince you to 'future-proof' your display, there just isn't enough content to support at the moment. It all depends on which school of thought you belong to, as a 4K screen with the same qualities as the UP2716D would easily break your budget.
If I could turn back the clock, I should have definitely eked out a small bit more for the UP2716D.
Gerald currently straddles between his love of video games and board gaming. There's nothing that interests him more than trying out the newest and fanciest gadget in town as well. He dreams of publishing a board game sometime in the future!
---

Drop a Facebook comment below!