Let's face it, not everyone can afford a robust gaming rig decked out with the latest bells and whistles (RGB everywhere!), and for those that can, having space to house it all brings up yet another issue to consider.
For all the aspiring esports legends-in-the-making or the frequent Steam Sale impulse buyer, a powerful gaming laptop can be an inspired compromise. In fact, it is the only solution.
The ASUS ROG Zephyrus M (GM501) is a gaming laptop that comes packing an NVIDIA GeForce GTX 1070 graphics card, and weighs in at only 2.45kg, making it the perfect gamer companion to the video game player in a fast-paced world.
---
Surviving The Commute
Heading to work or school stops being a boring commute when you have the company of the Zephyrus M. An unfortunate train disruption? Simply switch to Optimus Mode to save on power, or unleash the full-performance Discrete Graphics mode for short trips. Be it indie gems or AAA blockbusters, you are well-equipped for any journey.
---
Ain't No Party Like A LAN Party
Hanging out with your buddies and getting bored of social media nonsense? Simply whip out your trusty gaming companion and get the real party started. Powered by an Intel Core i7-8750H processor with 32GB of DDR4 RAM, you will have no issues running the latest games and having a good time.
---
Researching Fun
The library can be a bastion of knowledge, but it can also be your silent fortress. With no distractions around you, get a nice pair of earbuds and you are ready to unleash all your knowledge upon your unsuspecting foes. With the Intel Wireless-AC 9560 adapter and 2×2 802.11ac Wi-Fi that surpasses Gigabit Ethernet speeds, even the Wi-Fi at the local library can keep up with your swift fingers.
---
Catching A Bite, Online And Offline
Fragging fools does not have to stop when you are doing a fuel run at the nearby hawker centre or cafe. Equipped with the cutting edge Active Aerodynamic System, you do not have to worry about your laptop getting heated up; only with the action on-screen. Whether you are waiting to order or tucking into your favourite meal at the local hawker centre, there is no reason to stop baiting your opponents and catching them in a delicious gank!
---
On The Agenda: Fun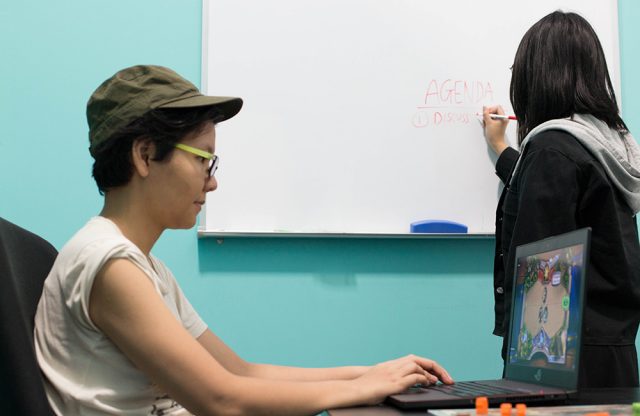 Stuck in a meeting that has been going on for too long? Harness the true power of your gaming laptop and let it rip with the latest games and pristine audio, courtesy of the smart-amplifier technology that monitors the audio output and makes real-time adjustments, with output up to 250% louder than before with increased dynamic range and bass. If you cannot hear what your boss is screaming at you while you concentrate on every precise auditory detail, no harm done! (We are not responsible for any consequences if you choose to take our suggestion and run with it.)
---
Fantasy To Life
While the real world might limit you, your gaming adventures need not be. Bring all your amazing exploits to life with the ultra-responsive 15.6-inch IPS-level display with 144Hz refresh rate, 3ms response time, and NVIDIA G-SYNC technology that provides super smooth and seamless visuals. Why watch a football game, when you can be in one? (We still prefer Hollow Knight though!)
Begin your everlasting journey of gaming everywhere you go with the ASUS Zephyrus M (GM501), a premium Windows 10 gaming laptop that brings together elevated performance with uncompromising mobility. Boasting an NVIDIA GeForce GTX 1070, an IPS-level display with superfast 144Hz refresh rate, lightning-quick 3ms response time, and NVIDIA G-SYNC technology, the Zephyrus M is powered by the 8th Generation Intel Core i7 processor.
Not only that, the revolutionary Active Aerodynamic System (AAS) ensures the laptop runs cool and quiet even at high processor loads. With the ability to switch between integrated and discrete GPU modes, it is as adaptable as it is powerful.
With the Zephyrus M, you will be leading the pack in always-moving Singapore.
Jake is a full-time trophy hunter and achievement gatherer on consoles, and part-time Steam Sale victim. He has a thing for Batman and awesome statues, and running out of space for both. Send help.
---

Drop a Facebook comment below!